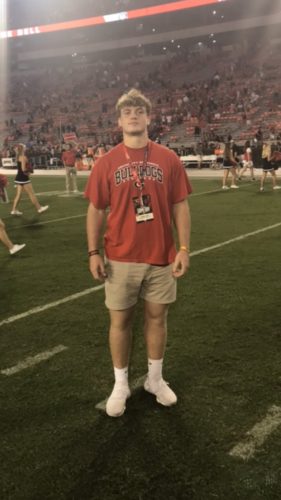 UGA Recruiting Daily Thread
TODAY'S FEATURED PROSPECTS
Logan Cash is a three-star defensive end from Winder, Georgia. He stands at 6-3.5 and weighs 252 pounds. Cash ranks as the No. 37 SDE and the No. 58 2019 prospect in Georgia. He currently has eight offers, but there are about 15 schools that appear interested in  Cash. Georgia's one of those schools. He plans on coming and watching a practice in Athens soon. The latest to offer Cash was Washington State on April 4. Despite only having 8 offerings going into his senior season, he's probably one of the most underrated players in the 2019 class. I expect his offer list to double by the end of his final season and for him to succeed at the next level.
Logan Cash Interview:
Q: How is the overall recruiting process going for you?
A: "The overall process is really good, i enjoy it a lot."
Q: What do you think of Georgia? How hard are they recruiting you? And what are some things they are telling you?
A: "I've always loved Georgia and I've wanted to play there since i was 8 years old. They are recruiting me a little bit but i wish they would look in a little more. I'll probably be going to watch a practice soon."
Q: Any Plans to visit again soon? Maybe G-day?
A: "Yeah, hopefully to G-Day and a practice."
Q: What would it mean to you to play for Georgia at the next level?
A: "It would definitely mean a lot."
Q: Know what you want to major in yet?
A: "I'm not 100% sure. I've thought about sports medicine a lot though."
Q: Who's your primary recruiter at UGA?
A: "Coach Lanning and coach Mike I would say."
Q: What do you think of Lanning?
A: "I like him! I think he's going to great at Georgia."
Q: You led the state of Georgia in sacks last season. What areas do you hope to improve on this season and what do you look most forward to?
A: "I think I need to use my hands more and keep my pads down. I'm looking forward to helping my team win and competing, the most."
Q: What are the key factors that will go into your decision?
A: "Just whatever school stands out to me the most and where i would feel the most comfortable at."
Logan Cash Film:
---