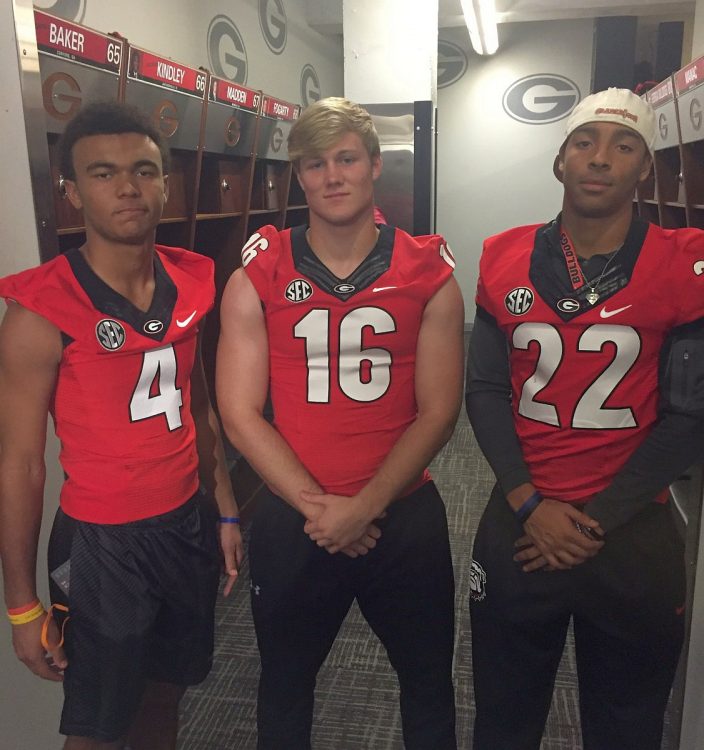 UGA Recruiting Daily Thread
Click HERE – Go Directly To Comments
*If position ranking is noted, unless otherwise stated, it is 247 Sports latest composite ranking of the player.*
TODAY'S FEATURED PROSPECTS
JD Bertrand
CLASS: 2019
POSITION: OLB 
HT, WT: 6-1, 215
SCHOOL: Blessed Trinity Catholic School
CITY, STATE: Roswell, Georgia 
STATUS: HARD COMMIT: GEORGIA 7/15/2017
# OF OFFERS: 10 offers 
NEWS:
JD Bertrand is a four-star linebacker from Roswell, Georgia. He ranks as the No. 16 OLB and the No. 22 prospect in Georgia. He's a headhunter. Bertrand sees the field so well and has great football IQ. He's a heck of an athlete and will be a great asset at the next level. He hits hard and is patient. Bertrand's raw and needs some work, but with the right guidance, he will succeed at the next level.
Bertrand closed his recruiting off after committing to Georgia last July. Before that, he visited Clemson's football camp. It didn't take Bertrand long to commit, and his commitment is as solid as it comes. He's one of the ringleaders and a guy that loves to push kids to come to Georgia.
Highlights –
Derick Hall
CLASS: 2019
POSITION: OLB
HT, WT: 6-5, 210
SCHOOL: Gulfport High School 
CITY, STATE: Gulfport, Mississippi
STATUS: Undeclared  
#OF OFFERS: 11 offers 
UGA OFFER:  No
NEWS:
Derick Hall is a 6-5 210 pound linebacker from Gulfport Mississippi. He ranks as the No. 15 OLB and the No. 11 prospect in Mississippi. Hall is great in coverage. He sees the field well and is very patient. With his size, he can out man a lot of people and isn't afraid to use his strength against people. He's a headhunter, and likes to hit hard. Hall's raw, but shows so much potential.
Hall currently has 11 offers, however, Georiga isn't one of them, yet. Ole Miss and Mississippi State appear to be the two teams in the lead for him. He recently visited Georgia on March third, then went to participate at Vanderbilt's Junior Day on  March 17th. Hall's recruiting is just taking off and I expect him to have at least 20-25 offers come signing day.
Highlights –
---