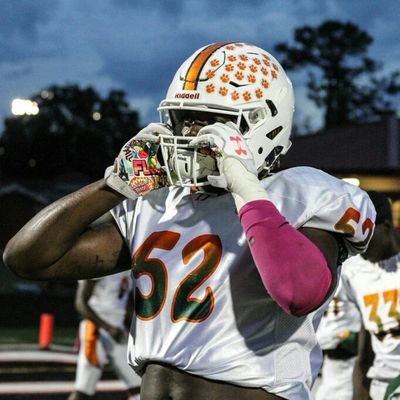 UGA Recruiting Daily Thread
TODAY'S FEATURED PROSPECT
Derick "Rambo" Hunter is a four-star defensive end from Fort Myers, Florida. He's 6-4 276 pounds and ranks as the No. 14 SDE and No. 27 2019 Florida prospect in the latest 247Sports Composite Rankings. Hunter currently has 40 offers with the latest coming from Clemson on March 24. He recently went to Florida on April 7 and Miami on March 31. Hunter participated at Florida's Junior Day on February 24. Georgia offered back on February 14, and since then, Hunter's been high on the Bulldogs. After talking with him, he's still high on Georgia and Bulldog fans should be excited about this one.
Lucas Rogers and I spoke with Hunter back on February 23 and decided to catch back up with him for an update on his recruitment.
Derick "Rambo" Hunter Interview:
Q: So will you be in town for G-day?
A: "Yes."
Q: So will the announcement be a top three/five or what will it be?
A: "8"
Q: How were the visits to Florida? Do any of those visits change your mind about UGA?
A: "No, just trying to figure out all the pieces of my puzzle."
Q: So what makes you like Georgia so much?
A: "Just the style of coaching."
Q: Who's your primary recruiter at UGA and what are your thoughts on him? 
A: "Coach Scott and he's probably one of the coaches to actually keep it real with me."
Q: Are there any other places you plan on visiting?
A: "Clemson, that's it."
Q: Is the visit on G-Day your first time on Georgia's campus? What would it mean to you to see Sanford Stadium full for the spring game?
A: Yes! It will mean a lot to learn the tradition at the stadium."
Q: What are you most excited about seeing at Georgia? Is there anything else you want to see in Athens?
A: "The campus. And just for the fan base to come alive."
Q: Do you still plan on committing at the All-American game?
A: "Yes."
Q: Is there anything you would like to say to Bulldog Nation?
A: "Go Dawgs!"
Derick "Rambo" Hunter Film:
---