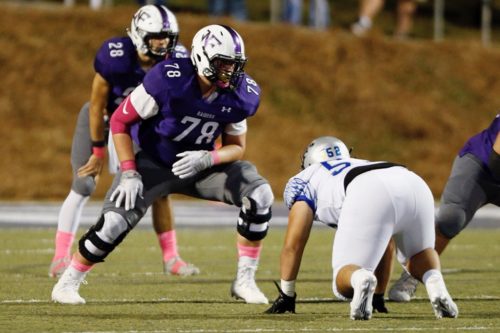 UGA Recruiting Daily Thread
TODAY'S FEATURED PROSPECT: Jeremy James
Jeremy James is a 6-5 305-pound offensive tackle from Cumming, Georgia. He ranks as the No. 51 OT and the No. 57 Georgia prospect in 2019. James holds 10 offers right now with the latest coming from Boston College on March 19. He hasn't received an offer from Georgia yet, but James said the Bulldog's shown some interest. He recently visited Clemson on April 7 and Georgia on March 31. Prior to that, he visited Duke on March 24. James competed in the Nike Opening Atlanta Regional and received one of the final five honors. This honor is given to the best five of each position from regional. James appears to like Ole Miss the most right now, but it could change by the end of his football season.
Jeremy James Interview
Q: How is the overall recruiting process going for you?
A: "The recruiting process is going well. I'm enjoying meeting all the coaches and visiting new places."
Q: Do you have any Schools in the running where you'll take your official visits?
A: "So far I want to take official visits to Nebraska and Ole Miss."
Q: What do you think of Georgia? How hard are they recruiting you? And what are some things they are telling you?
A: "I've been a Dawg fan my whole life so it's been pretty cool being able to visit and talk to the coaches there. They're telling me that they like me as a player and person and they want me to come in the summer and do a workout and they'll decide then if they will offer or not."
Q: How did your visit go at UGA? What did you do?
A: "It was really good. I got to talk to coach Pittman a lot. Go to listen to a pre-practice team meeting then went to coach Pittman's OL meeting. I stayed to watch practice to see how practice is and watch coach Pittman coach."
Q: What did you think of coach Pittman?
A: "I really like him as a coach and a person."
Q: What's your initial thought of Kirby Smart?
A: " I really like him and like his coaching style. He is very intense and will get in your face when your wrong but he will be jumping up and down and celebrating with you when you do good."
Q: Coming back any time soon maybe for G-Day?
A: "I will be back for G-Day but just as a fan. Just thinking this might be my last time to go to a Georgia game/ spring game with my close friends for a while."
Q: What would it mean to you to get an offer from Georgia?
A: "It would be an honor. Georgia is recruiting at a very high level right now and it's a school I've been going to games and cheering for my whole life."
Q: What are the key factors that will go into your decision?
A: "Key factors for making my decision are just my relationship with the coaches and how I feel when I'm on campus."
Q: Any top schools? if so who?
A: "Some of my favorites are Ole Miss, NC State, and Nebraska.:
Q: Have you decided when you will commit to a school? If so when?
A: "I will most likely commit this summer at some point."
Jeremy James Film
---