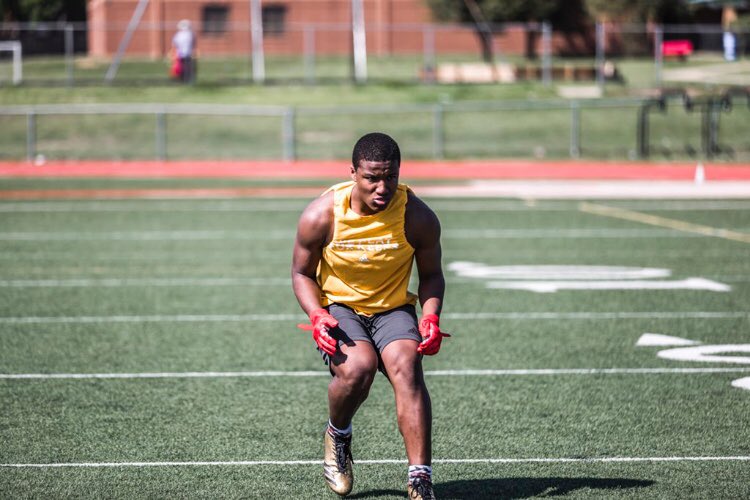 UGA Recruiting Daily Thread
TODAY'S FEATURED PROSPECTS
Dwight McGlothern
CLASS: 2020  
POSITION: CB/RET/WR
HT, WT: 6-2 166
SCHOOL: New Caney High School
CITY, STATE: New Caney, Texas 
STATUS: Undeclared 
# OF OFFERS: 14 Offers 
UGA OFFER: Yes, April 24, 2017
NEWS:
Dwight McGlothern is a four-star cornerback from New Caney, Texas. He stands at 6-2 166 pounds and ranks as the No. 3 CB and the No. 2 2020 prospect in Texas. McGlothern currently holds 14 offers with the latest coming from Penn State on March 15. He recently visited Texas A&M on Feb 10 and Feb 4 for an unofficial visit and Junior Day.  This Texas prospect seems to like LSU and Texas A&M the most at the moment, but he's still growing as a player and prospect. With that, I believe his recruitment stays open until he can get some official visits under his belt and another football season done.
McGlothern is an all-around athlete. He returns punts, plays cornerback, and wide receiver. However, it appears cornerback is where he wants to play at the next level. His size alone is nice, but I think he could add a few pounds. 166 pounds is almost too small for a D1 wideout. McGlothern has natural instinct at corner and good vision. He can read a quarterback and make plays on the wideouts easily. His height makes him a great prospect for the next level as most teams look for that tall secondary guy, and he's it. McGlothern is fast and has a great set of hands. According to his 247Sports profile, he made 43 tackles, had one forced fumble and one interception for a touchdown. I expect those numbers to increase his junior year. In my opinion, this is a name to look out for in the 2020 class.
Highlights –

Darius Snow
CLASS: 2020 
POSITION: S
HT, WT: 6-2 210 
SCHOOL: Hebron High School
CITY, STATE: Carrollton, Texas 
STATUS: Undeclared 
# OF OFFERS: 11 Offers 
UGA OFFER:  Yes, December 12, 2017
NEWS:
Darius Snow is a four-star safety from Carrollton, Texas. He stands at 6-2 210 pounds and ranks as the No. 1 safety and the No. 4 2020 prospect in Texas. Snow currently holds 11 offers with the latest coming from SMU on April 5 and Stanford on April 4. It appears that Michigan State leads in his recruitment, but he said at a recent camp, "Texas will always in it." So it appears he could choose to stay home or branch out, only time will tell. I will say, if Georgia's interested, it should jump on the train now. In my opinion, he will be one of the most sought-after safeties in the 2020 class.
According to Snow's 247Sports profile, he had 136 tackles last season as a sophomore. He recorded one sack, one fumble recovery, and one interception. Snow's film shows just how talented he is. He's great in coverage and eying the ball. Snow likes to lower his shoulder and hit hard. He appears to have a high football IQ and great vision on the field. In my opinion, he's a great fit for the star position. His ability to cover the field and tackle in space, he could be a great asset to any team. Snow's got great hands too. He's fast to be as heavy as he is, but he carries that weight well.
Snow's born to play football, and it's only getting better for him. If he improves anymore his junior year, that 11 offers will double if not triple. And with a name like Snow, I had to watch his film.
Highlights – 
---