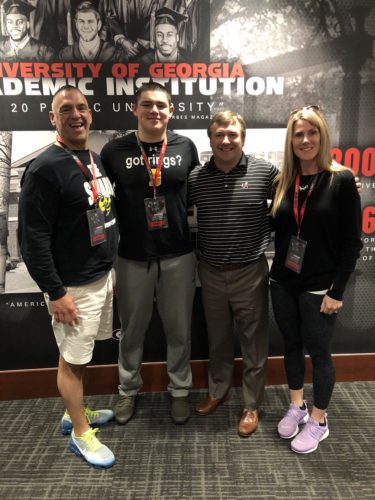 UGA Recruiting Daily Thread
TODAY'S FEATURED PROSPECTS
Bryan Bresee
CLASS: 2020
POSITION: SDE
HT, WT: 6-5 280
SCHOOL: Damascus High School
CITY, STATE: Damascus, MD 
STATUS: Undeclared 
# OF OFFERS: 24 Offers
UGA OFFER: Yes, August 22, 2017


NEWS:
Bryan Bresee is a five-star defensive end from Damascus, Maryland. He stands at 6-5 280 pounds. Bresee ranks as the number 1 overall player for the 2020 class, the No. 1 SDE, and the No. 1 player in Maryland. He currently holds 24 offers with the latest coming from Auburn on March 27. Bresee visited Notre Dame on April 5, Wisconsin on April 4, Georgia on March 4, and Clemson on March 3. According to his 247Sports profile, it's between Ohio State and Maryland. However, Georgia appears to be in the mix of things. Tray Scott's listed as his primary recruiter, and I expect this kid to get plenty of visits from the Bulldogs. In my opinion, a decision from this guy won't happen for a while.
Bresee competed in the Opening New Jersey Regional this past weekend and received one of the MVP honors. He received the DL MVP award and carded a 106 SPARQ Rating. As a rising junior, he's quickly solidifying himself as the No. 1 player in the country. He's quick and agile for a defensive end. Bresee blows by offensive linemen and has nice spin moves he likes to use. He's quick to be 6-5 and can cover some ground. As good as he is with his hand on the ground, it would be interesting to see him in a Lorenzo Carter/ Leonard Floyd hybrid OLB situation.  While watching his film, he clearly outplays almost every person on the field, and it's clear he's a D1 prospect. Wherever he chooses to play, he's going to be lethal at the next level.


Highlights – 



Myles Murphy
CLASS: 2020
POSITION: SDE
HT, WT: 6-4 230
SCHOOL: Hillgrove High School
CITY, STATE: Powder Springs, Georgia
STATUS: Undeclared 
# OF OFFERS: 6 Offers
UGA OFFER: Yes June 2, 2017

NEWS:

Myles Murphy is a four-star defensive end from Powder Springs, Georgia. He stands at 6-4 230 pounds and ranks as the No. 34 overall prospect, the No. 2 SDE and the No. 3 2020 Georgia prospect.  Murphy holds six offers right now with the latest coming from South Carolina on January 23. He recently visited Auburn on March 31 for an unofficial visit. Murphy visited Athens on April 7 and prior to that visited Clemson on April 4. His recruitment appears wide open, but according to his 247Sports profile Its all Georgia with Auburn "warming" up in the process.
Murphy competed as an underclassman at the Opening Atlanta Regional a few weekends ago. He posted an 88.02 SPARQ rating. Murphy had the seventh highest underclassman score there. He's quick off the snap and can just bulldoze his way through an offensive line. Murphy's quick off the edge and covers some ground. According to his Hudl, he runs a 4.8 40-yard dash and after watching his film it surprises me that his time isn't quicker. Murphy's patient and waits for his opportunity to strike. He hunts quarterbacks and shows good technique against linemen. Murphy's smart on the field, and it appears he has a high football IQ. The teams Hillgrove plays against aren't pushovers either, as they play Buford, North Gwinnett, Marietta, etc. If he continues to develop like he is, I expect him to make an impact early at the next level.
Highlights – 

---