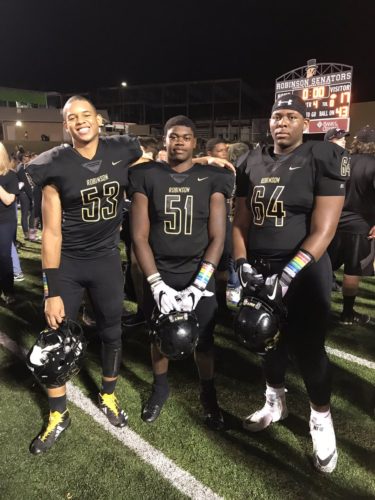 UGA Recruiting Daily Thread
TODAY'S FEATURED PROSPECT
Zach Williams is a three-star defensive end from Little Rock, Arkansas. According to the 247Sports rankings, he ranks as the No. 40 WDE and the No. 6 2019 prospect in Arkansas. Williams currently holds 18 offers with the latest coming from Cal on April 17. Georgia offered on April 6. According to his 247Sports profile, he had 70 tackles last season, 30 tackles for a loss, 11 sacks, two forced fumbles, and three fumble recoveries, including one he took in for a touchdown. Williams' recruiting appears to be wide open for now, however, it seems he likes the hometown school the most. He was almost ready to commit, but with new schools offering him, Williams opened it up again. Williams and his family will be visiting TCU, Texas and Baylor this weekend. As  a visit to Georgia? His fathers currently working on getting a date down, but it may be April 28.
Zach Williams Interview:
Q: How is the overall recruiting process going for you so far?
A: "For any school to want you to be a part of their family is an honor. I am reminded daily that only a few high school football players move up to the next level. The recruiting process is demanding, but I am enjoying the ride."
Q: What do you think of Georgia? 
A: "The University of Georgia is a great school. Coach Smart is continuing to build a great program. I watched the National Championship game and they were so close to winning it all. Georgia had the top recruiting class last season. I expect to see great things again this year."
Q: How hard are they recruiting you? And what are some things they are telling you?
A: "I have been in touch with the coaches every week. They are telling that they like my length and speed and they also said that they like my frame. They would like me to play OLB."
Q: What do you think of Dan Lanning?
A: "Coach Lanning is awesome. He came over from Memphis. I like the style of play of his LBs. They play fast and aggressive."
Q: What did it mean to you to get that offer from Georgia? 
A: "It meant a lot! What an honor to be offered a chance to play for one of the top teams in the country!"
Q: What are the key factors that will go into your decision?
A: " I have always said that academics are important. I want to be a veterinarian. Family is huge with me. I want to be on a team with a strong brotherhood. Brotherhood is important when you go to battle on the football field. I want to win, and I want to be able to showcase my talents and earn a spot to play."
Q: Any top schools yet? if so who?
A: "I have a few more schools to see before I narrow things down."
Q: Have you decided when you will commit to a school? If so when?
A: "I was planning on committing early, but a few more schools have offered. I want to look at those schools before I make a decision."
Q: Are you visiting Georgia anytime soon?
A: "Yes. I plan to get to Athens this summer and take a tour of the football facilities and the campus."
Q: What would you like to tell Bulldog Nation?
A: "I can't wait to get on campus to visit! Go Dawgs!"
Zach Williams Film:
---