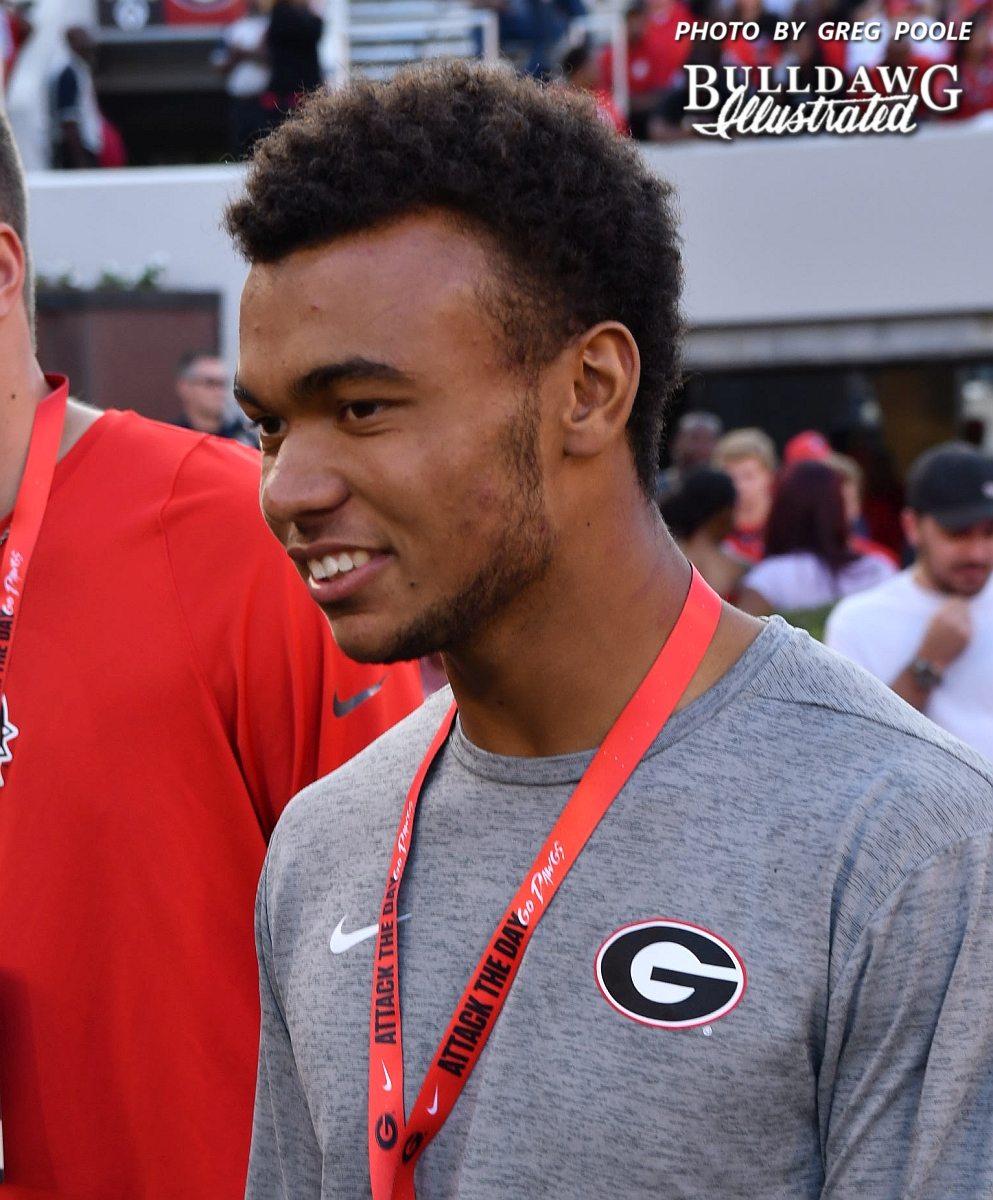 UGA Recruiting Daily Thread
2019 Commit Film Reviews
*All Rankings below are from the 247Sports composites rankings*
Jadon Haselwood
CLASS: 2019 
POSITION: WR 
HT, WT: 6-2.5 189 
SCHOOL: Cedar Grove
CITY, STATE: Ellenwood, GA 
STATUS: HARD COMMIT UGA 3/16/17
# OF OFFERS: 17 offers 
UGA OFFER: Yes 
NEWS:
Jadon Haselwood is a five-star wide receiver from Ellenwood, Georgia.  He's 6-2.5 189 pounds and ranks as the No. 5 overall player, the No. 1 WR and the No.1 prospect in Georgia. Haselwood holds 17 offers including ones from Miami, Oklahoma, South Carolina, and many more. He committed to Georgia on March 16, 2017. Along with his commitment to Georgia, Haselwood committed to the All-American Bowl where he'll play on the East team. He received a Nike Opening Finals invitation too.
Haselwood appears to be one of the most committed prospects in the 2019 class. However, He recently visited Miami on May 5 and Oklahoma on April 13. Haselwood did come to G-Day. If anyone steals him away from Georgia it would be Oklahoma as he has family ties there. However, I don't expect that to happen.
Film Review:
Haselwood has a high ceiling with no end in sight. There isn't anything that he can't do at a high level. He wants the ball, he is a mismatch for most defensive backs. Haselwood's a playmaker and can make plays in traffic with ease. He breaks tackles to get yards after the catch and he has the speed to run away from defenders. His blocks impress on the perimeter. Haselwood is fluid and honestly the total package. In my opinion, he should be able to be ready to go day one. He's a future All-American at the next level. Haselwood's a natural athlete with length, feet and ball skills that will be a star for a long time.
Highlights –
Dominick Blaylock
CLASS: 2019 
POSITION: WR 
HT, WT: 6-0 175
SCHOOL: Walton 
CITY, STATE: Marietta, GA 
STATUS: HARD COMMIT UGA 7/16/17
# OF OFFERS:  20 offers 
UGA OFFER:  Yes 
NEWS:
Dominick Blaylock is a five-star wide receiver from Marietta, Georgia. He stands at 6-0 175 pounds and appears to be an ideal slot wideout. Blaylock ranks as the No. 18 overall player, the No. 2 WR and the No. 4 prospect in Georgia. He currently holds 20 offers including ones from Alabama, Clemson, Auburn, FSU, and many more. Blaylock committed to Georgia on July 16, 2017, and hasn't looked at anywhere else. He committed to play in the All-American Bowl where he'll play on the East team with fellow commit Jadon Haselwood. Blaylock's another that received an invitation to the Nike Opening Finals this summer.
He's essentially shut down his recruiting once he committed to the Bulldogs. Blaylock's doesn't tweet about anything but does occasionally retweets things. He has three pictures on his twitter, and all three have something to do with Georgia. Blaylock, in my opinion, is 100 percent committed and doesn't have to justify it.
Film Review:
He's a smooth athlete who can do a lot with the football. Blaylock has a thick build, similar to a defensive back, but looks so natural at wide receiver. He runs sharp crisp routes and is so smart on a football field. Blaylock can adjust to the ball well and makes hard catches look simple. He has good length and his bursts upfield impress me. Blaylock is wise beyond his years and a mature player. He's going to be a great addition to Georgia's already stacked receiver group and it'll be interesting to see if they use him in a slot spot or on the outside. Blaylock has great speed and can outrun defenders easily to make the play. Similar to Haselwood, he's a playmaker, but a silent playmaker because most wouldn't expect him to be as good as he is.
Highlights – 
Ryland Goede
CLASS: 2019
POSITION: TE 
HT, WT: 6-7 235 
SCHOOL: Kennesaw Mountain
CITY, STATE: Acworth, GA 
STATUS: HARD COMMIT UGA 2/7/2018
# OF OFFERS: 18 Offers 
UGA OFFER: Yes
NEWS:
Ryland Goede is a four-star tight end from Acworth, Georgia. He's 6-7 235 pounds and ranks as the No. 15 TE and the No. 19 prospect in Georgia. Goede holds 18 offers including ones from Auburn, Florida, LSU, Clemson and more.  He's not only coming to Georgia to play football but baseball too. Goede committed on February 7, 2018. He's another 2019 commit that, in my opinion, is 100 percent committed to the 'G'.
Goede is another player that doesn't share a lot on his Twitter. By not sharing he shows other schools and prospects he's dedicated to the University of Georgia and it's where he wants to go for the next four years.
Film Review:
He's is a big-time player with a nice set of hands. Goede isn't afraid to go up and catch a pass. His route running skills are crisp and clean. However what stands out to me is his blocking. He's not afraid to go up against a bigger guy and block him well. Geode squares up and will hit you hard. He's quick for his size and has hands that don't miss. Geode's a nice addition to an already talented group of tight ends, and I see him challenging the older guys right away. He's got a high IQ on the field and makes smart decisions. Goede's big body will make him a big target for future quarterbacks and could be the next great TE from Georgia. Not to mention, he is a slugger on the baseball field. 
Highlights – 
---