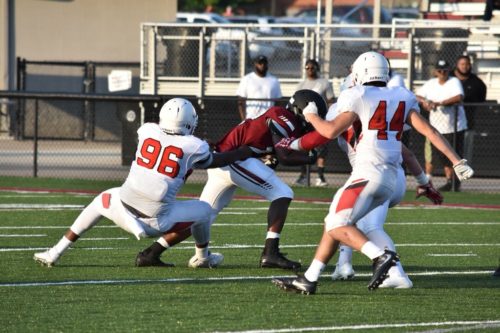 UGA Recruiting Daily Thread
TODAY'S FEATURED PROSPECT: Eric Taylor
*All rankings are thanks to 247Sports Ranking system*
Eric Taylor is a three-star 2020 defensive tackle from Trussville, Alabama. He stands at 6-4 280 pounds and according to his hudl runs a 4.75 40-yard dash. In the latest 2020 rankings, he ranks as the No. 25 DT and the No. 16 prospect in Alabama. Taylor currently holds 14 offers with the latest coming from FSU and Georgia on May 17. He's a rising junior that will only rise in the rankings the older he gets. He's one to keep an eye out for in 2020, I expect that offer list to increase and his stock rise. When I talked to him he mentioned a top five but didn't say exactly who those five are. However, he did say he would commit during his junior year so look for a commitment from him this fall sometime.
Eric Taylor Interview:
Q: How is the overall recruiting process going for you so far?
A: "The recruiting process is exciting especially offers coming in this fast!"
Q: What do you think of Georgia?
A: "Georgia fans and coaches are great and I have family in Georgia."
Q: How hard are they recruiting you? And what are some things they are telling you?
A: "Georgia loves me! They're trying to get me down there for camps. They like my size and versatility."
Q: What do you think of Kirby Smart? And Who's your primary recruiter?
A: "Kirby Smart knows how to get the job done. Tray Scott."
Q: What are the key factors that will go into your decision?
A: "The coaches and location will be two big factors in my decision."
Q: Any top schools yet? if so who?
A: "Right now I'm looking at all schools, but Georgia's definitely in the top 5. However, as of right now, I like every school that's recruiting me."
Q: Have you decided when you will commit to a school?If so when?
A: "I will commit during my junior year."
Q: What did it mean to you to get that offer from Georgia?
A: "Getting an offer from Georgia's huge."
Q: Do you plan on coming for a visit and when? What about the camps?
A: "I want to get over there this summer, and the camps in June and July."
Eric Taylor Film
---