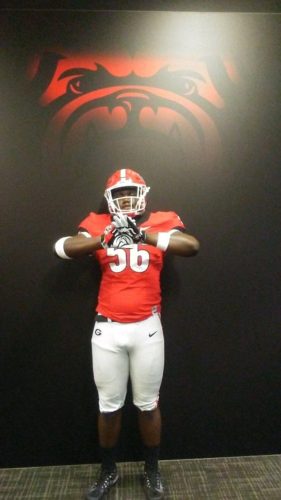 UGA Recruiting Daily Thread
TODAY'S FEATURED PROSPECT: Micah Morris
Micah Morris is an offensive tackle in the 2021 class. He's 6-5 270 pounds and holds ten offers. The latest to offer Morris was Vanderbilt on April 18.  He recently visited Florida on April 14, and South Carolina on March 31.  Morris visited Georgia on April 8 and received an offer from the Bulldogs on January  25. As a rising sophomore, his recruiting is wide open and should continue to grow. At 6-5 already, Morris has an opportunity to perfect his craft and continue getting D-1 offers. It wouldn't surprise me if he didn't triple those offers by his senior season.
Micah Morris Interview:
Q: How is the overall recruiting process going for you so far?
A: "Good I'm taking it all in as a blessing."
Q: What do you think of Georgia?
A: "I think Georgia is a great school, with a great academic track record and a good football team."
Q: How hard are they recruiting you? What are some things they are telling you?
A: "UGA is recruiting me a lot. They just tell me to keep working, stay focused and go dawgs."
Q: How did your visit to UGA go the other day? What all did you do?
A: "My visit went well. I toured their academic hall, sports facilities and watched their scrimmage."
Q: What did it mean to you to get that Georgia offer?
A: "It meant a lot especially since it's one of my home state schools."
Q: What are the key factors that will go into your decision?
A: "A key factor for me is what a school can do for me, as in how this school can help me reach my goals."
Q: Any top schools yet? if so who?
A: "I'm neutral right now with all schools."
Q: Have you decided when you will commit to a school? If so when?
A: "I haven't decided when I want to commit."
Q: Is there anything you would like to tell the Bulldog Nation?
A: "Hopefully I'll be to more visits soon!"
Micah Morris Film:
---