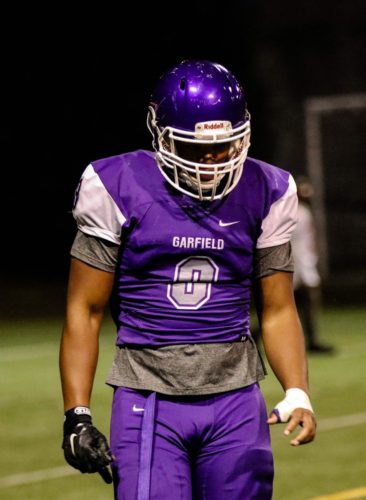 UGA Recruiting Daily Thread
TODAY'S FEATURED PROSPECT: Sav'ell Smalls
Sav'ell Smalls is a five star outside linebacker from Seattle, Washington. He stands at 6-4 and 235 pounds as a rising junior. According to the latest 247Sports rankings he ranks as the No. 3 overall player, the No. 1 OLB and the No. 1 2020 player in Washington. Smalls currently holds 17 offers with the latest coming from Georgia on March 27. He's received offers to play in the Under Armour All-American game and the Army All-American game, but he hasn't committed to playing in either yet. Smalls visited Sanford last December but hasn't visited any other campuses since. His recruitment seems wide open and Georgia should and needs to jump on this kid fast. Smalls has his Georgia offer pinned on his twitter, which tells me he's interested.
Sav'ell Smalls Interview:
Q: How is the overall recruiting process going for you so far?
A: "The process has been good so far, I've been establishing relationships with coaches and getting on the phone with them. Coaches have been coming up to school so early I've been able to see who's really interested in me."
Q: What do you think of Georgia?
A: "I'm very interested in Georgia. They were just in the natty and with the classes they've reeled in they'll be competing for spots in the CFP for years to come. Als,o they have a great business program which is what I want to major in."
Q: How hard are they recruiting you? And what are some things they are telling you?
A: "They're recruiting me pretty hard. Coach Lanning really wants to establish a relationship and get on the phone often. They really want to get me down to Athens pretty soon."
Q: What are your thoughts on Lanning? Kirby Smart?
A: "Lanning seemed really cool. He's a younger guy and I definitely could tell he knows the game of football. I haven't gotten the chance to talk to coach Smart yet, but I know he's a great coach and he took Georgia to the next level in a short amount of time."
Q: What are the key factors that will go into your decision?
A: "Key factors are if I can compete for a National championship, get great development as a player, and get a good business degree."
Q: Any top schools yet? if so who?
A: "No top schools yet, I haven't started trimming my list down yet."
Q: Any visits coming up?
A: "USC and UCLA when my 7 on 7 team goes to LA."
Q: What about Georgia? When do you plan on visiting Athens?
A: "I'm trying to get down there, but nothing set in stone yet."
Q: Have you decided when you will commit to a school? If so when?
A: "I haven't decided when I'm going to commit but I've been thinking about the early signing period my senior year."
Q: What did it mean to you to get that offer from Georgia?
A: "It was amazing. Georgia is going to be one of the top teams for years to come and I've been told they have a very good business program. So I was just happy when a program of that caliber extended an offer my way."
Sav'ell Smalls Film:
---