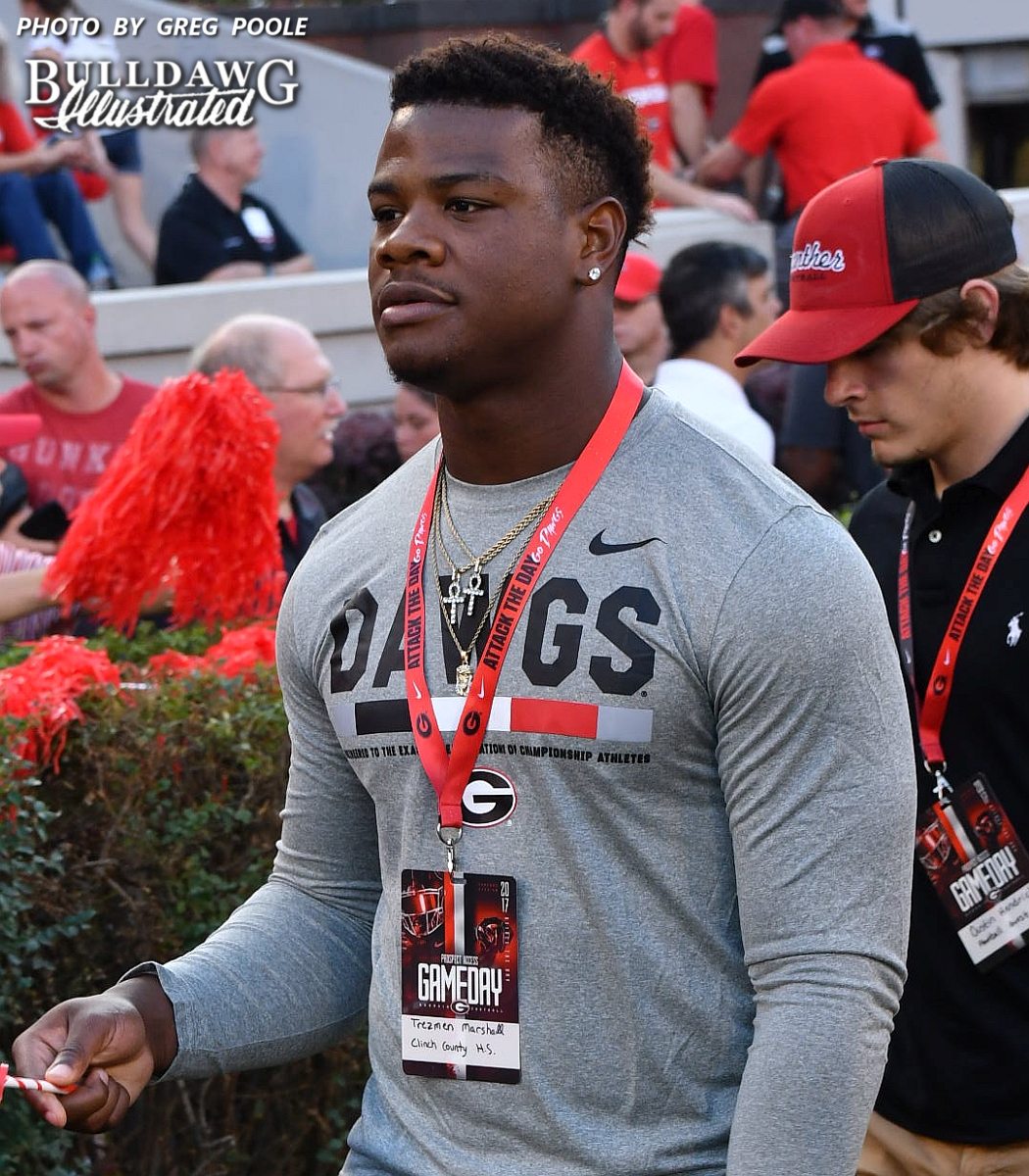 UGA Recruiting Daily Thread
2019 Commit Film Reviews: PART 2
*All Rankings and titles noted are from 247Sports Rankings and profiles*
J.D. Bertrand
CLASS: 2019 
POSITION: OLB/ TE * 
HT, WT: 6-1 215 
SCHOOL: Blessed Trinity Catholic 
CITY, STATE: Roswell, GA 
STATUS: HARD COMMIT 7/15/17
# OF OFFERS: 11 
UGA OFFER: Yes
NEWS:
J.D. Bertrand is a four-star outside linebacker from Roswell, Georgia. He's 6-1 215 pounds and ranks as the No. 16 OLB and the No. 29 prospect in Georgia. Bertrand holds 11 offers including ones from Florida, Georgia, Iowa State, Tennessee, LSU, and a few others. The latest to offer him was Florida on February 28. Last summer he took visits and participated in camps at North Carolina, Georgia Tech, Georgia, Clemson, and LSU. After his visits, he committed to Georgia on July 15. One thing to note about this 2019 class is the ones committed are some of the most dedicated prospects out there. It appears they truly love Georgia, and Bertrand being a home-town kid it's understandable.
Film Review:
Bertrand is a monster hitter. He's got great technique and waits for his time.  His ability to cover ground is impressive too. Bertrand has great ability to tackle in open spaces and run down guys. His IQ is massive on the football field, he can cause havoc and make a quarterback choose another option by just how he moves on the field. He sees the holes well and holds on for dear life when tackling making sure the opponent goes down on the ground. The biggest thing that stands out to me is how instinctive he is and smart. At the next level, I expect him to go to the inside linebackers and play more of the mike position rather than on the outside.
Highlights –
Trezmen Marshall
CLASS: 2019
POSITION: ATH 
HT, WT: 6-1 236 
SCHOOL: Clinch County 
CITY, STATE: Homerville, GA 
STATUS: HARD COMMIT 4/27/2018
# OF OFFERS:  12 Offers 
UGA OFFER:  Yes 
NEWS:
Trezmen Marshall is a four-star athlete from Homerville, Georgia. He ranks as the No. 98 overall player, the No. 9 ATH, and the No. 10 player in Georgia. Marshall sits at 6-1 235 pounds and looks massive. He holds 12 offers, but it appeared to be between, Alabama, FSU, Tennessee, and Georgia before he made his decision. Marshall visited for G-Day and then committed to Georgia on April 27. He's the latest 2019 commit for the Bulldogs. After committing to the Bulldogs he visited Auburn on May 19. Despite him visiting the Plains, Marshall seems to be 100 percent committed to Georgia. In my opinion, he will join Nolan Smith as one of the ringleaders for 2019 and recruit other prospects hard.
Film Review:
Marshall can do it all. He can run the ball, throw the ball and even play on defense. The opening play on his high light reel catches the viewers attention immediately. He bursts through the line and with almost perfect form, nails the quarterback into the ground. Marshall's got a huge ceiling and can do anything he wants on the field. He's smart and instinctive. Marshal covers the field well and can go left to right quickly. On offense, he's so hard to bring down and tackle. From watching his film, it's evident he was a key role in Clinch County's state championship. He is hard-hitting and shows great bursts of speed. Marshall's the total package, and it wouldn't surprise me if he didn't get his fifth-star this football season.
Highlights –
---