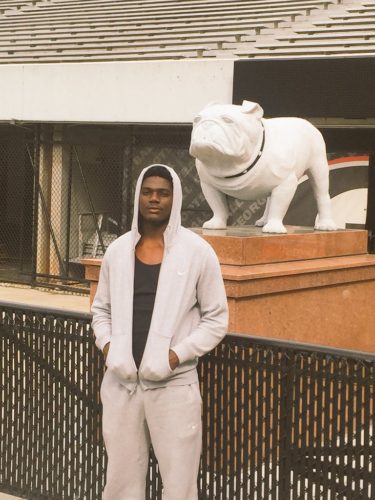 UGA Recruiting Daily Thread
TODAY'S FEATURED PROSPECT: Jalen Wydermyer
Jalen Wydermyer is a four-star  6-5 235-pound tight end from Dickinson, Texas.  He ranks as the No. 17 TE in the 2019 class and the No. 52 prospect in Texas. Wydermyer currently holds 18 offers with the latest coming from FIU on April 6th. He visited Georgia on April 7 and then Texas A&M on April 14. According to his 247Sports account, he had 30 catches for 518 yards and eight touchdowns. His recruiting appears to be wide open, however, 247Sports has Texas A&M with a 100 percent advantage. However, I wouldn't rule anyone out for this big tight end. With a recent visit to Georgia, the Bulldogs may opt to take another tight end over a third or fourth wideout. Only time will tell what Georgia decides to do, but if a name needs to be on that list its Wydermyer.
Jalen Wydermyer Interview:
Q: How is the overall recruiting process going for you?
A: "It's going great just trying not to worry about it and stay focus."
Q: What do you think of Georgia? How hard are they recruiting you? And what are some things they are telling you?
A: "I thought Georgia was great! I had a great time. The coaching staff was great, everything was great about it. Coach Chaney is very interested in me and me coming in running routes and being big for them. A big-time school like that recruiting me hard is a blessing."
Q: Is Coach Chaney your primary recruiter? Do you plan on coming back to Georgia any time soon?
A: "It's coach Wendal Davis and coach Chaney. And not at the moment."
Q: What are the key factors that will go into your decision?
A: " Southern Hospitality and mine and the coaches relationship."
Q: Any top schools? if so who?
A: "Not really any top ones, just more of big-time ones."
Q: Have you decided when you will commit to a school? If so when?
A: "I have no idea when. I'll most likely make a decision after I make my five officials. I'm going to sit my family down so we can make a decision together."
Q: Are there any guys that since you are a part of the 2019 class that the recruits are going for themselves? Care to share?
A: "Yeah they have. Not sure what their full names are, I've only known them for a month. But it's Channing I'm pretty sure and Jordan."
Jalen Wydermyer Film:
---