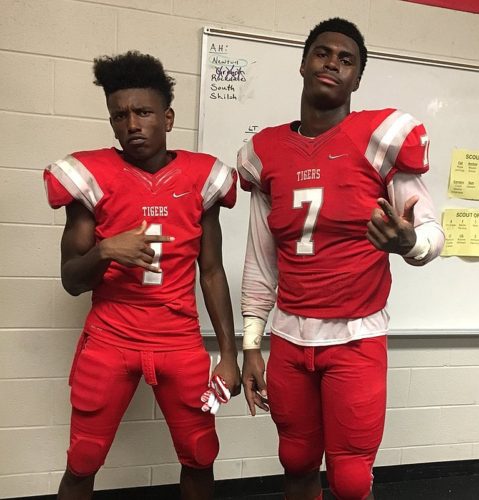 UGA Recruiting Daily Thread
TODAY'S FEATURED PROSPECTS
Zach Harrison
CLASS: 2019
POSITION: WDE
HT, WT: 6-6 240 
SCHOOL: Olentangy Orange 
CITY, STATE: Lewis Center, OH 
STATUS: Undeclared
#OF OFFERS: 16 offers 
UGA OFFER: Yes
NEWS:
Zach Harrison is a five-star 6-6 240-pound defensive end.  According to 247Sports, he ranks as the No. 3 player in the country, the No. 2 WDE and the No. 1 player in Ohio. Harrison is lethal on the edge. He's a headhunter and follows assignments well. His technique has a great base and his ability to get past o-linemen impresses me. Harrison wraps up with a purpose. He's got the bones to make a heck of a ball player at the next level.
Harrison's recruiting has mostly been in the midwest with Ohio State, Michigan, Notre Dame, Penn State, etc. However, in the last week, he's visited Georgia and Clemson.  It appears Harrison potentially wants to get out of the Midwest, and he's starting with the Bulldogs and the Tigers. Harrison's decision won't be made for a while, but it appears he's making a statement by stepping outside of Ohio for recruiting.
Highlights – 
Colby Wooden
CLASS: 2019
POSITION: SDE
HT, WT: 6-4 230 
SCHOOL: Archer High School 
CITY, STATE: Lawrenceville, GA 
STATUS: Undeclared 
# OF OFFERS: 23 offers 
UGA OFFER: Yes, July 15, 2017
NEWS:
Colby Wooden is a three-star defensive end from Archer High School in Lawrenceville, Georgia. According to 247 Sports he stands at 6-4 230 pounds. Wooden ranks as the No. 30 SDE and the No. 44 prospect in Georgia. In my opinion, he's one of the most underrated defensive ends in the 2019 class. Wooden's a hard-hitting player that can squeak through an offensive line. He's smart and waits for his moment. Wooden's ability to get past a tackle impresses me. He's strong and doesn't quite when it comes to getting toward the quarterback. Wherever he chooses to go, he'll make an impact with the right development.
Wooden's recruitment appears wide open. However, if you want to get technical it appears to be between Auburn, Clemson, Tennessee, Florida State and Georgia. He holds 23 offers with the latest coming from Nebraska on March 28. He recently visited Florida on March 24 and prior to that attended Tennessee's junior day. Wooden's been on Georgia's campus recently too. He visited on January 27. I don't expect a decision from him until after his senior season.
Highlights – 
---