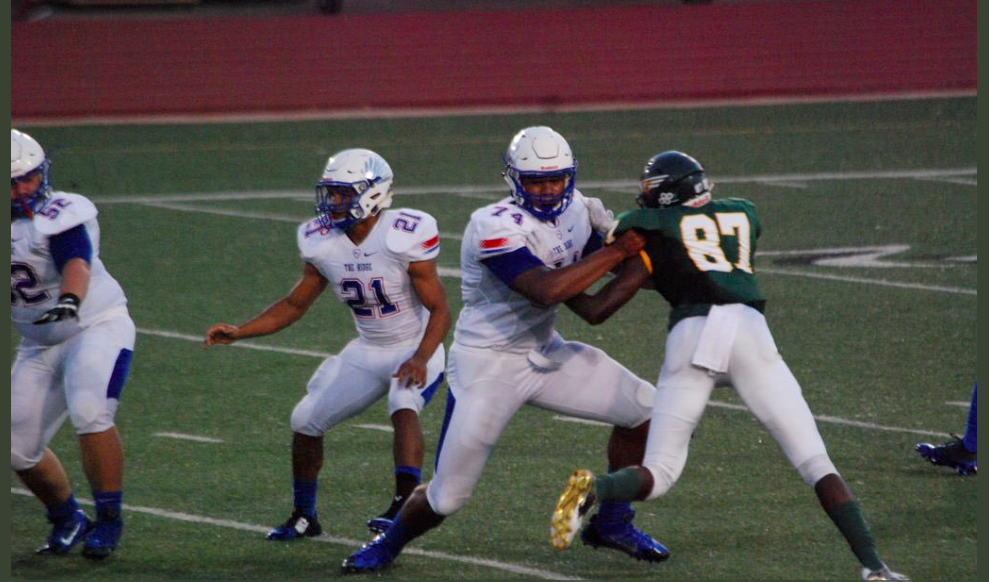 UGA Recruiting Daily Thread
TODAY'S FEATURED PROSPECTS
*Any Rankings presented below are from 247Sports Composite Rankings*
Kenyon Green
CLASS: 2019
POSITION: OT
HT, WT: 6-5 318 
SCHOOL: Atascocita 
CITY, STATE: Humble, TX 
STATUS: Undeclared 
# OF OFFERS: 23 offers 
UGA OFFER: Yes, February 27, 2017
NEWS:
Kenyon Green is a five-star offensive tackle from Humble, Texas. He stands at 6-5 318-pounds. According to 247Sports Composite rankings, he ranks as the No. 14 overall player in the country, the No. 4 OT and the No. 1 player in Texas. Green currently holds 22 offers with the latest coming from Missouri on April 17. He visited Texas A&M on April 7 and had a coach from Oklahoma visit him on May 2. Green announced a top 10 on March 18.
His top ten are, Texas A&M, Texas, Oklahoma, LSU, TCU, Alabama, Florida, Tennessee, Georgia and Arkansas. According to his 247Sports profile, Texas A&M holds the edge at 82 percent, nine percent is cloudy and the other nine percent goes to Texas. So the Aggies seem to be the team to beat.The Bulldogs offered on February 27, 2017, and appear to be interested in Green. I expect him to visit this summer a few times and Georgia to increase the interest.
Film Review
Green has the size and stature to play wherever he wants on the field. Throughout high school, he appears to play at tackle and center. The first major thing i notice is his speed and footwork. According to his hudl, he runs a 5.2 40-yard dash and I believe he had a slow day when he ran. Green keeps his feet squared with his body and is able to avoid folks getting around him. He's got quick feet and can be a downfield blocker with ease. Like Johnson, he's extremely versatile and could probably play at any position on the line. The only thing that needs to happen is he could shed a few pounds, would probably make him faster and quicker. Green has great vision, impressive flexibility in his hips and a high IQ. He's smart with his blocks, it's technical and clean.
Georgia needs to up the recruitment on this one, he's a catch and needs to be on Georgia's future offensive line.
Highlights –
Tyler Johnson
CLASS: 2019
POSITION: OT
HT, WT: 6-5 308
SCHOOL: Oak Ridge 
CITY, STATE: Conroe, TX
STATUS: Undeclared 
# OF OFFERS:  21 offers 
UGA OFFER: Yes, Feb. 3, 2018
NEWS:
Tyler Johnson is a five-star offensive tackle from Conroe, Texas. He stands at 6-5 308 pounds. According to 247Sports Composite rankings, he ranks as the No. 31 overall prospect, the No. 6 OT, and the No. 5 prospect in Texas. Johnson currently holds 21 offers with the latest coming from Georgia on February 3. He attended Oklahoma junior day on Feb. 17 and went for an official visit to Norman on April 13.
According to his 247Sports profile, Texas has 100 percent of the edge, but I don't know how accurate that is. Georgia needs to host this one and get him on campus. However, I'm not sure if it's too late for that, the Big 12 schools seem to be where this tackle wants to go. I expect the Bulldogs to go to Conroe soon and show him some love. Johnson shouldn't make a decision until the end of the season.
Film Review
Johnson is a prospect who has the size and frame to eventually be a true offensive tackle. The first thing I notice is his size and natural strength. He can truly play anywhere on the line. Johnson's got a high ceiling, appears to have a high football IQ. He's a block-finisher who will take his man to the ground if he gets the chance to.
His footwork and technique impress me, it appears to come naturally. Johnson's the biggest guy on the field, but the quickest offensive lineman on his team. According to his hudl he runs a 5.44 40-yard dash.  The flexibility of his hips helps him explode out of his stance with ease. Johnson's size, run-blocking ability, and physical nature suggest that he could potentially be the most versatile player on the offensive line. Wherever he goes at the next level appears to be getting a phenomenal athlete that can do just about whatever he wants to.
Highlights – 
---