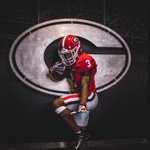 UGA Recruiting Daily Thread
TODAY'S FEATURED PROSPECTS
Demarkcus Bowman
CLASS: 2020
POSITION: RB
HT, WT: 5-11 180
SCHOOL: Lakeland High School
CITY, STATE: Lakeland, FL
STATUS: Undeclared
#OF OFFERS: 14 offers
UGA OFFER: Yes
NEWS:
Demarkcus Bowman is a four-star running back from Lakeland Florida. He stands a 5-11 180 pounds and ranks as the No. 7 RB and the No. 8 2020 prospect from Florida. Bowman currently holds 14 offers with the latest coming from Arkansas and Alabama on January 29. He recently visited Florida on March 29 for an unofficial visit.  Bowman visited Georgia on March 28. The recruitment for Bowman appears to be wide open with Georgia right in the mix of things.
Bowman's film impresses me as a rising junior. He runs a 4.47 according to his Hudl. Bowman has great bursts of speed. He can make people miss and it takes multiple defenders to tackle him. Once he hits the second level of defense it's hard for anyone to keep up with him. He's got some grit to him too. Bowman's not afraid to lower his shoulder and plow through people. He's got great vision and shows patience. Wherever Bowman decides to go, he will be a profound running back.
Highlights –

Zachary Evans
CLASS:2020
POSITION: RB
HT, WT: 5-11, 200
SCHOOL: North Shore High School
CITY, STATE: Houston, TX 
STATUS: Undeclared
#OF OFFERS: 30 offers

UGA OFFER:  Yes January 24, 2018
NEWS:
Zachary Evans is a five star running back from Houston, Texas. He stands at 5-11 200 pounds and ranks as the No. 1 RB and the No. 1 prospect in Texas. Evans holds 30 offers already as a rising junior. The lastest to offer Evans was Penn State on March 14. Since then he visited Oklahoma State, Oklahoma and Texas A&M. It appears the race is between LSU and Texas, but I expect Georgia to hang right in there with this one. He's one hot commodity for the 2020 class, and I expect this recruiting race to come down to Signing Day.
Evans is so physical. He makes people miss and it always takes one or two defenders to get him down all the way. Evan's has a great vision of the field, and once he cuts up, it's over with. He's just so talented. His stature helps him and he's just naturally athletic. It's obvious as to why he has 30 offers as a rising junior, and I wouldn't be surprised if he didn't get to 40 offers. Evans is the best on the edge, and boy is he quick off the edge. One of the best films I've seen of a rising junior.
Highlights –

---