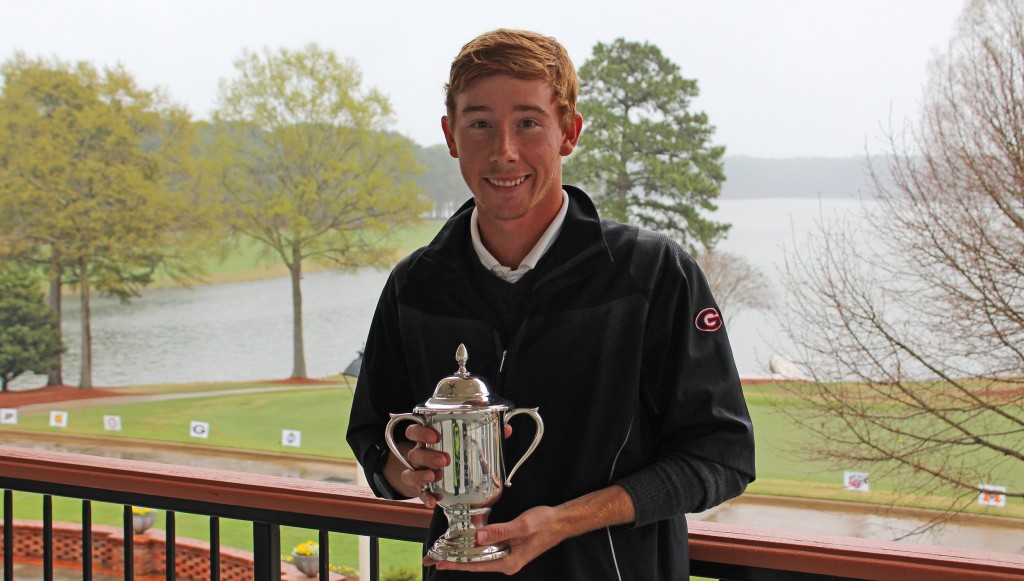 [su_spacer size="20″] Led by tournament medalist Lee McCoy, the Georgia men's golf team came in second in the Linger Longer Invitational on Sunday.
[su_spacer size="40″] McCoy, a junior, finished at 14-under-par 202, including a 5-under 67 in the final round, for a 2-shot victory over Texas' Beau Hossler. The win is McCoy's second of the season and the third of his career.
[su_spacer size="40″] McCoy's 14-under tally is the third-lowest final score in school history (trailing only an 18-under by Chris Kirk and 15-unders by Ryan Hybl and T.J. Mitchell). He opened the tournament with a 7-under 65, which is the third-lowest loop in Georgia annals. McCoy's season average now stands at 69.60.
[su_spacer size="40″] McCoy led the Bulldogs' charge as they wound up at 19-under 845, five shots shy of Texas' 840. Georgia now has three victories and Sunday's runner-up finish on its 2014-15 resume.
[su_spacer size="40″] Junior Sepp Straka followed McCoy with a 3-under 69 on Sunday, while sophomore Greyson Sigg signed for a 1-under 71 and senior Mookie DeMoss posted a 6-over 78. Senior Nicholas Reach had the Bulldogs' non-counting score of 8-over 80.
[su_spacer size="40″] Straka placed eighth at 5-under 211, followed by Sigg at even-par 216, Reach at 2-over 218 and DeMoss at 16-over 232.
[su_spacer size="40″] "I'm pleased with the way we played this weekend," said Georgia coach Chris Haack. "The guys are playing with a lot of confidence right now. We're closing in on the championship part of the season, so we're in a pretty good place. I'm really proud of Lee for the way he performed. He was pretty steady all tournament, just like he's been all season. He's really been leading the way for us."
[su_spacer size="40″] Playing as individuals, freshman Zach Healy wound up 19th at 1-under 215, while sophomore Jaime Lopez Rivarola came in at 2-over 218 and senior Sam Straka finished at 31-over 247. Healy and Lopez Rivarola closed with 2-over 74s on Sunday and Straka had a 13-over 85.
[su_spacer size="40″] The Bulldogs will return to action March 29-30 in the Seahawk Intercollegiate in Wilmington, N.C.