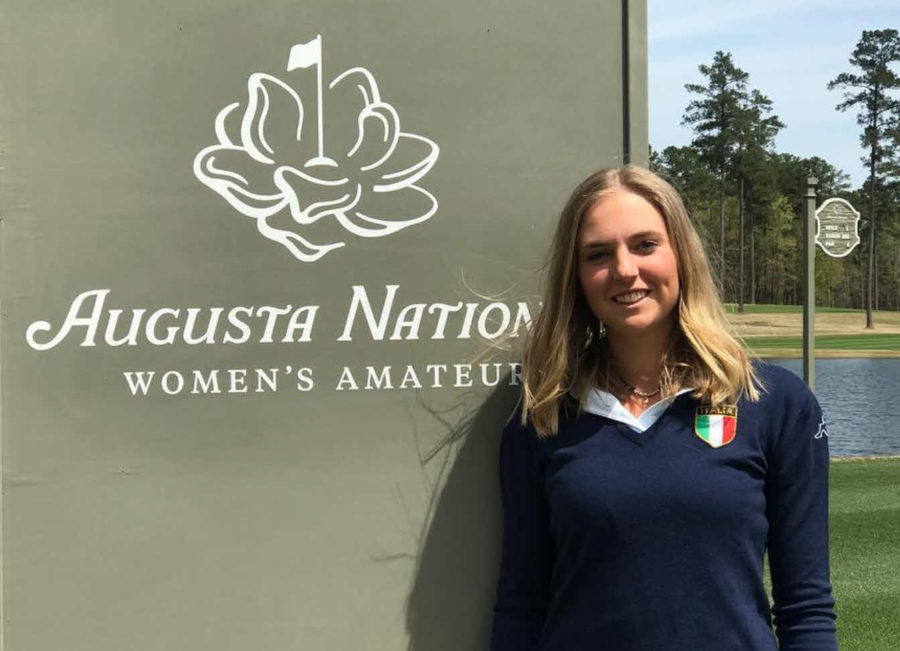 Georgia's Caterina Don will open play at the U.S. Women's Open at Champions Golf Club in Houston this morning, the first major professional event of the sophomore's career. Don earned a spot in the field for the Open, an invitation-only event this year due to the COVID-19 pandemic, as one of the world's top-ranked amateurs.
Don, a native of Pinerolo, Italy, will tee off at 11:04 a.m. ET with Sarah Schmelzel and Emily Kristine Pedersen for today's opening round. Don has been ranked as high as No. 6 in the World Amateur Golf Rankings (WAGR) in the past year. She earned All-America honors last season in her first year at Georgia and finished 12th at the inaugural Augusta National Women's Amateur in 2019. Don helped lead Italy to the 2018 World Junior Girls' Team Championship, where she finished sixth individually.
"My biggest goal would be to make the cut and be able to play on the weekend," Don said. "My other big goal is to just go out there and try to do my best and enjoy playing with the best players in the world. I'd like to try to learn as much as I can from them to tray to improve my game this week and also to show where my golf game is at and how good I can be."
Don played her first practice round on Tuesday, the first of two days to learn the two courses that will host this year's open. The Champions Club's will utilize both its Cypress Creek and Jackrabbit courses this weekend.
"The weather is beautiful, and I got to play with two amazing players and learn the golf course and learn how they learn the golf course," Don said. "It's a tough golf course because you miss the fairway, you might not be able to miss the green. You need to know where to miss and where to chip from."
Georgia coach Josh Brewer is serving as Don's caddy this week and is enjoying the role reversal.
"If she has a question, I want to be able to answer it right," Brewer said. "I feel like I have a homework assignment every night, making sure her yardages – and for her it's meters – are correct. That's what keeps me kind of restless. If she has a chance to have a special finish, I sure as heck don't want to be the cause of a bogey somewhere. She's the boss this week. I keep asking. What time are we leaving? When do you want to go? How do you want to practice? I'm just here for her. If she tells me to be downstairs at 5:00 a.m. with a cup of coffee, I'll be downstairs at 5:00 a.m. with a cup of coffee. I think that's been fun for her, and it's given her a look at what life is like as a professional. She would tell her caddy or coach what she wants because it's her own business."
Brewer has a history of caddying for his Bulldogs, including doing so for Jillian Hollis at the 2018 U.S. Open, Rinko Mitsunaga at the 2017 U.S. Amateur and Isabella Skinner at the 2016 U.S. Amateur.
"I have a good relationship with Josh," Don said. "On the golf course, I trust him with my numbers and the greens. I think he knows my game almost better than anyone around me, apart from my coach in Italy, of course. He knows how fast the greens can get at the U.S. Open. He's caddied for Jillian in an Open. I think it's a good choice."
Don hopes to utilize this week as a learning experience for what she hopes will become a professional career.
"I'm trying to see where their game is different from mine and where I need to practice," Don said. "As of now, what I saw is there is a lot of chipping and a lot of putting. They do have some more distance than I do, but that's not really the key. It's about spending a lot more time on the greens and around the greens."
Brewer also thinks Don has important lessons to learn this week.
"I tried to make sure she's had (a practice round) pairing with a Sophia Popov, who's won a major; Lizette Salas, who is top-20 in the world; Amy Olsen, who was an All-American at North Dakota," Brewer said. "I wanted her to play with players who went to college and are very successful on the LPGA. I want her to understand what the lifestyle is and how they do things. She's going to have to add some of those things over time if she wants to play out here and have a lot of success. At the same time, I'm still trying to coach her and keep her eyes open and make sure she's ready come Thursday morning."
Brewer is appreciative of being along for the ride experiencing Don's first of what he thinks could be many U.S. Opens.
"Hats off to her," Brewer said. "We're having this interview because of all the hard work she's put in. To me as a coach, it's just exciting. What a way for her to end a very odd year, to get to play in her first major championship. What an honor."
Don is the fifth Bulldog to compete in the last five U.S. Opens, joining current Georgia teammate Céleste Dao (2018-19) and former standouts Hollis (2018), Bailey Tardy (2016-17) and Mitsunaga (2016).