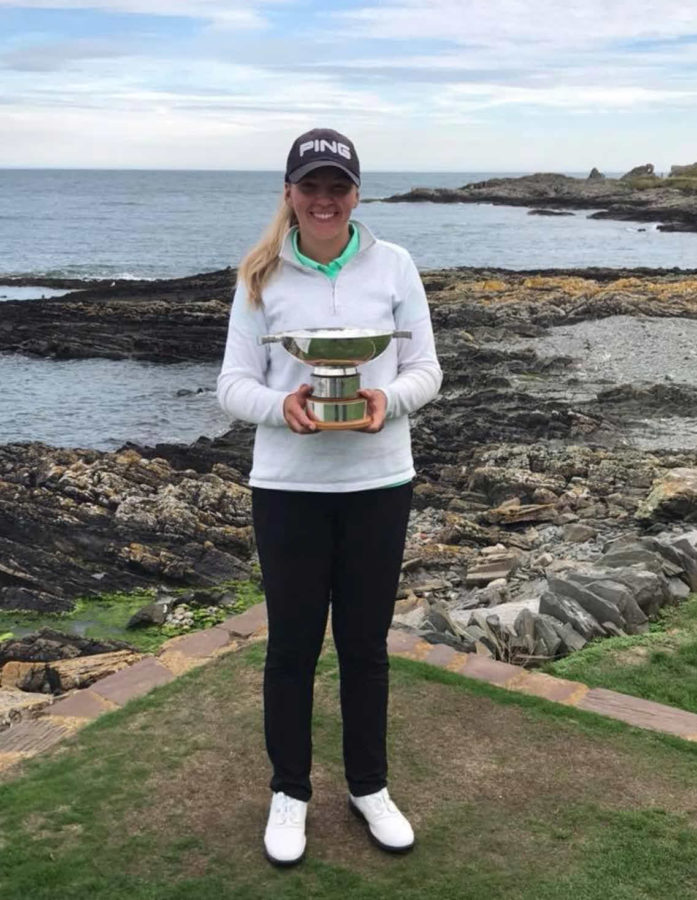 The Georgia women's golf program enjoyed a banner day on Wednesday, signing two of the top-50 amateurs in the world to letters-of-intent to play for the Bulldogs. Isabella "Isi" Holpfer and Candice Mahe, who are currently No. 40 and No. 41 in the World Amateur Golf Rankings (WAGR), respectively, will compete collegiately for Georgia.
"You try to build your program each year and build depth," head coach Josh Brewer said. "Being able to bring in players who are ranked 40th and 41st in the world tells you where we are as a program and what kind of players want to come here and compete for Georgia."
Mahe, who is from Gourin, France, will join the Bulldogs in less than two months as a January 2020 mid-year enrollee. Holpfer, who hails from Vienna, Austria, will arrive in Athens next fall.
Holpfer (pronounced Haul-per) burst onto the scene by becoming the youngest golfer ever to win the Austrian Match Play Championship in 2014. She has since gone on to win the 2015 Irish Women's Amateur, the 2018 Slovenian Amateur and the 2018 English Women's Amateur. All told, Holpfer has recorded 28 top-10 finishes in 82 events since 2014.
"Isabella hits it really straight, and she's really consistent," Brewer said. "Over the past two-three years, she's played at a high level and won at various locations in different conditions all around the world. We expect her to continue down that path at Georgia."
From a team perspective, Holpfer was chosen to represent Europe in the 2017 Vagliano Trophy. She posted a perfect 4-0 record to help the Europeans defeat Great Britain and Ireland, 15-3. Holpfer also represented Austria at the 2019 European Ladies' Team Championship and the 2016 and 2017 European Girls' Team Championships.
Mahe (pronounced May) boasts five victories since 2015, most recently winning the 2019 Spanish International Ladies Amateur in March and the 2018 French Girls Amateur last October. She won her first title in 2015 at the Grand Prix de Bretagne and the following year defended that title and also captured medalist honors at the Grand Prix de la Biarritz Cup. In 62 events since 2015, Mahe has recorded 21 top-10 individual efforts.
"Candice is truly a competitor," Brewer said. "A lot of that comes from representing France multiple times and wanting to win as a team. Yes, she wants individual titles, but she understands and enjoys team golf and what it takes to be successful as a team. She's really close to Caterina (Don) and Célesete (Dao). They really convinced me to recruit her harder, and I'm sure glad they did."
Last weekend, Mahe won gold and silver medals at the Spirit International Amateur Championship at Whispering Pines Golf Club in Texas. She helped France shoot 37-under to win the combined co-ed title and 21-under to finish second in the women's field. Mahe also played on the French National Team at the 2019 European Ladies' Team Championship and the 2017 and 2019 European Girls' Team Championships.
Georgia has long been one of the nation's premier women's golf programs. The Bulldogs own four national championships, the 2001 NCAA team title and three individual crowns – Terri Moody in 1981, Cindy Schreyer in 1984 and Vickie Goetze in 1992. Georgia has won a league-high 19 SEC Championships, 11 team and eight individual. All told, 32 Bulldogs golfers have combined to earn 58 All-America recognitions.