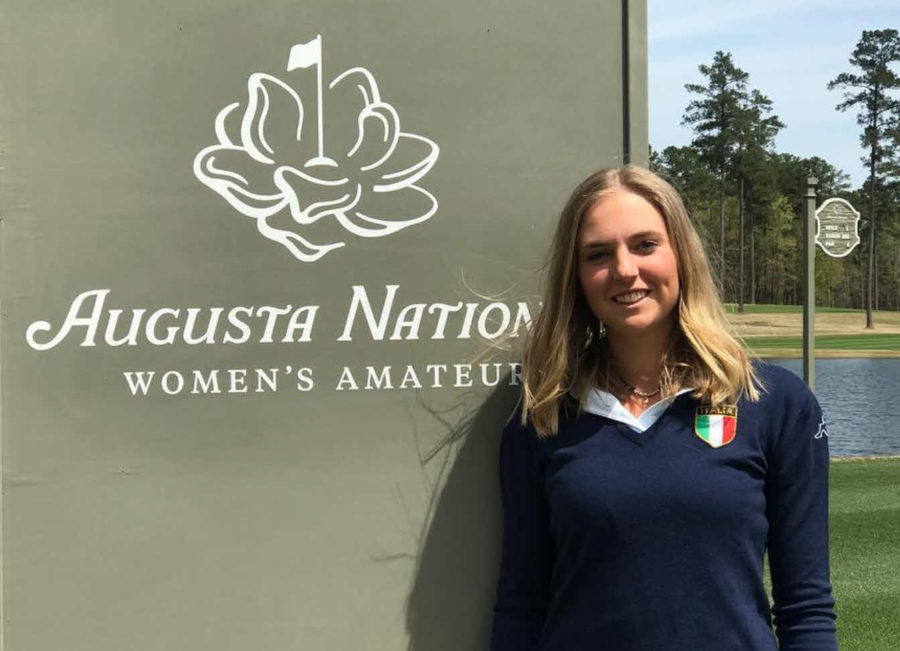 The Georgia women's golf team will open the 2021 calendar portion of its season on Sunday when the Bulldogs tee off at the LTWF Heroes Intercollegiate. The 54-hole event is being hosted by Purdue at The Founders Club in Sarasota, Fla.
Georgia, which wrapped up the fall season ranked No. 6 by Golfstat and No. 7 by Golfweek, will utilize the lineup of juniors Jenny Bae and Jo Hua Hung and sophomores Caroline Craig, Céleste Dao and Caterina Don.
"It's nice to get going and hopefully create a little bit of rhythm in our schedule," head coach Josh Brewer said. "Unlike the fall when we were just hoping to get through it and not knowing what our spring would look like, we now know at the end of this semester we'll have the SEC Championship and the national championship."
Bae, Craig and Dao earned their spots in the lineup with stellar showings at the Orlando Women's Amateur in January. Competing against a strong field with numerous top collegiate golfers, Craig tied for third and Bae and Dao tied for fifth. Don and Craig secured the other playing positions in team qualifying.
"The excitement is incredible," Craig said. "We can't stop talking about it. I think the biggest thing is that we're really grateful that we even get to compete. I know with everything that's going on and everything's always changing, I just try to take every moment as a blessing. We all worked really hard during the fall season and definitely had some solid rounds, and we're pushing each other to do even better because the spring season is where it's really at. We're just hoping to make it the end of May because that means a national championship."
The Bulldogs competed in three fall events comprised almost exclusively with SEC teams. Georgia finished fifth at the Blessing Invitational and The Ally and third at the Bulldogs' own Liz Murphey Fall Collegiate Classic. In the final fall individual rankings, eight Bulldogs were featured among the top-100 golfers in the Golfweek/Sagarin Performance Index, led by Bae at No. 12 and Craig at No. 19.
"We're happy with our ranking but at the end of the day we know we didn't win a tournament (in the fall)," Brewer said. "We've talked about that a lot as a team already. It's like 'We're here to win.' We want to make sure that on the final day, not only this week but going forward in every tournament, that we're ready to win another SEC Championship or NCAA Championship. That's the next step we have to take as a group."
The 15-team field in Sarasota includes four schools from both the Big Ten (Illinois, Minnesota, Northwestern and Purdue) and the ACC (Clemson, N.C. State, Notre Dame and Virginia Tech); three each from the SEC (Georgia, Ole Miss and Tennessee) and the Big 12 (Iowa State, Oklahoma and Texas Tech); and Augusta.
The SEC and Big 12 played a fall schedule, while the Big Ten and ACC did not and therefore were not included in national rankings. Of the teams in the LTWF field, the Golfstat ledger entering the spring includes Ole Miss at No. 4, the Bulldogs at No. 6, Oklahoma State at No. 10, Tennessee at No. 11 and Texas Tech at No. 14.
Dao said competing against non-SEC teams does not alter her approach to the tournament.
"It doesn't really make a difference because the real opponent is the golf course," Dao said. "I'm more focused on the golf course because that's the person who's going to give me some challenges and some frustration or joy. The other contestants, it's great if it's good schools, but I'm really just focused on me and my game."
Live scoring for the tournament will be available via golfstat.com. Each round will begin with an 8:00 a.m. shotgun start. Georgia will begin Sunday's round on holes No. 14-18 and be paired with Augusta and Notre Dame.