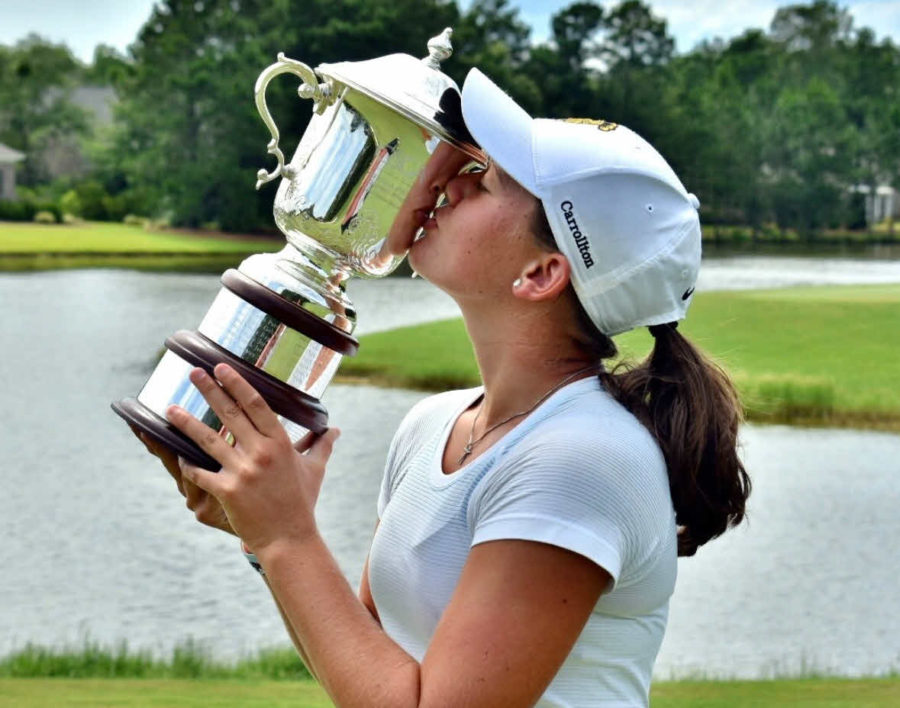 LoraLie Cowart, a 2020 American Junior Golf Association (AJGA) Rolex Junior All-American, has signed a letter-of-intent to compete collegiately for the University of Georgia, head coach Josh Brewer announced on Wednesday.
"One of our top priorities is to try to keep the best players in state if they can compete at a high Division I level," Brewer said. "LoraLie has proven she can do just that. Her results in the past year and her ranking show that she's not only one of the best golfers in the state of Georgia but one of the best in the country. LoraLie comes from a family that is very golf oriented, and she has the same drive academically as on the golf course, which also goes along with what we want from the student-athletes in our program."
Cowart, who is from Winston, Ga., and attends Carrollton High School, is currently ranked No. 20 nationally in the Rolex AJGA Rankings. She has three top-5 finishes and two additional top-20 efforts in five AJGA events this year. Cowart won the Callaway Golf Junior Classic in September and also was runner-up at the Rome Junior Classic and tied for fifth at the AJGA Championship.
In August, Cowart won the National High School Golf Association Invitational, leading wire-to-wire at Pinehurst Resort and birdieing her final two holes to clinch the victory. She also won the 2020 Georgia State Golf Association (GSGA) Junior Championship and finished third at the 2020 GSGA Women's Match Play Championship, where she lost 1-up to her future UGA teammate Jenny Bae, in the semifinals.
Prior to 2020, Cowart played primarily on the Southeastern Junior Golf Tour (SJGT). She notched seven wins and 15 top-5 finishes in 16 tournaments played from 2018-20. Cowart won the Highlands Oaks Junior Classic and the Wynlakes Shootout in 2020 and the Highland Oaks Junior Classic, Chattahoochee Junior Classic, Berkeley Hills Junior Classic, 2018 SJGT Championship at Sea Island and the SJGT Tournament of Champions in 2018.
Cowart attended Central-Carroll High School prior to 2020 and finished second and fourth at the Georgia High School Association (GHSA) Class 4A state championships as a sophomore and freshman, respectively.
Georgia wrapped up the fall portion of its 2020-21 season with a third-place finish in the 48th annual Liz Murphey Collegiate Classic last weekend. Caroline Craig led the Bulldogs with a seventh-place finish. Four more Georgia golfers notched top-25 efforts, with Bae and Isabella Holpfer tying for 19th, Caterina Don tying for 22nd and Céleste Dao tying for 24th.