After posting a 292 in round one on Friday, the Lady Bulldogs nearly equaled their performance on Saturday. The Georgia women's golf team shot 295 in round two of the Darius Rucker Intercollegiate tournament, moving up one spot on the leaderboard from sixth place to a tie with Baylor for fifth.



Individually, Jillian Hollis and Rinko Mitsunaga are tied for 14th place at 4-over 146, while Bailey Tardy is tied for 22nd at 147, Harang Lee is tied for 31st at 147 and Mary Ellen Shuman is tied for 83rd at 162.


Tardy posted the Bulldogs' low loop on Saturday, a 1-over 72. Georgia also counted a pair of 73s from Hollis and Lee and Mitsunaga's 77.


"We were close to a very good day," head coach Josh Brewer said. "It's been sort of that way for two days now. We have just a couple of loose swings or a putt that looks like it's going in lips out. We're close. We have one more day to try to pull everything together and that's the goal for tomorrow."


No. 5 Alabama and No. 18 Duke enter Sunday's final round tied atop the team standings at 5-over 573. No. 10 Arizona State is three shots back, followed by No. 14 South Carolina at 580, the Bulldogs and No. 19 Baylor both at 587, No. 6 Furman at 592 and Tennessee at 594 and North Carolina and Vanderbilt both at 596.


Alabama's Kristen Gillman is the individual leader at 3-under 139.


The Bulldogs will be paired with South Carolina and Baylor on Sunday, teeing off in waves from 8:45-9:21. Live scoring is available via www.golfstat.com.


TEAM LEADERBOARD AFTER ROUND 2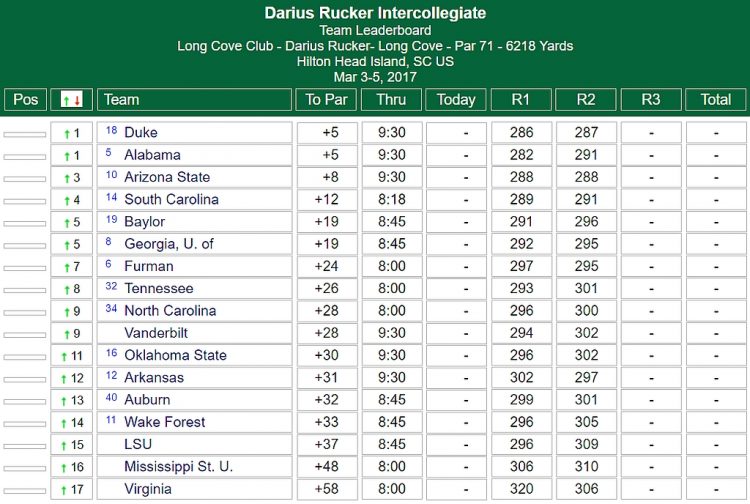 PLAYER LEADERBOARD AFTER ROUND 2