Georgia fell to No. 2 LSU Friday night, 197.57 to 196.725. Despite the loss, Georgia had four gymnasts post career highs during the meet. The Bulldogs showed promise during the final two events, and show just how bright the future is for the Gym Dogs.
Georgia had four Gym Dogs post career-highs on the balance beam, posting 9.9's or higher to earn a season-high 49.375 in the event. Jasmine Arnold posted a 9.775, a career high for her. Marissa Oakley posted a 9.950, leading both teams. It was her second career high of the night. Vivi Babalis tied her career score with a 9.9, and Sabrina Vega scored a 9.925.
Oakley not only scored a 9.950 on beam but posted a 9.9 on bars. That score marked her first event title and career-high on bars.
"It is still not all there, but we are seeing glimpses of amazing," head coach Courtney Kupets Carter said about the teams beam performance. "I am excited for those glimpses to become permanent in the lineup."
The Gym Dogs started on vault posting a 48.925. Sydney Snead led Georgia in the event with a 9.850. Vega, Rachel Dickson, and Lauren Johnson contributed a 9.775. Then the team moved to the bars. Natalie Vaculik and Snead posted 9.825s and helped the team post a 48.850 in the event.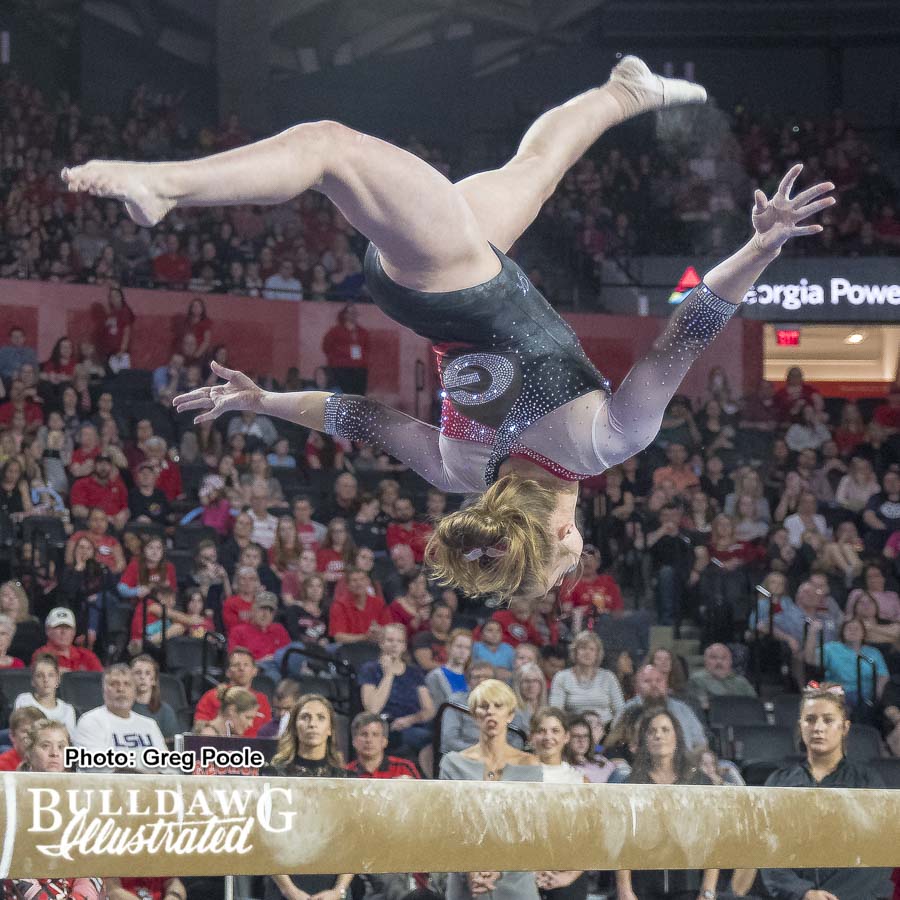 Heading into the final rotation, LSU narrowly led the Bulldogs by 0.925. The Bulldogs closed the gap as they posted a 49.500 on floor. Dickson earned a 10.00 from one of the judges for an average score of 9.950. She shared the event title with Vega and LSU's Lexie Priessman. The two 9.950's tied Vega and Dickson's career-high scores for the event. Babalis contributed with a 9.9, her second 9.9 of the night. Arnold and Snead both posted 9.850.
Georgia might have received the 'L,' but the meet showed just how far this team has come since the beginning of the season. Beam was one of the most inconsistent events coming into the season, and now three gymnasts are posting 9.9's in the event. It's Kupets Carter first season as a head coach, but the progress made in this short of time should make fans happy. It appears the team improves each week and has begun to peak at the right time. With the SEC championship a month away, this team's improving each week and becoming more and more competitive. Along with showing signs of how dynamic Georgia gymnastics use to be.
The Bulldogs return to action on Friday, March 2, in Augusta for Elevate the Stage against Stanford, Nebraska, and Illinois at 7:30 p.m. Georgia returns home to face Boise State on Saturday, March 10 at 4 p.m.