The No. 6 Georgia GymDogs scored a season high 197.475 points against the No. 24 Arkansas Razorbacks Friday at home. Arkansas trailed behind at 196.125 points.
Junior Rachel Dickson and senior Sydney Snead both posted all-around scores of 39.575. Snead had an impressive vault performance, receiving a 9.950, only five-tenths shy of a perfect score.
To see all 2019 UGA Gymnastics galleries
CLICK HERE
Junior Sabrina Vega, who performed well on the road against Auburn, had an impressive performance Friday night as well. Snead and Vega both did not score lower than a 9.900 in the events they competed in.
Vega matched her career-high vault score of 9.900 and season-high beam score of 9.925. She went on to score a season-best on her floor routine, totaling at 9.950 points.
Freshman Mikayla Magee posted two season-high scores on beam and floor. Dickson scored a 9.950 on floor and 9.900 on bars.
The ladies were very happy with this comfortable win against the Razorbacks, and so was head coach Courtney Kupets Carter.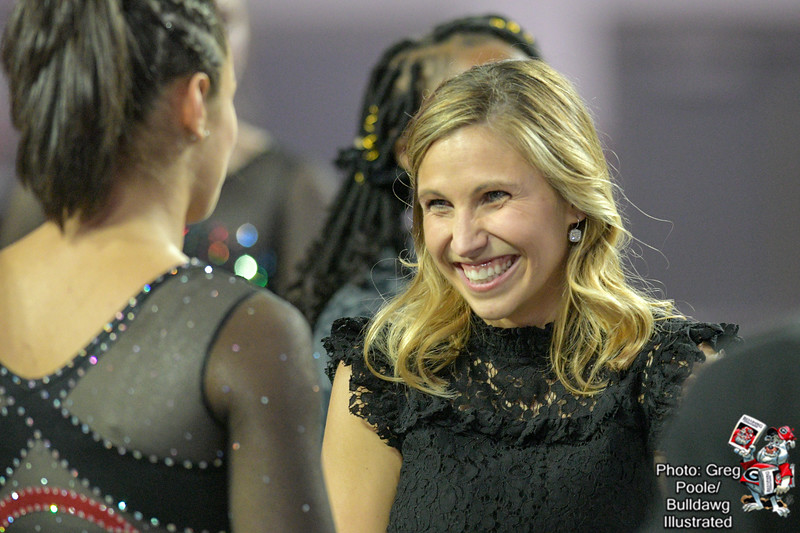 "After our three meets back-to-back, we did push them this week in the gym because we need to be prepared for the end of the season when you have two regional meets, two national meets. They probably felt a little fatigued but to see them do this mentally means that they are really capable of it and I hope they can know that at the end of the day that's what it takes and they can push through," Kupets Carter said.
This win was the type of momentum they needed after losing to Auburn on the road. So far Georgia is 0-2 on the road.
The GymDogs will traveling next Friday as they face off against the Missouri Tigers at 8 p.m. Tune in to see if the Bulldogs are able to break their losing streak on the road.