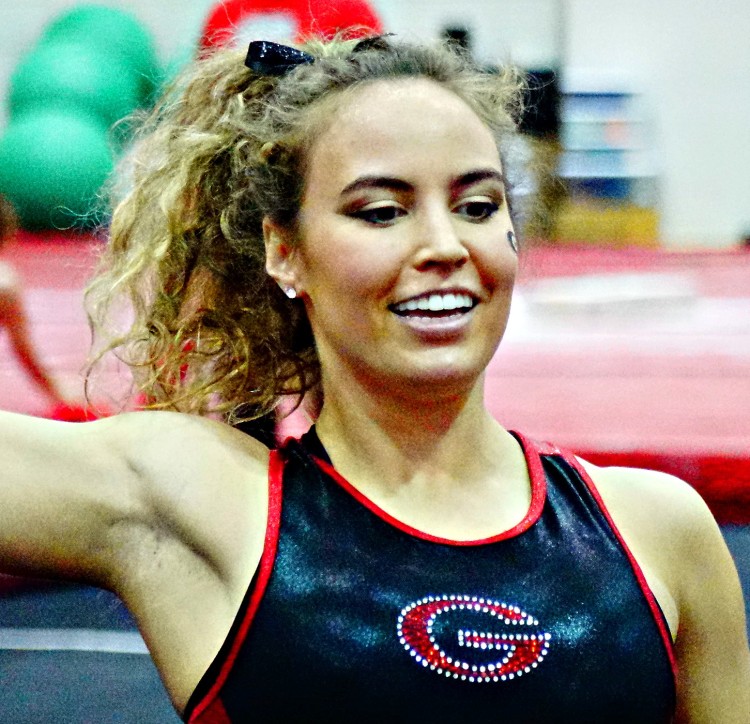 The Georgia gymnastics team embarks on the 44th season in program history when it opens the 2016 campaign at the University of Michigan Saturday at 4 p.m. ET.
Georgia returns 13 gymnasts from the 2015 squad including senior All-Americans Mary Beth Box, Brandie Jay and Brittany Rogers. This year's roster includes three seniors, five juniors, five sophomores and three freshmen. The three newcomers are Caroline Bradford (Baton Rouge, La.), Gracie Cherrey (Woodbury, Minn.) and Sydney Snead (Raleigh, N.C.).
Saturday's meet marks the beginning of head coach Danna Durante's fourth season at UGA. She has led the Gymdogs to three consecutive top-10 national finishes for the first time since 2007-09 and she guided Georgia to back-to-back NCAA Super Six appearances in her first two seasons in Athens.
Georgia-Michigan History
This marks the 51st all-time meeting between Georgia and Michigan with the Gymdogs holding a 41-9 advantage. In 20 dual meets between the two schools, Georgia is 15-5.
The two teams squared off in the season opener last year in Stegeman Coliseum, and Michigan came away with a 196.600-195.600 win in front of a sellout crowd of 10,224. Georgia last traveled to Michigan in 2012 and defeated the Wolverines 196.575-195.300. Incidentally, that competition was held on the campus of Eastern Michigan University in Ypsilanti, Mich., while UM's Crisler Center was undergoing renovations.
Georgia In Season Openers
Georgia is seeking its first win in a season-opener since 2012 after falling to Oklahoma to start the 2013 and 2014 seasons and Michigan a year ago. This is the fourth consecutive year Georgia has opened the season with a top-10 opponent.
Rogers Returns After World Championships
Senior All-American Brittany Rogers returned to Athens in late December after spending the previous months in Canada training for the World Championships. Rogers helped her team to a sixth place finish, which means Canada earned a spot in the 2016 Olypmic Games. Rogers is a six-time All-American and two-time SEC Champion (bars and beam in 2013). She was the NCAA runner-up on bars as a junior in 2015 and has competed all four events during her UGA career. She also competed in the 2012 Olympics in London.
A Look At The 2016 Schedule
Georgia will again face one of the nation's toughest schedules in 2016 with all 12 regular season meets against teams ranked in the preseason top-25, including nine meets against teams ranked in the top-10. The Gymdogs will take on all six of the NCAA Super Six teams from last season and will face nine of the other 11 teams that competed in the NCAA Championships last season.
Rankings
Georgia came in at No. 9 in the preseason coaches' poll, which is where it finished the 2015 season. The Gymdogs will take on every other team ranked in the preseason top-10 beginning Saturday with with No. 7 Michigan.
Up Next
Georgia will travel to Arkansas to take on the Razorbacks Friday, Jan. 15 at 8:30 p.m. ET. The meet will be televised live on the SEC Network. Three days later Georgia will compete in Stegeman Coliseum against Stanford in the 2016 home opener.