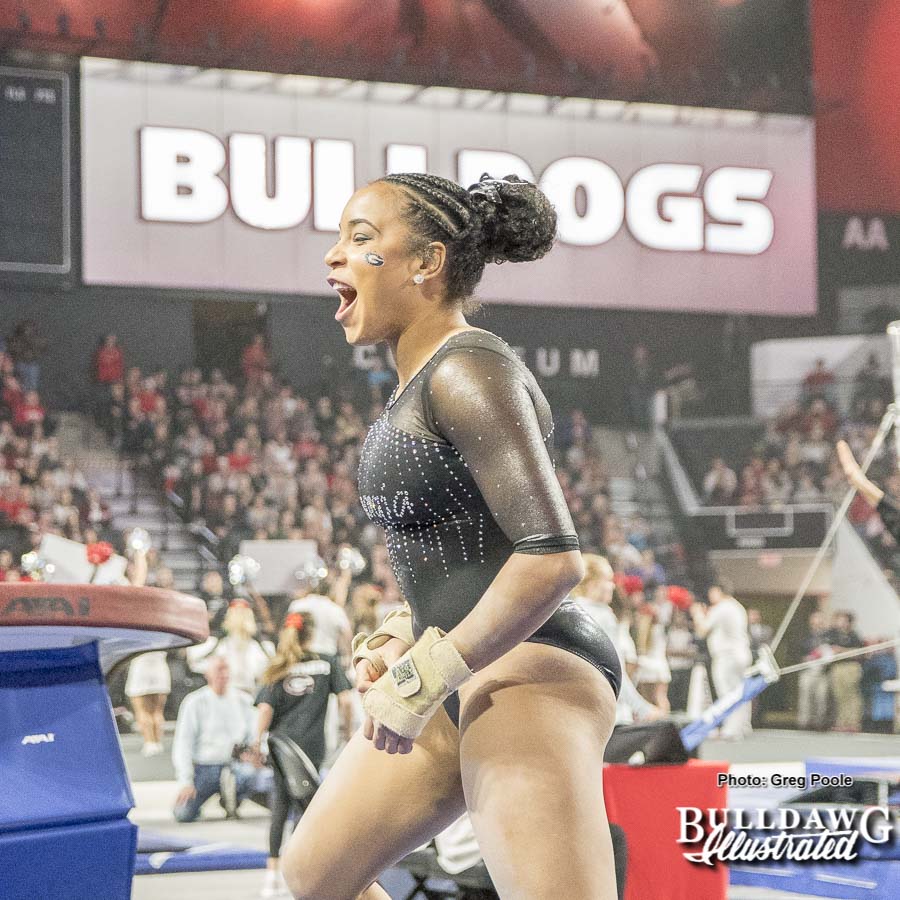 The No. 14 Georgia gymnastics team welcomes the fifth-ranked Florida Gators to Stegeman Coliseum on Friday, February 16 for The SEC Network's 7 p.m. ET "Friday Night Heights" meet. This marks the 149th meeting between the teams, which is the most in program history.  Georgia leads the series 92-55-1. 
GYMDOGS IN THE RANKINGS                                                              
Georgia is ranked No. 14 on the RoadtoNationals.com weekly rankings list with an average of 196.188 after hitting the 197-mark against Missouri and earning its first road win at Kentucky last week.
The vault squad slipped to No. 15 this week with an average score of 49.004, while the bars team remains at No. 8 for the third consecutive week. Georgia moved down one spot to No. 16 on beam and ranks No. 19 on floor.
Sophomore Rachel Dickson is ranked 25th and 22nd on bars and floor, respectively, while Junior Sydney Snead ranked No. 17 on bars.
LAST TIME OUT                                                                                    
The No. 13 Georgia gymnastics team (3-3, 3-2 SEC) upset No. 6 Kentucky (5-3, 2-3) with a final score of 196.150-195.550 inside of Memorial Coliseum on Friday night.
The GymDogs won event titles on vault, bars, and floor, with Lauren Johnson, Marissa Oakley, and Sydney Snead earning the honors.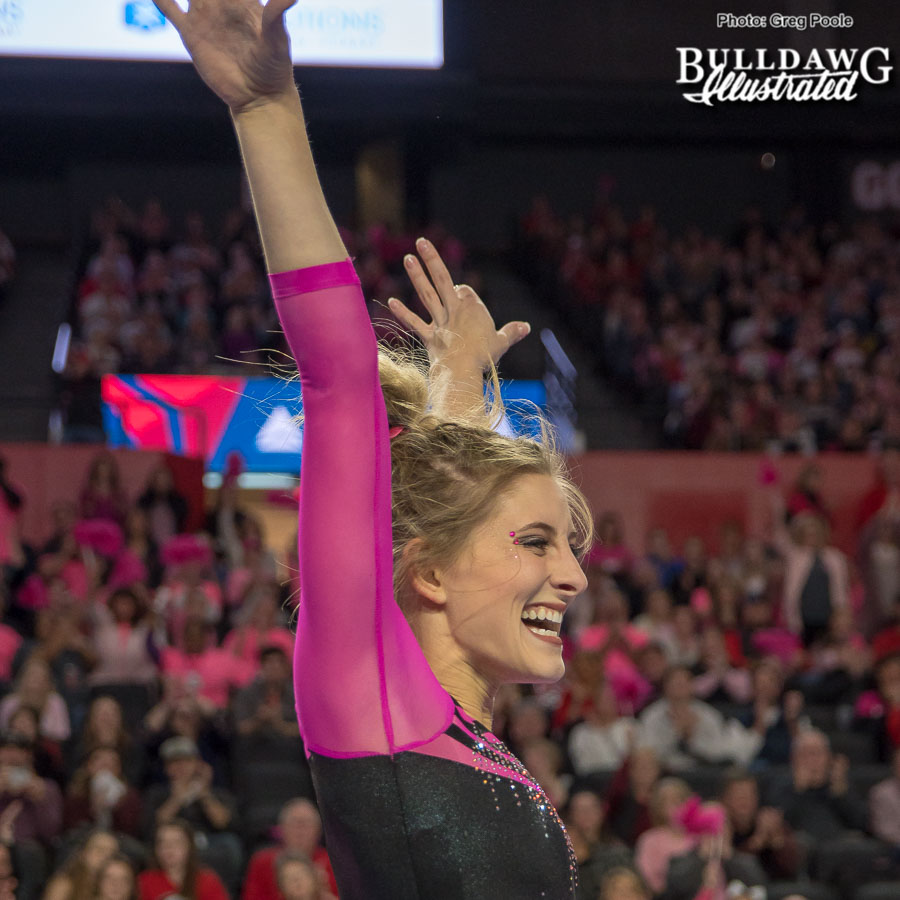 LAST TIME IN STEGEMAN                                                        
Career-High Performances Lead GymDogs Over Missouri
Led by career high performances from six gymnasts, the No. 14 Georgia GymDogs defeated the No. 23 Missouri Tigers 197.000- 195.850 in front of a capacity crowd at Stegeman Coliseum on Saturday afternoon.
Georgia posted its highest team score under first-year head coach Courtney Kupets Carter, becoming only the eighth school to collect a 197-point outing this season. The GymDogs also earned season-topping scores of 49.375 on beam and 149.325 on bars, which is the best Georgia performance in beam and bars in the same meet since 2014 against Iowa.
SCOUTING THE GATORS                                                          
Florida is coming off a 197.85 – 197.075 win over No. 9 Alabama last Friday.
Two Gator seniors bookended the meet with perfect or near-perfect performances. Kennedy Baker ended the evening's competition earning her third career 10.0 floor exercise mark. It is the third floor 10.0 in the nation of 2018 and the only floor 10.0 posted last weekend. Alex McMurtry anchored Florida's opening rotation with a 9.975 on vault for her Yurchenko double full. McMurtry also used a 9.95 to take her second consecutive uneven bars win.
Two Gators picked up SEC honors this week as Baker is the SEC Specialist Gymnast of the Week. Baumann, who turned in a pair of 9.925s to share second on beam and take third on floor, receives her second SEC Freshman of the Week award.
ELEVEN GYMDOGS NAMED TO ATHLETICS HONOR ROLL              
A total of 497 University of Georgia student-athletes earned a grade point average (GPA) of 3.00 or higher and were named to the J. Reid Parker Director of Athletics Honor Roll for the 2017 fall semester. Eleven of those student-athletes are Georgia GymDogs.
Presidental Scholar (4.00 GPA while taking 14 or more hours)
Hayley Sanders
Dean's List (3.50 GPA while taking 14 or more hours)
Rachel Dickson
4.00 GPA
Gigi Marino
3.50-3.99 GPA
Vivi Babalis, Gracie Cherrey, Ashley Foss, Lauren Johnson, Marissa Oakley, and Emily Schild
3.00-3.49 GPA
Jasmine Arnold and Sydney Snead