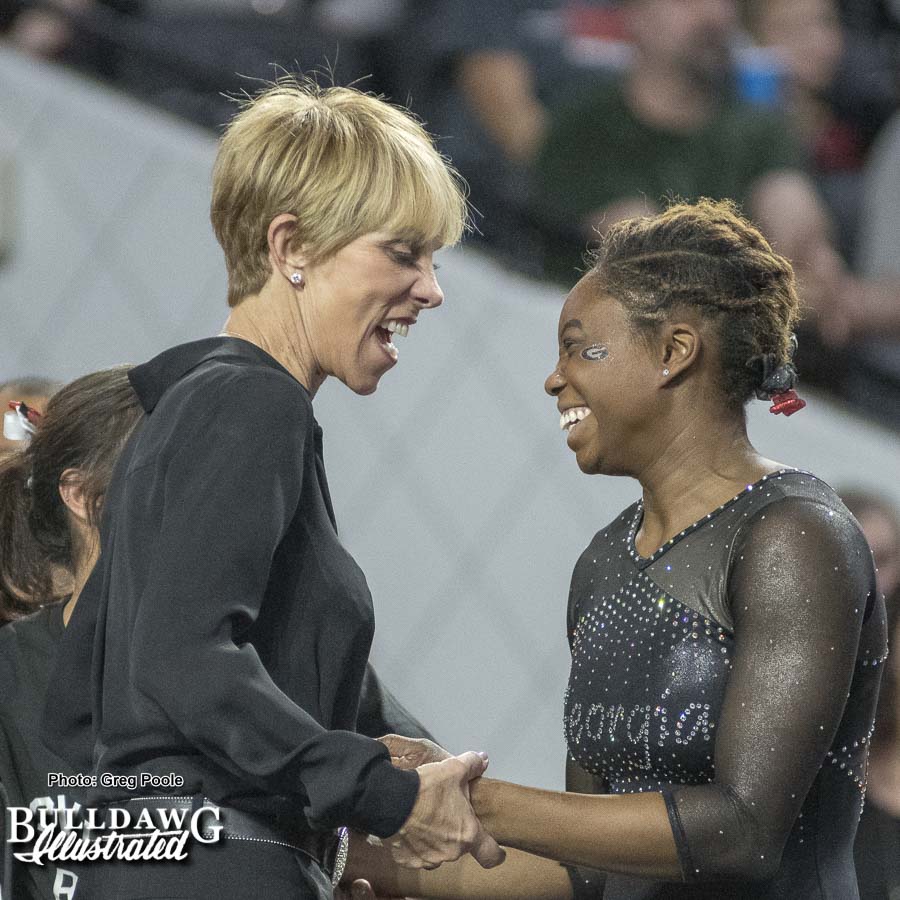 The Georgia GymDogs earned their first win of the season, and first under head coach Courtney Kupets Carter, defeating the No. 16 Auburn Tigers, 196.725- 196.375, in front of 10,284 fans at Stegeman Coliseum on Friday night.

Four GymDogs (1-2, 1-1 SEC) earned scores of 9.9 or better throughout the meet. Senior Lauren Johnson scored a 9.9 on vault. Georgia performed strong on floor with junior Sydney Snead (9.925) and sophomore Sabrina Vega (9.950) both earning career high scores for the event, while Rachel Dickson added a 9.925.
"It feels great to get this first win," Kupets Carter said. "I could not be more proud of this team. They gave it their all. It was the end of three meets in a week. The gas tank is a little bit on empty, and they really showed themselves that they can handle competition when it means the most. To me, that is what is most powerful about this win."
Georgia began competition on vault with Johnson posting a season-high 9.9 contributing to the Gym Dogs overall score of 49.150 to start the meet. Junior Natalie Vaculik clinched a season-high (9.75) and freshman Marissa Oakley tied her season-high (9.8).
Bars featured a career debut for sophomore Jordyn Pedersen in which she posted a 9.6. After the second rotation, the Bulldogs and Tigers (2-3, 1-1 SEC) were separated by 0.05 of a point in favor of Auburn.
Senior Jasmine Arnold had her career beam debut (9.675). Four scores of 9.825 or better by senior Vivi Babalis, Snead, Vega, and Oakley all contributed to Georgia's score of 49.175 for the event. A 9.825 by Oakley cemented her first career-high of the night. Going into the final rotation, Georgia edged a slight lead over Auburn, 147.200 to 147.175.
The GymDogs carried that momentum to the floor. Arnold posted a career-high of 9.85. The pattern continued with Snead gaining a career-high of 9.925 and Dickson with a season-high of 9.925. Vega capped off the competition with a career-high of 9.95.
The four 9.9's or better enabled Georgia to pull the upset over Auburn 196.725 to 196.375. Snead captured an all-around career-high of 39.5 and Georgia placed in all of the individual awards. Johnson on vault, Snead and Dickson tied on bars, Snead and Vega tied on beam, and Vega on floor.
"It just really sealed the deal," Kupet Carter said about Vega's routine. "This is a student-athlete who works her butt off in the gym day in and day out. Consistently, she is the one who pushes everyone to do more. Her floor routine is a showstopper."
The Gym Dogs return to action on January 26, at 7 p.m. against Arkansas in Little Rock.
FINAL RESULTS
Vault: 49.150

Sabrina Vega – 9.775
Marissa Oakley – 9.800
Natalie Vaculik – 9.725
Rachel Dickson – 9.850
Lauren Johnson – 9.900
Sydney Snead – 9.825
Bars: 48.875

Lauren Johnson – 9.725
Marissa Oakley – 9.700
Natalie Vaculik – 9.700
Sydney Snead – 9.875
Rachel Dickson – 9.875
Jordyn Pederson – 9.600
Beam: 49.175

Sydney Snead – 9.875
Marissa Oakley – 9.825
Jasmine Arnold – 9.675
Vivi Babalis – 9.825
Rachel Dickson – 9.775
Sabrina Vega – 9.875
Floor: 49.525

Jasmine Arnold – 9.850
Vivi Babalis – 9.875
Sydney Snead – 9.925
Rachel Dickson – 9.925
Sabrina Vega – 9.50