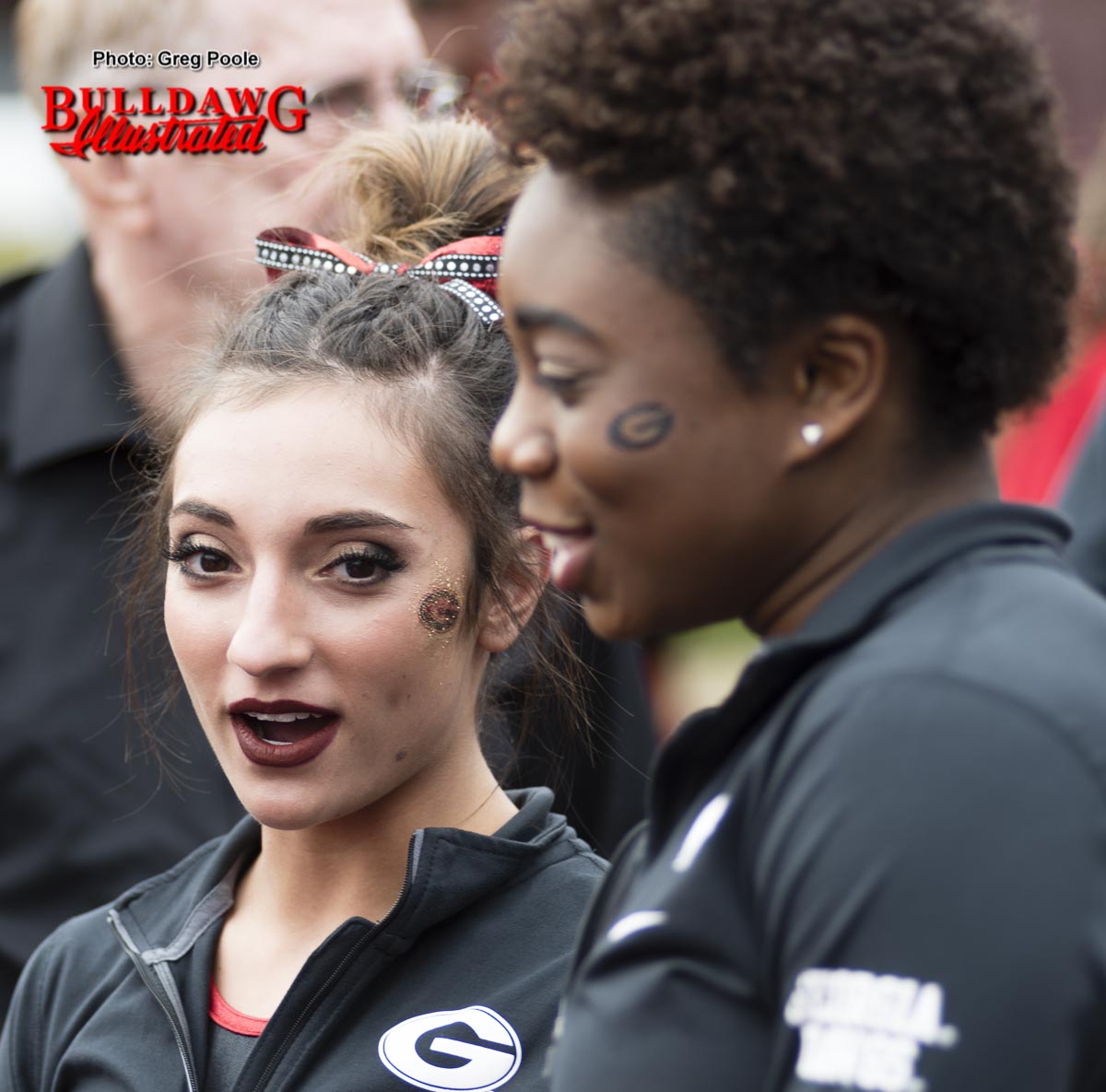 ATHENS, Ga. — The No. 17 Georgia gymnastics team returns to Stegeman Coliseum one last time this season to face Boise State on Saturday, March 10 at 4 p.m.
Six senior GymDogs- Jasmine Arnold, Vivi Babalis, Lauren Johnson, Gigi Marino, Hayley Sanders, and Natalie Vaculik- will be honored before the meet as part of Senior Night. 
SCOUTING THE BRONCOS
Boise State comes to Athens with a 10-1 record and an RQS of 196.225.  The Broncos' only loss came to BYU on Feb. 23 with a final score of 196.225- 196.175. 
Boise State junior Shani Remme has been named MRGC Gymnast of the Week six times and MRGC Beam Specialist of the Week four times this season.
SERIES HISTORY AGAINST BOISE STATE
Georgia holds a 2-0 record over Boise State.  The teams have only previously met in post-season competition- at NCAA Regionals in 2013 and 2015.  Both times Georgia finished first to advance to the NCAA National Championships. 
GYMDOGS IN THE RANKINGS                                                              
Georgia is ranked No. 17 in the latest RQS rankings on the RoadtoNationals.com website with an RQS of 196.310. 
With the RQS scores, the GymDogs now rank 28th on vault, 14th on bars, 11th on beam, and 8th on floor. 
On floor, Georgia jumped from 21st to 8th in RQS from week 8 to week 9 after Elevate the Stage, where the GymDogs improved their season-best road score to a 49.225 for the event. 
Seven GymDogs hold 15 spots within the top-100 in the nation of their respective events, based on RQS.
For vault, Sydney Snead and Lauren Johnson rank 49th, while Rachel Dickson is 79th.
Dickson checks in at No. 29 on bars. Marissa Oakley and Snead both sit at No. 41 and Natalie Vaculik comes in at No. 87.
Sabrina Vega holds the 36th spot on beam, while Snead checks in at No. 52.  Vivi Babalis and Dickson are tied for 69th in the event.
On floor, Snead ranks 18th, while sophomores Dickson and Vega hold the 27th spot.  Babalis broke the top-100, sitting at No. 99.
Additionally, Dickson jumps 18 spots to No 20 in the all-around rankings, while Snead comes in at 22 this week.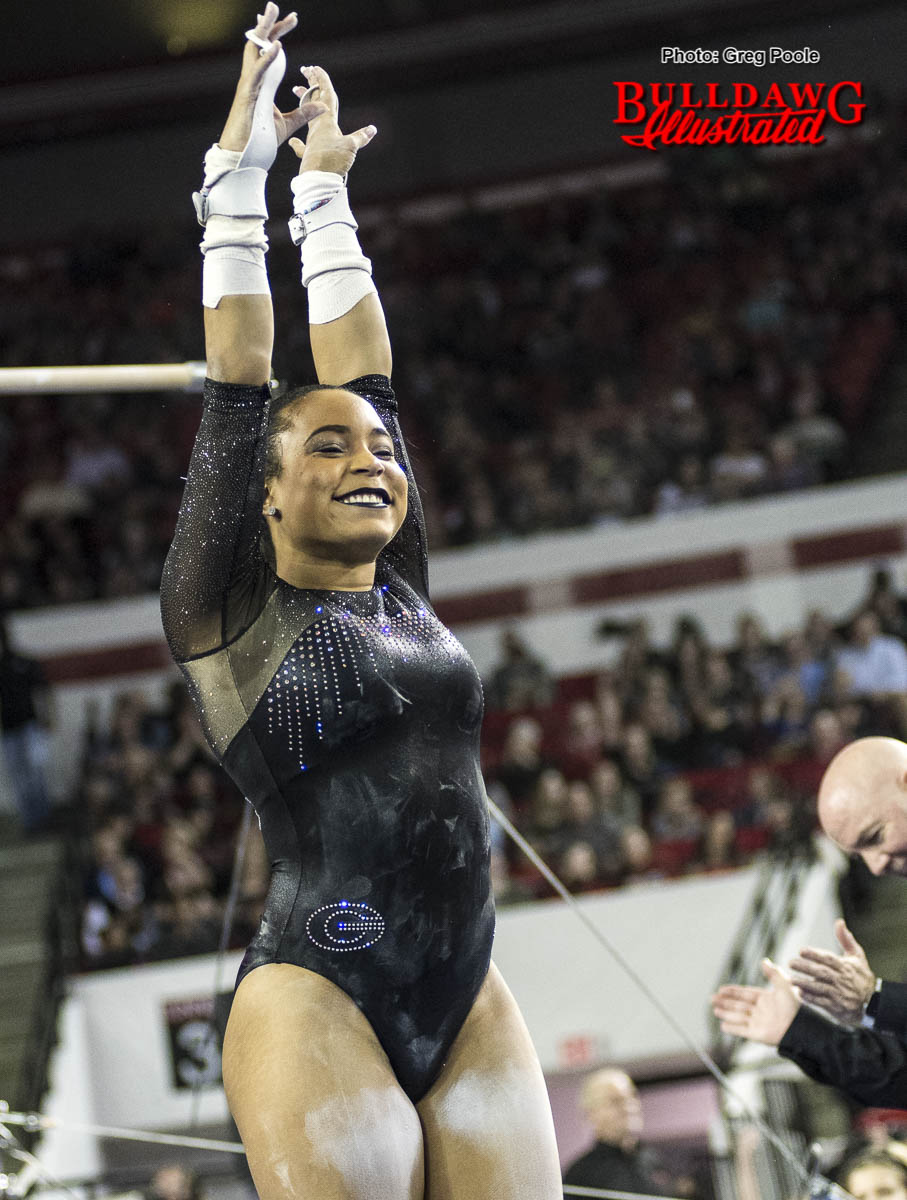 LAST TIME OUT                                                                                    
The 17th-ranked Georgia gymnastics team posted its best road scores of the season on beam and floor to contribute to a team total of 195.825 at Elevate the Stage, a quad meet held in Augusta with No. 16 Nebraska, No. 26 Stanford, and No. 33 Illinois.
The GymDogs finished fourth, behind Nebraska (196.700), Stanford (195.925), and Illinois (195.900), after competing in Olympic order- first on vault, and then bars, beam and floor, respectively.
Georgia was led by junior Sydney Snead and sophomore Rachel Dickson, who both tied their season-high scores on beam after scoring a 9.925.  Dickson's beam score is her best on the road this season. Sophomore Sabrina Vega earned her career-high score of 9.975 in the anchor position on floor after receiving a 10 from one of the judges.
ELEVEN GYMDOGS NAMED TO ATHLETICS HONOR ROLL              
A total of 497 University of Georgia student-athletes earned a grade point average (GPA) of 3.00 or higher and were named to the J. Reid Parker Director of Athletics Honor Roll for the 2017 fall semester. Eleven of those student-athletes are Georgia GymDogs. 
Presidental Scholar (4.00 GPA while taking 14 or more hours)
Hayley Sanders
Dean's List (3.50 GPA while taking 14 or more hours)
Rachel Dickson
4.00 GPA
Gigi Marino
3.50-3.99 GPA
Vivi Babalis, Gracie Cherrey, Ashley Foss, Lauren Johnson, Marissa Oakley, and Emily Schild
3.00-3.49 GPA
Jasmine Arnold and Sydney Snead