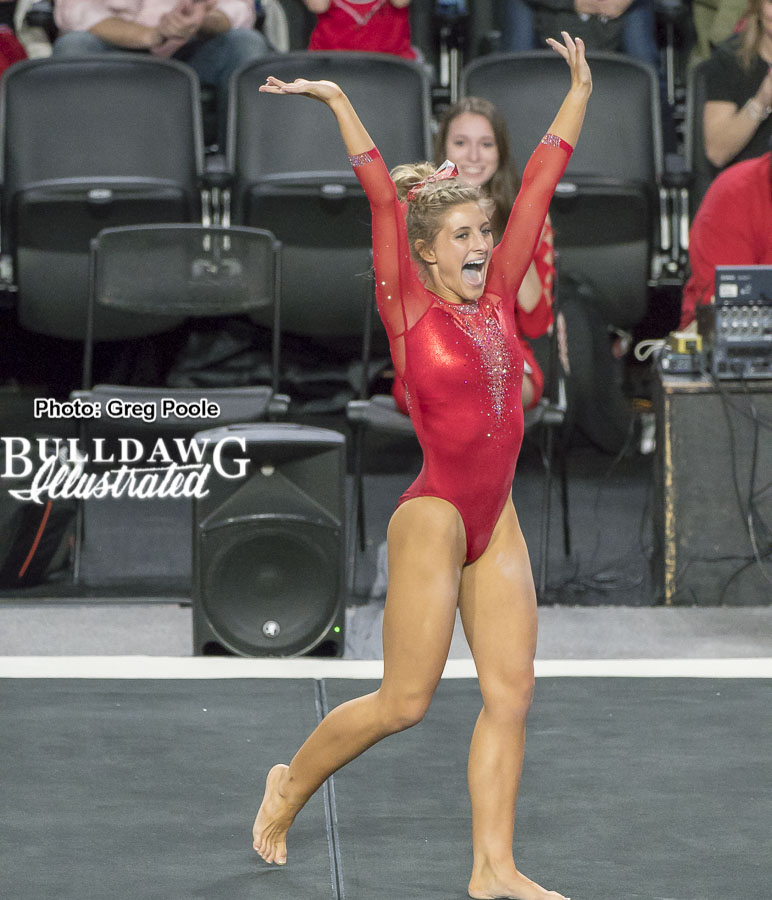 Meet Information:
No. 15 Georgia (3-4, 3-3 SEC) vs. No. 2 LSU (11-1, 5-0 SEC)
Friday, February 23, 2018 | 7:00 p.m. ET | Stegeman Coliseum| Athens, Ga.
Watch: SEC Network  (Bart Connor- PxP, Kathy Johnson-Clarke- Analyst, Laura Rutledge- Reporter)
Stream:  http://gado.gs/8j4
Live Stats:  http://gado.gs/8j3
ATHENS, Ga. — The No. 15 Georgia gymnastics team is back in Stegeman Coliseum on Friday, February 23 against the No. 2 LSU Tigers for the SEC Network's 7 p.m. ET "Friday Night Heights" meet.
GYMDOGS IN THE RANKINGS                                                              
Georgia is ranked No. 15 on the RoadtoNationals.com weekly rankings list with an average of 196.179.
The vault squad dropped to No. 18 this week with an average score of 49.011, while the bars team checks in at No. 12 this week. Georgia moved up one spot to No. 15 on beam and jumped five spots to No. 14 on floor with an average score of 49.150.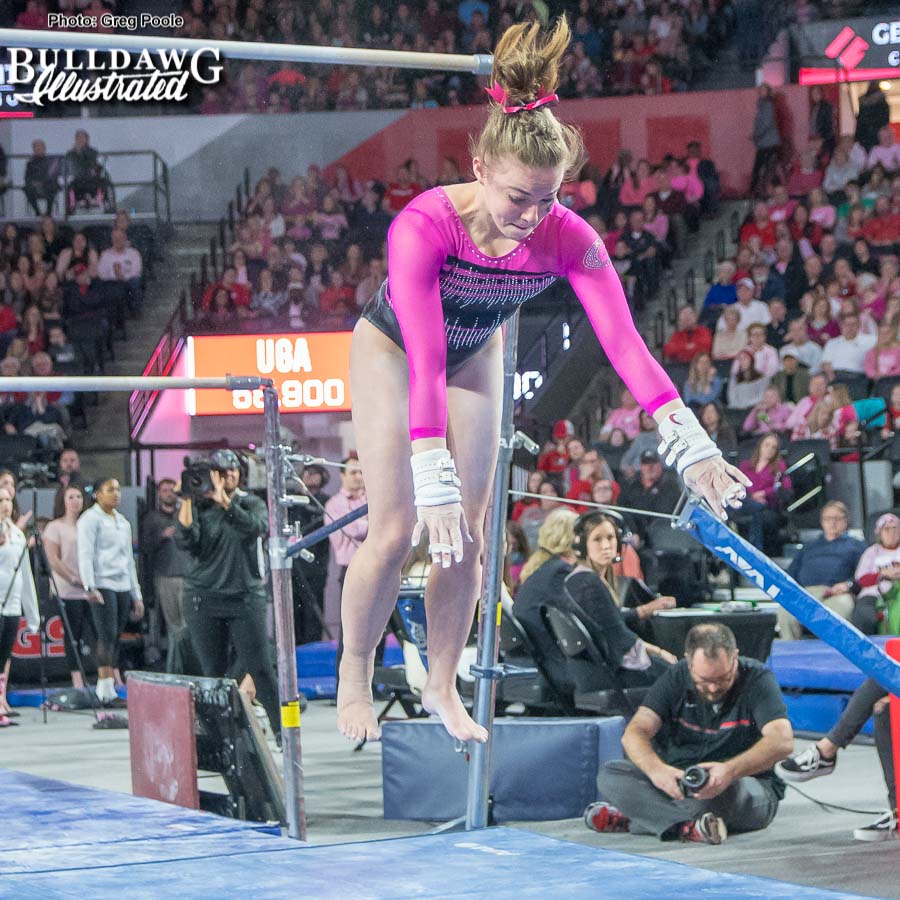 Sophomore Rachel Dickson is ranked 30th on bars and floor, sharing that floor ranking with teammate Sabrina Vega.
Junior Sydney Snead ranked 33rd on vault, 26th on bars, and 52nd on beam. Snead is one of five gymnasts who have scored a Perfect 10 on floor this season.
Additionally, Snead ranks 20th in the all-around rankings, while Dickson comes in at 46.
PERFECTION FOR SNEAD                                                         
Sydney Snead's Perfect 10 is the first by a GymDog since Brittany Rogers earned a 10.00 on vault at UCLA in 2016. It marks the first Perfect 10 inside of Stegeman Coliseum since Grace Taylor on beam in 2010 and the first on floor since Courtney Kupets in 2009 (also against Florida). The Raleigh, North Carolina native took home the floor and all-around titles against the Gators.
LAST TIME OUT                                                                                    
Junior Sydney Snead scored a Perfect 10 on floor as the No. 14 Georgia gymnastics team fell to No. 5 Florida, 196.950 to 196.125, in front of a sold-out crowd at Stegeman Coliseum on Friday night.
SCOUTING THE TIGERS                                                            
LSU swept the SEC Weekly honors with Sarah Finnegan, Lexie Prissman, and Christina Desiderio being named gymnast, specialist and freshman of the week, respectively.  This is the third Gymnast of the Week nod for Finnegan.  Myia Hambrick has also been named Gymnast of the Week three times by the conference.