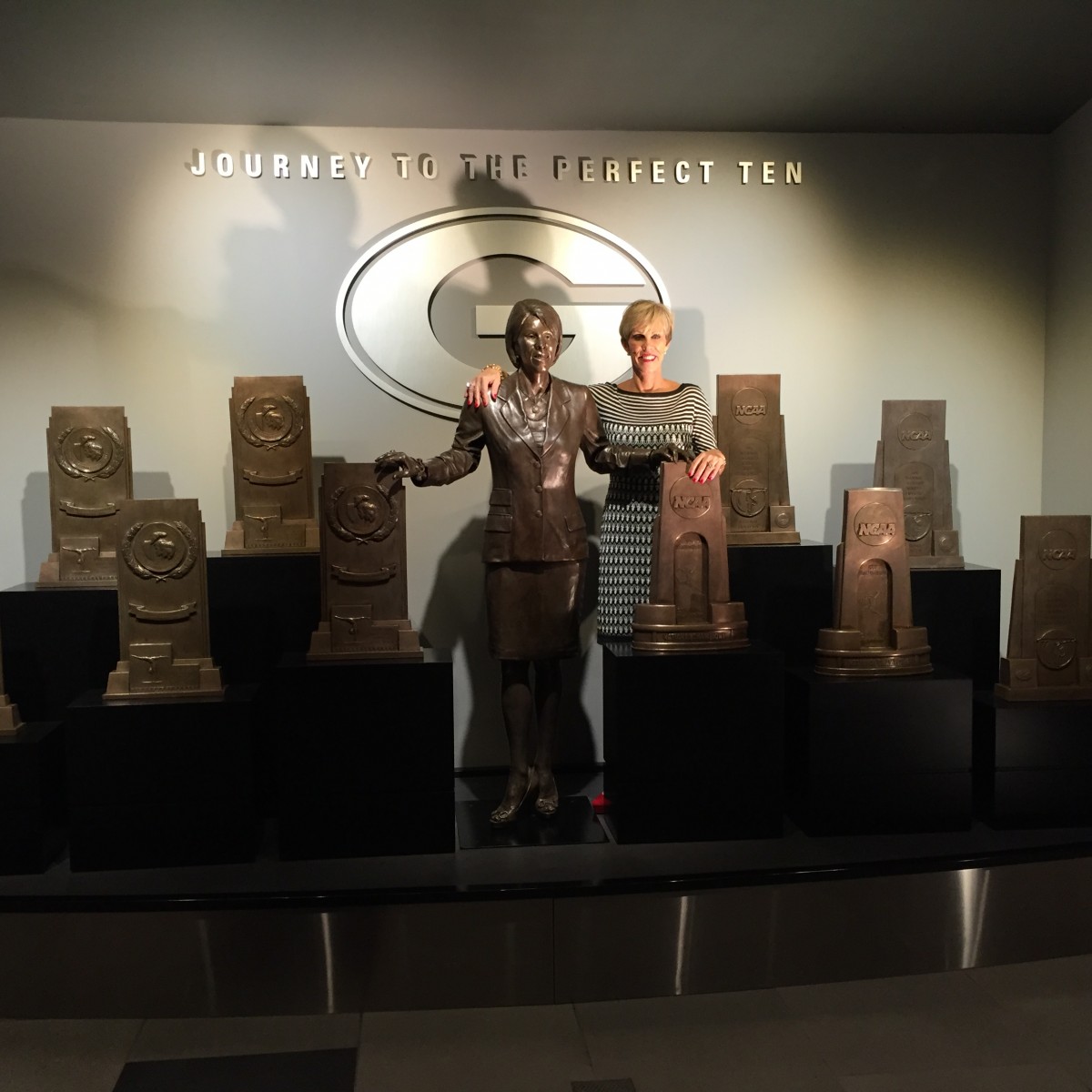 [su_spacer size="20″] A championship display honoring former head coach Suzanne Yoculan and the University of Georgia gymnastics program was unveiled Friday at Stegeman Coliseum.
[su_spacer size="40″] The display, which is located on the Carlton Street side of the coliseum concourse, also celebrates the accomplishments of the student-athletes and contributions of the UGA staff during Yoculan's 26 years at the helm of the Gymdogs.
[su_spacer size="40″]
"In the history of Georgia athletics, Suzanne will be remembered as the best of the best," said President Jere W. Morehead. "This display is a well-deserved tribute to the talent and dedication of Suzanne, our outstanding student-athletes, and the assistant coaches and staff members who supported them."
[su_spacer size="40″]
Yoculan took over the Georgia program prior to the 1984 season and guided the Gymdogs to 10 NCAA championships, including five in a row from 2005-2009, 16 Southeastern Conference titles and 22 NCAA Regional crowns. Yoculan's teams finished in the nation's top three in 21 of her last 22 years.
[su_spacer size="40″]
"This symbolizes the building of a program," Yoculan said. "It was all of us together with one mission. It's really amazing to walk past this and know what it represents for everyone."
[su_spacer size="40″]
In 19 of her 26 years as head coach at Georgia, Yoculan led her team to either an SEC title, an NCAA title or both. She won a championship in more than 70 percent of her tenure, and she also finished at least third in the conference, the nation or both all 26 years. Under Yoculan's direction, Georgia won 37 NCAA individual championships, and 59 Gymdogs earned a total of 308 All-America honors.
[su_spacer size="40″] "We are very proud to unveil this display in Stegeman Coliseum that will memorialize the unparalleled accomplishments of Suzanne's career as our head coach," UGA J. Reid Parker Director of Athletics Greg McGarity said. "Suzanne's multiple conference and NCAA championships brought honor and glory to UGA, and today is a special day for all of us."
[su_spacer size="40″] Yoculan was chosen as the National Coach of the Year five times and the SEC Coach of the Year eight times. She ended her career with an overall record of 834-117-7.
[su_spacer size="60″]