Less than a point separated the GymDogs and the top-ranked Sooners in the final score as Oklahoma edged Georgia 197.550-196.600 in front of a crowd of 10,072 at Stegeman Coliseum on Monday.


In the home opener of the 2018 season, Georgia put up only five gymnasts on vault, bars and floor, and accumulated 10 scores throughout the meet of 9.85 or higher. The GymDogs also increased their final score by a total of two points since their last outing on Friday against the fourth-ranked Alabama Crimson Tide.


"The team did a great job," head coach Courtney Kupets Carter said. "We came in today and talked about staying calm and doing our gymnastics, but also believing in yourself. These student-athletes have a will to do this sport, and it's just about them finding their way. I think today they really set foot on that path to finding it. It's about staying the pace, staying through the process, and we have to hit every event. We have five on three events right now, so we have to hit. We expect it of them, and they expect it of themselves. It was a great meet for the team today."




The GymDogs started on vault with a 49.050 score in the first rotation, led by junior Sydney Snead's 9.850 routine. The rotation also featured career-highs from sophomore Sabrina Vega (9.75) and senior Lauren Johnson (9.825), but the Sooners took a slight edge over Georgia in the opening frame with a 49.45 post.




Sophomore Rachel Dickson led on bars, recording a season-best 9.9. Senior Natalie Vaculik and Snead followed, both recording 9.85 scores. The GymDogs continued to chip away at the Sooners' total, using a 49.075 total against Oklahoma's 49.450 in the second rotation.


Georgia used two top 9.9 performances from Dickson and senior Vivi Babalis, who matched her career high, to post a 49.325 score on beam, which was better than all but two performances in 2017. Vega, Snead and Oakley contributed their own respective 9.875, 9.85 and 9.8 scores, but the GymDogs trailed 49.325 to Oklahoma's 49.375 on the floor in the third rotation.


On the floor, Vega paced the GymDogs once again with a 9.9 score. She was joined by Dickson (9.875) and senior Jasmine Arnold (9.825), who set a new career-high, however, Oklahoma's final 49.300 was enough to hold off Georgia's 49.15 in the final rotation.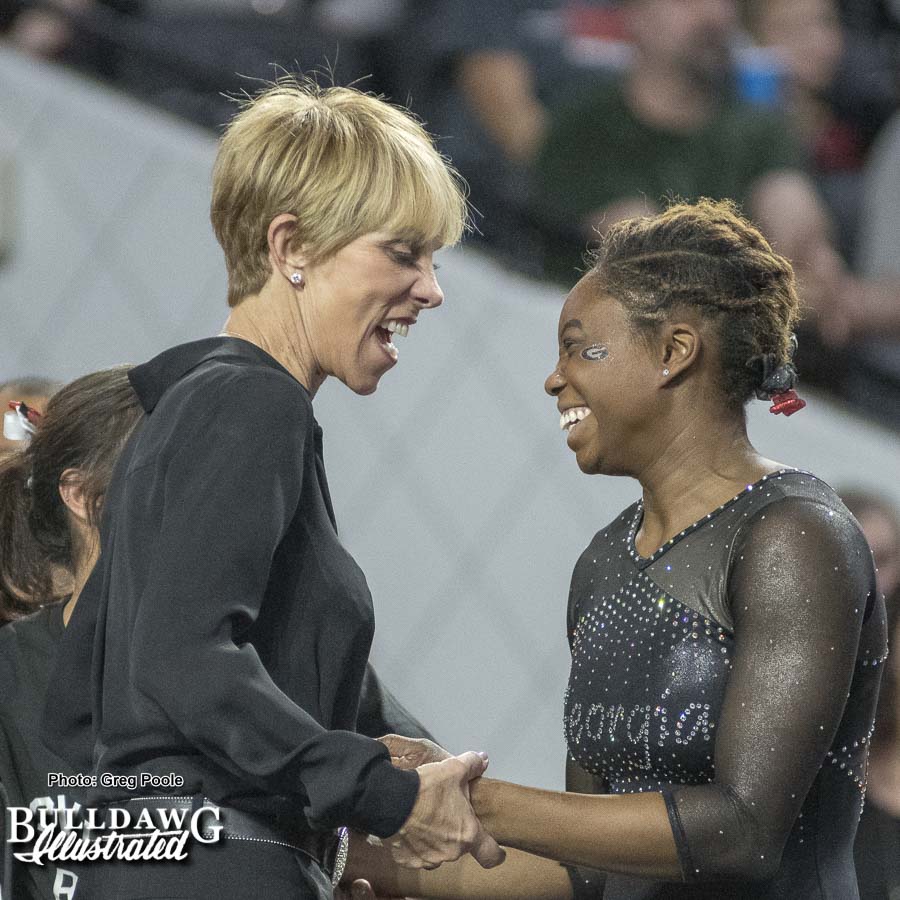 The GymDogs will return to Stegeman Coliseum on Friday, January 19 against the Auburn Tigers at 7 p.m.