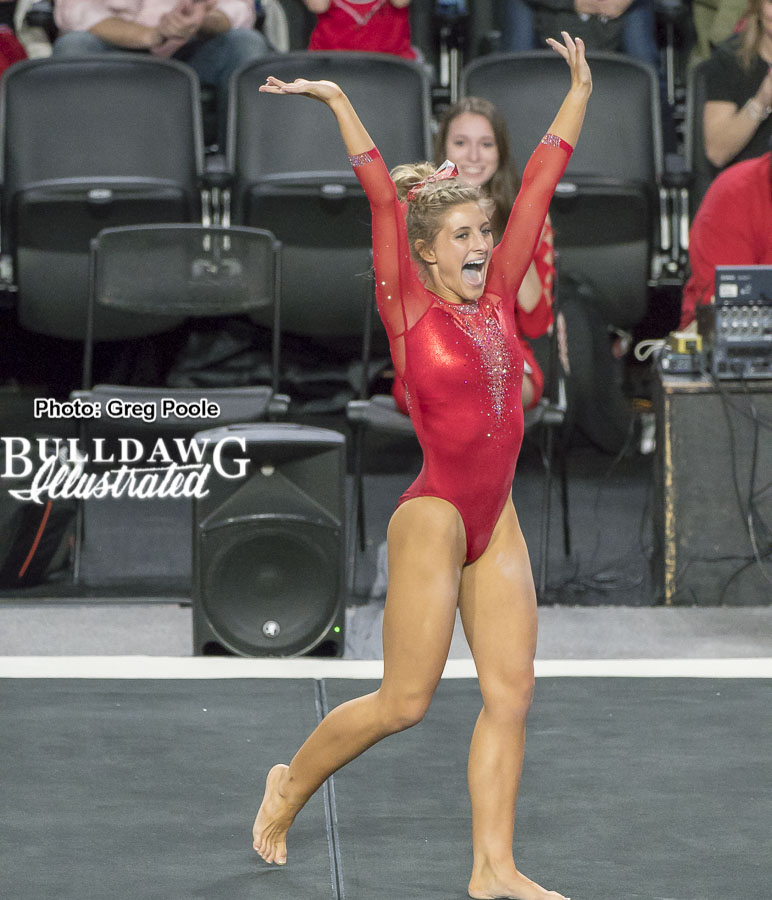 ATHENS, Ga. — The No. 17 Georgia gymnastics team will travel to Augusta to compete at Elevate the Stage on Friday, March 2 at 7:30 p.m. at the James Brown Arena. 
Other competitors in Elevate the Stage include No. 16 Nebraska, No. 26 Stanford, and No. 33 Illinois.  The GymDogs will start the meet on vault then move to bars, beam and floor, respectively. 
GYMDOGS IN THE RANKINGS                                                              
Georgia is ranked No. 17 in the latest RQS rankings on the RoadtoNationals.com website with an RQS of 196.050. 
With the RQS scores, the GymDogs now rank 26th on vault, 13th on bars, 25th on beam, and 21st on floor. 
Seven GymDogs hold 11 spots within the top-100 in the nation of their respective events.  
For vault, Sydney Snead ranks 45th, while Lauren Johnson is 64th.
Snead is ranked No. 30 on bars.  Marissa Oakley sits at No. 57 and Rachel Dickson ranks 68th.  Natalie Vaculik comes in at No. 81.
Vivi Babalis and Sabrina Vega are tied for 49th on beam, with Snead checking in at No. 82. 
On floor, Rachel Dickson ranks 19th and fellow sophomore Vega holds the 53rd spot. 
Additionally, Snead ranks 17th in the all-around rankings, while Dickson comes in at 38.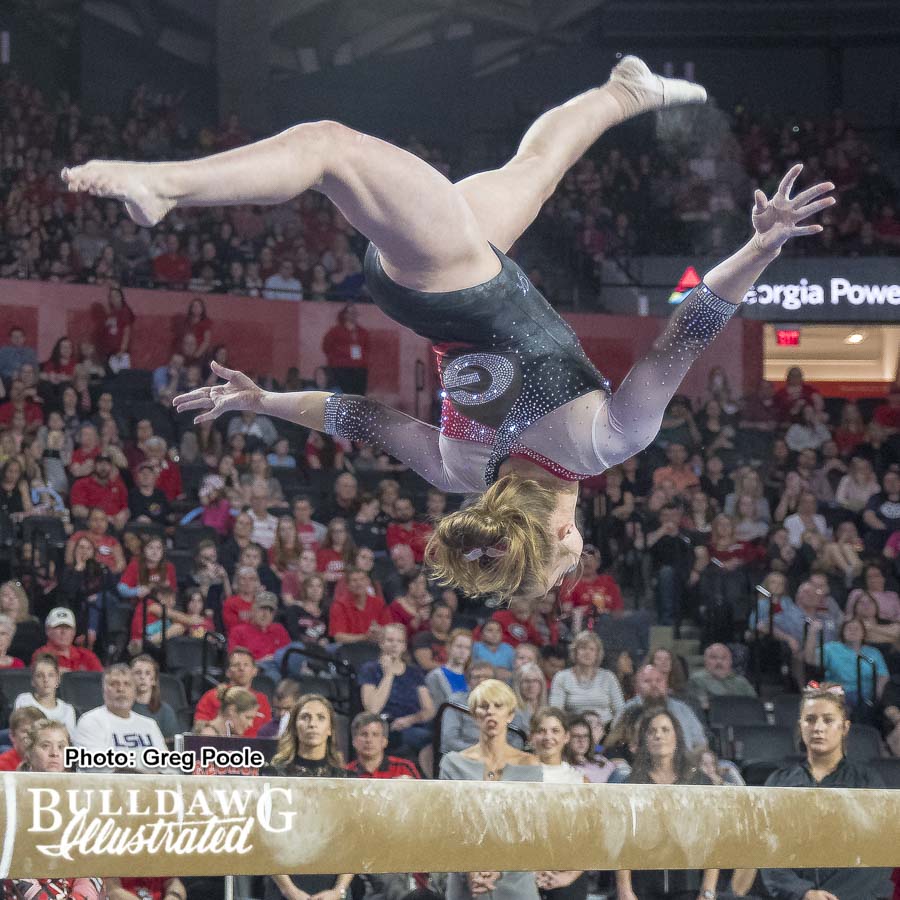 LAST TIME OUT                                                                                    
Four GymDogs set career-high scores on beam as the No. 15 Georgia GymDogs fell to No. 2 LSU, 197.575 to 196.725, on Friday night in Stegeman Coliseum.
Georgia (3-5, 3-4 SEC) started on vault, posting a 48.925 for the event. Junior Sydney Snead led the GymDogs with a 9.85, while Sabrina Vega, Rachel Dickson, and Lauren Johnson each contributed a 9.775.
Freshman Marissa Oakley earned her first event title and career-high on bars after scoring a 9.9. Natalie Vaculik and Snead both contributed scores of 9.825. 
Four GymDogs scored career-highs on the balance beam, posting 9.9's or better to earn a season-high 49.375 for the event. In the leadoff position, Snead scored a 9.825 for her performance.  Jasmine Arnold scored a career-high 9.775, before Oakley improved her high score to a 9.950, leading all GymDogs and Tigers for the night.  Vivi Babalis tied her career score with a 9.9 and Vega moon-walked her way to a personal best 9.925. 
Going into the final rotation, LSU led Georgia by 0.925. Georgia was able to close the gap, posting a 49.500 on floor.  Dickson earned a 10.00 from one of the judges for an average score of 9.950 to share the event title with teammate Vega and LSU's Lexie Priessman.  Dickson and Vega's 9.950 on floor ties their career-high scores for the event.  Babalis also contributed a 9.9, her second of the night, while Arnold and Snead both posted a 9.850.