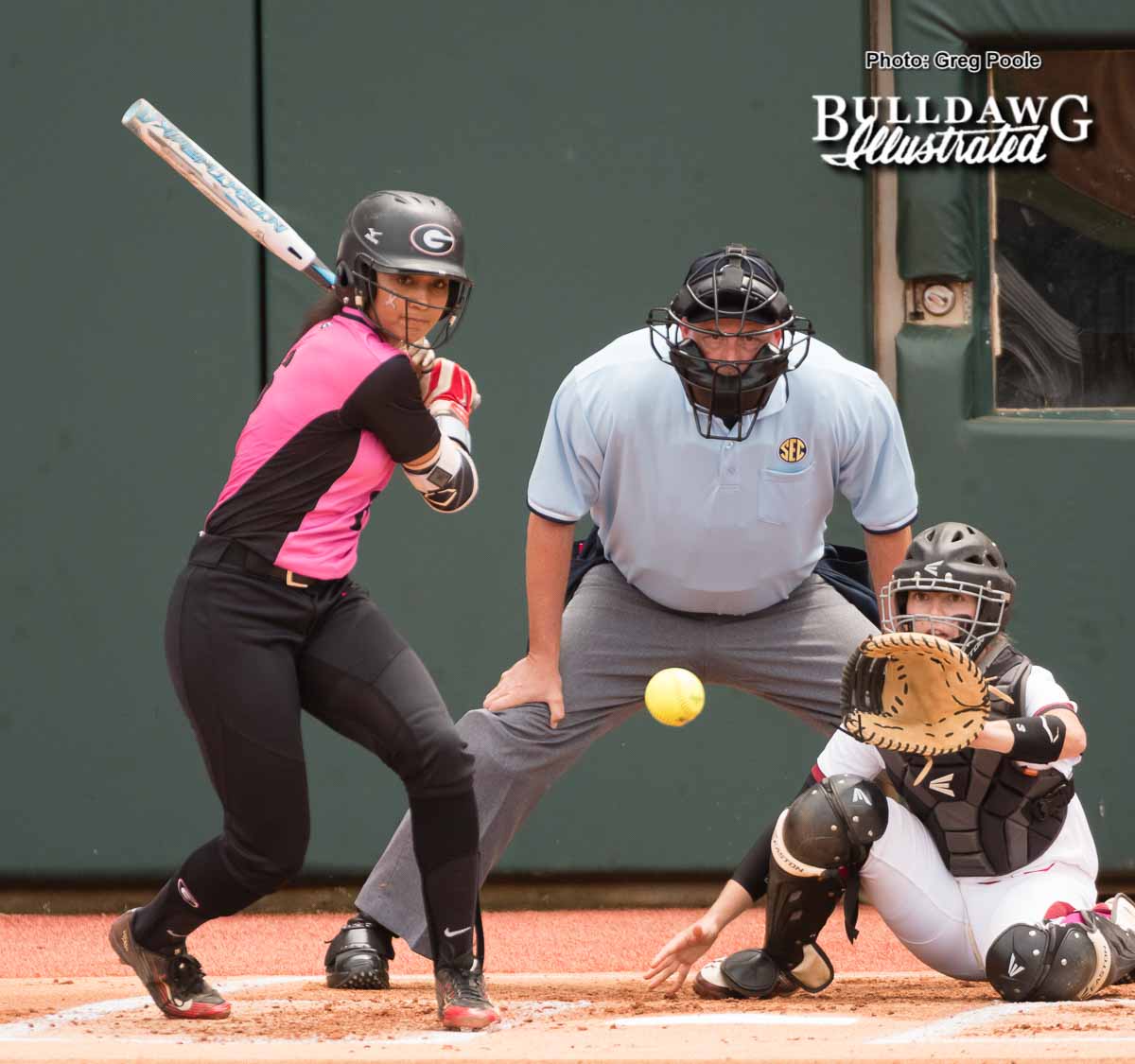 #17 Georgia (4-1) hosts Red & Black Showcase
Dates: Feb. 16-18, 2018
Location: Athens, Ga.
Stadium: Jack Turner Stadium
Teams:
     #17 Georgia (4-1)
     Evansville (2-1)
     Samford (0-5)
     Winthrop (0-0)
Georgia's Schedule:
     Feb. 16 – vs. Winthrop, 3 p.m.
     Feb. 16 – vs. Samford, 5:30 p.m.
     Feb. 17 – vs. Samford, 1 p.m.
     Feb. 17 – vs. Evansville, 3:30 p.m.
     Feb. 18 – vs. Evansville, 1 p.m.
Media Information
Streaming Video: SEC Network+ (Georgia games on Friday and Sunday)
Radio: WUOG 90.5 FM (wuog.org) (Friday, vs. Wintrhop only)
     Play-by-play: Myan Patel
Live Stats: GeorgiaDogs.com
Twitter Updates: @UGAsoftball
Follow the Bulldogs
» Georgia's games on Friday and Sunday will be streamed on the SEC Network+.
» WUOG 90.5 FM will broadcast Friday's game against Winthrop. Streaming audio is available on WUOG.org.
» Live stats will be available for all games of the Red & Black Showcase. Live stat links can be found on the softball schedule on GeorgiaDogs.com.
» Live Twitter updates will be available all season long at @UGAsoftball.
This Weekend's Promotions
» Admission to every home Georgia softball game is FREE
» First 1,000 fans receive a free Georgia softball schedule magnet
Georgia Softball Notebook
Tournament Preview
The 11th Annual Red & Black Showcase will feature Georgia hosting Evansville, Samford, and Winthrop. The 10-game tournament will be held at Jack Turner Stadium. The tournament kicks off Friday at 12:30 p.m. between Winthrop and Evansville.
Series Histories
Evansville – First meeting
Samford – First Meeting
Winthrop – Georgia leads 23-2
» Georgia leads the series in Athens 21-1
» Georgia has won the last 12 meetings dating back to Feb. 17, 2007
» 17 wins have been by way of shutout
» The teams will face off in Rock Hill, South Carolina in a Feb. 28 doubleheader this season
Op
ening Weekend Recap
Georgia softball began the 2018 season going 4-1 at the Kajikawa Classic in Tempe, Arizona. The Bulldogs defeated San Diego State, 23-2, to begin the season and went on to knock off top-20 teams in #15 Utah and #19 BYU. Georgia outscored opponents 51-12, hit .418 as a team, and hit 12 home runs over the weekend.
The RUNdown
The Bulldogs outscored their opponents on opening weekend, 51-12. In the opener against San Diego State, Georgia tied a program record with 23 runs in the game including 12 in the first inning alone. Georgia hadn't put up more than 20 runs in a game since Apr. 3, 2013 against Georgia Tech. It was also the last time UGA had 12 runs in an inning.
SEC Player of the Week – Kendall Burton
Burton hit .722 on opening weekend with 13 hits including a pair of home runs. She touched home six time and drove in five runs. Her home run against #3 Oregon was the first of her career in a Bulldog uniform. The senior outfielder from Missouri City, Texas had multiple hits in all five games. She began the season going 4-for-4, a career best, in the 23-2 win over San Diego State. She finished opening weekend with a .722 on-base clip and a 1.056 slugging percentage.
SEC Pit
de three starts in the circle for Georgia on opening weekend. She pitched two scoreless, hitless innings in the opener against San Diego State. On Friday, she worked a complete game against #15 Utah, allowing one unearned run on five hits, striking out five and walking none. She capped the weekend with a complete-game shutout of Oregon State on Saturday. The Beavers only got four hits off the Greenwood, Indiana native while she struck out 10 in the process, one shy of tying a career high. She recorded a 0.00 ERA in 16 total innings with 17 total strikeouts. College Sports Madness tabbed Gray its National Pitcher of the Week.
The SEC weekly honors are firsts for both Burton and Gray. The last time Georgia had both the player and pitcher of the week was May 4, 2009 when Taylor Schlopy (player) and Chelsea Hamilton (pitcher) both won.
Georgia in the Top 25
The Bulldogs jumped to #17 in both the USA Today/NFCA and ESPN.com/USA Softball Coaches Polls this week. The Bulldogs entered the season with a preseason #25 ranking.
Despite finishing last in the SEC a season ago with a 6-18 record, the Bulldogs dropped out of the NFCA Poll only one week. It was the first time Georgia had been outside the top 25 since 2013.
O
pening With a Bang
The Bulldogs opened the 2018 season with an offensive onslaught against San Diego State on Feb. 8. Georgia defeated SDSU 23-3 in five innings. 12 runs came in the first inning alone. At the plate, the team hit. 636 in the game with seven extra-base hits including four home runs on 21 hits. Georgia's 23 runs tied a program record for runs in a game.
LHP Kylie Bass entered in the second inning of Friday's game against BYU. She worked four and two-thirds scoreless innings, allowing just three hits to the Cougars. Of the 19 batters she faces, she struck out 12, a new career best.
Welcome to the Big Time
In her first career at bat, freshman catcher Jessica Morgan hit a three-run home run in the third inning against San Diego State, contributing to Georgia tying a program record with 23 runs.
#Team22
Georgia softball is in its 22nd season in Athens in 2018, the 18th season under head coach Lu Harris-Champer. The Bulldogs' all-time record is 931-432 with 816 of those wins belonging to Harris-Champer. Georgia will look to punch its ticket to its 17th-consecutive NCAA Tournament in 2018.