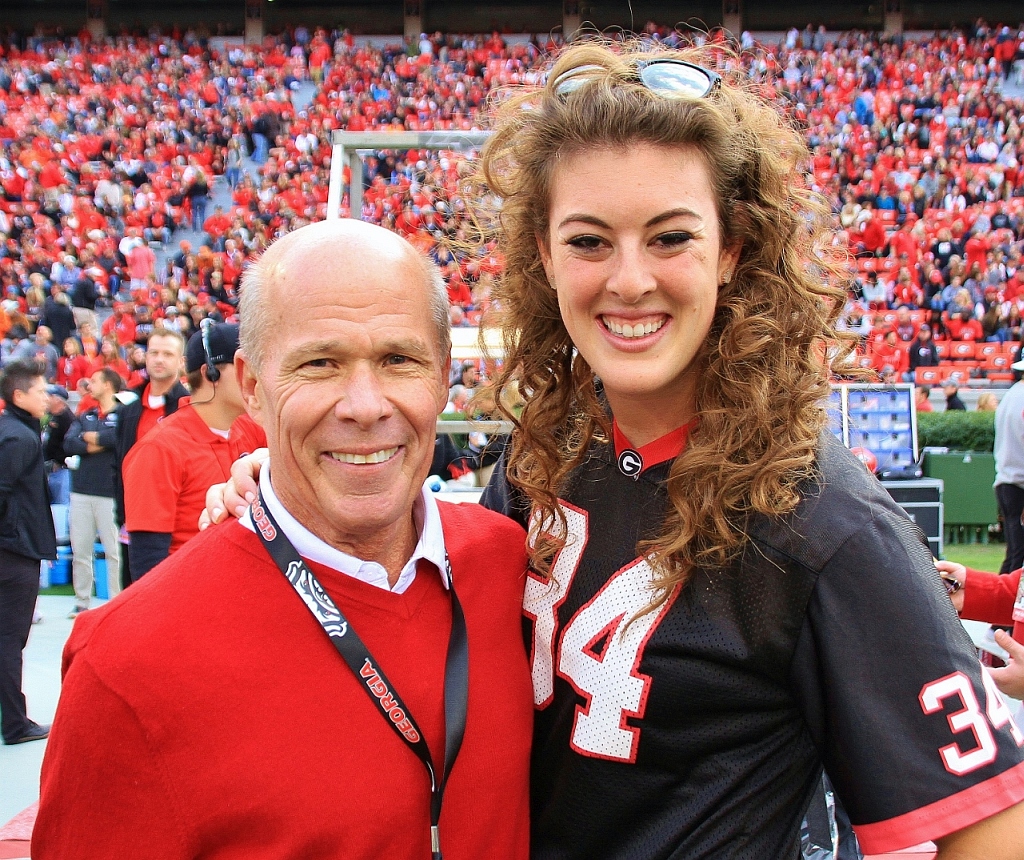 For the fourth consecutive Olympic Games, Allison Schmitt will represent the United States, as she placed second in the 200-meter freestyle final Wednesday evening at the U.S. Olympic Swimming Team Trials at the CHI Health Center Arena.
With a time of 1:56.79, Schmitt sealed spots in both the individual 200-meter freestyle event and the 4×200-meter freestyle relay, joining Katie Ledecky, Paige Madden, and Katie McLaughlin on the team. In her three previous Olympic appearances, Schmitt has won eight medals, including a 2012 individual gold in the 200 free and back-to-back golds in the 4×200 free relay. With the berth, she also became the second Georgia swimmer to make four U.S. Olympic Teams, with Sheila Taormina previously making four appearances in swimming, triathlon, and modern pentathlon.
Georgia earned another likely berth in Tokyo Wednesday as Gunnar Bentz placed second in the 200-meter butterfly final with a time of 1:55.34, giving him his second-consecutive placement on Team USA. Bentz finished just .09 seconds ahead of rising sophomore Luca Urlando, who took third with a time of 1:55.43. In another primetime final, Melanie Margalis placed sixth in the 200-meter individual medley with a time of 2:11.77.
In the women's 200-meter butterfly semifinals, Hali Flickinger earned the top seed for Thursday's final with a mark of 2:06.73, while rising senior Dakota Luther also advanced with a sixth-place mark of 2:08.82. During the morning, Luther finished second in prelims with a time of 2:08.96.
In other semifinal action, Nic Fink placed second in the 200-meter breaststroke at 2:09.13, with fellow ProDawgs Kevin Cordes (third, 2:09.31) and Andrew Wilson (fifth, 2:09.48) joining him. Finally, rising senior Andrew Abruzzo earned a spot in the 800-meter freestyle final with a sixth-place time of 7:57.03.
In prelims, rising juniors Dillon Downing (49.48) and Zach Hils (50.33) opened the morning with personal-best times in the 100-meter freestyle, with Downing finishing 22nd overall. In the 200 fly, rising senior Callie Dickinson earned the second alternate spot with an 18th-place time of 2:12.43, while rising sophomore Jake Magahey also finished 18th in the 800 free at 8:03.64.
Trials continue Thursday morning with prelims in the women's 100-meter freestyle, men's 200-meter backstroke, women's 200-meter breaststroke, and men's 200-meter IM, followed by four finals in the evening session. The action begins at 11 a.m. on NBCOlympics.com with finals starting at 8 p.m. on NBCSN. Due to the U.S. Open, an edited broadcast of finals will air on NBC at 10 p.m.
For all news and updates about Georgia swimming and diving, follow the Bulldogs on Twitter (@UGASwimDive), Instagram (@ugaswimdive), and Facebook (UGA Swimming and Diving).
RESULTS
Evening Session
Women's 200m Freestyle Final
2. Allison Schmitt, 1:56.79
Men's 200m Butterfly Final
2. Gunnar Bentz, 1:55.34
3. Luca Urlando, 1:55.43
Women's 200m Butterfly Semifinal
1. Hali Flickinger, 2:06.73
6. Dakota Luther, 2:08.82
Men's 200m Breaststroke Semifinal
2. Nic Fink, 2:09.13
Women's 200m IM Final
6. Melanie Margalis, 2:11.77
Morning Session
Men's 100m Freestyle Prelims
22. Dillon Downing, 49.48
47. Zach Hils, 50.33
Women's 200m Butterfly Prelims
1. Hali Flickinger, 2:08.14
2. Dakota Luther, 2:08.96
18. Callie Dickinson, 2:12.43
32. Mia Abruzzo, 2:16.06
Men's 200m Breaststroke Prelims
2. Nic Fink, 2:10.24
3. Kevin Cordes, 2:10.45
8. Andrew Wilson, 2:11.15
Men's 800m Freestyle Prelims
6. Andrew Abruzzo, 7:57.03
18. Jake Magahey, 8:03.64
40. Aaron Apel, 8:14.45