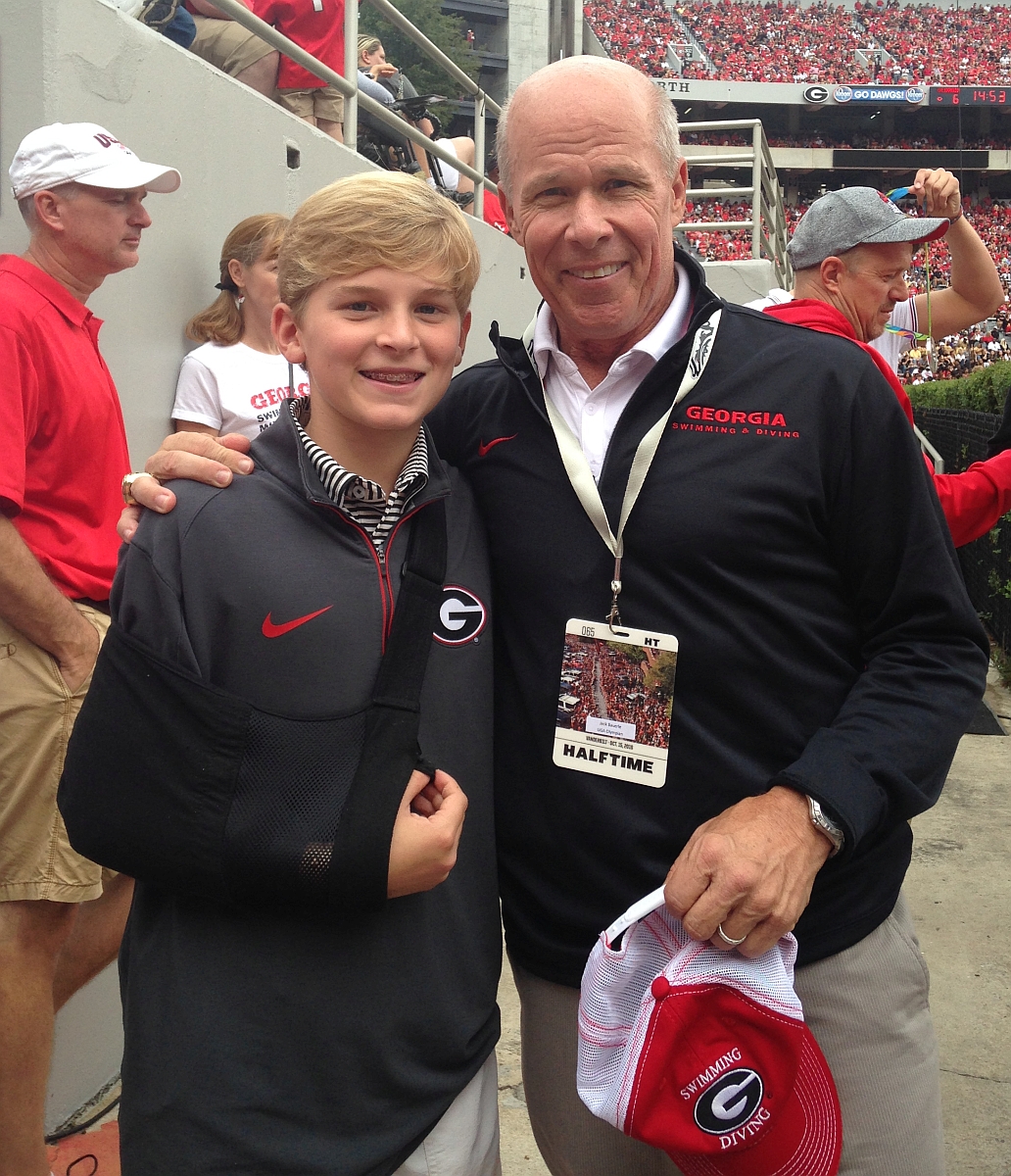 Following a seven-month layoff, the University of Georgia swimming and diving team returned to action with a resounding sweep of South Carolina Friday at the Carolina Natatorium. In the women's meet, Georgia claimed victory by a 165.5-129.5 margin, followed by a decisive 182-97 result in the men's meet.
With the two victories, Tom Cousins Swimming & Diving Head Coach Jack Bauerle reached 579 career wins, moving him into second place all-time in NCAA history, passing former North Carolina head coach Frank Comfort.
"We're really proud of both teams today," said Bauerle. "It was better than we expected because it's been a long time since they've raced. We feel like we have two pretty darn good teams and it was nice to start with a conference win."
During the two sessions, the Bulldogs claimed 22 event wins in the first of a home-and-home series with the Gamecocks. The two teams will again face off on Saturday, Jan. 16 at Gabrielsen Natatorium.
The morning session opened solidly for the Georgia women as the 200 medley relay team of senior Gabi Fa'amausili, sophomore Zoie Hartman, junior Dakota Luther, and freshman Maxine Parker took first with a winning time of 1:39.62.
Each of the four relay competitors would go on to win individual events later in the meet. Hartman picked right up from last season as she swept both breaststroke events with B-cut times, taking the 100 at 1:00.45 and the 200 at 2:12.99. In the 100, senior Danielle Della Torre finished in second with a time of 1:01.13, also earning a B-cut.
Luther prevailed in the 200 butterfly with a B-cut time of 1:57.19, while Fa'amausili took first in the 50 freestyle with a time of 22.97. In her collegiate debut, Parker finished first in the 100 freestyle with a time of 50.29, along with a third-place finish in the 50 freestyle. Another freshman, Sloane Reinstein, also had a strong premiere with top-four placements in the 100 and 200 freestyle.
Senior Olivia Anderson posted an outstanding season opener for the Bulldogs, taking both the 500 (4:53.77) and 1,000 freestyle (9:57.75). Fellow senior Courtney Harnish also earned a pair of B-cut wins, leading the 200 freestyle at 1:47.88, followed by the 100 butterfly at 53.65. Junior Callie Dickinson placed second in both backstroke events, while sophomore Jillian Barczyk and junior Maddie Homovich were the runners-up in the 500 and 1,000 freestyle respectively.
At the diving well, freshman Meghan Wenzel turned in an impressive first outing, placing second on both springboards with Zone-qualifying scores. On the 3-meter, Wenzel scored a 312.15, followed by a mark of 302.18 on the 1-meter that narrowly missed out on a first-place finish. Junior Ellie Crump also qualified for Zones in each event with scores of 282.00 on the 3-meter and 267.53 on the 1-meter.
In the afternoon session, the Bulldogs' victory was headlined by the debut of freshman Jake Magahey, who took first in the 200, 500, and 1,000 freestyle races. Fellow first-year Luca Urlando opened impressively with a winning B-cut time of 1:45.73 in the 200 butterfly, along with a B-cut second-place time in the 100. Junior Andrew Abruzzo earned a B-cut as well in the 200 with a time of 1:46.15.
Redshirt senior Javier Acevedo returned following a one-year absence to claim wins in the 100 freestyle (44.33) and 100 backstroke (47.66), as well as lead off the winning 200 medley relay team. Redshirt sophomore Bradley Dunham also turned in a strong return as he took the 200 backstroke with a time of 1:46.08 after placing second in the 100.
Senior Jack Dalmolin swept the breaststroke events with times of 56.06 in the 100 and 2:03.20 in the 200, while senior Camden Murphy claimed the 100 butterfly with a B-cut of 46.82. In the distance events, senior Greg Reed took second with times of 4:28.78 in the 500 and 9:08.53 in the 1,000 respectively.
At the well, senior Zach Allen took the 1-meter competition with a Zone-qualifying score of 349.05, while junior Hudson Coldren placed third with a score of 240.90.
"We're deeper and better—we're going to be a really good team," said Bauerle. "I'm looking forward to seeing what this team can do. They're certainly a little rusty, but the spirit's there and this is a good group."
The Bulldogs will return to Athens next week to open their home slate against rival Florida at Gabrielsen Natatorium. The women's meet will begin at 10 a.m., followed by the men at 2 p.m.