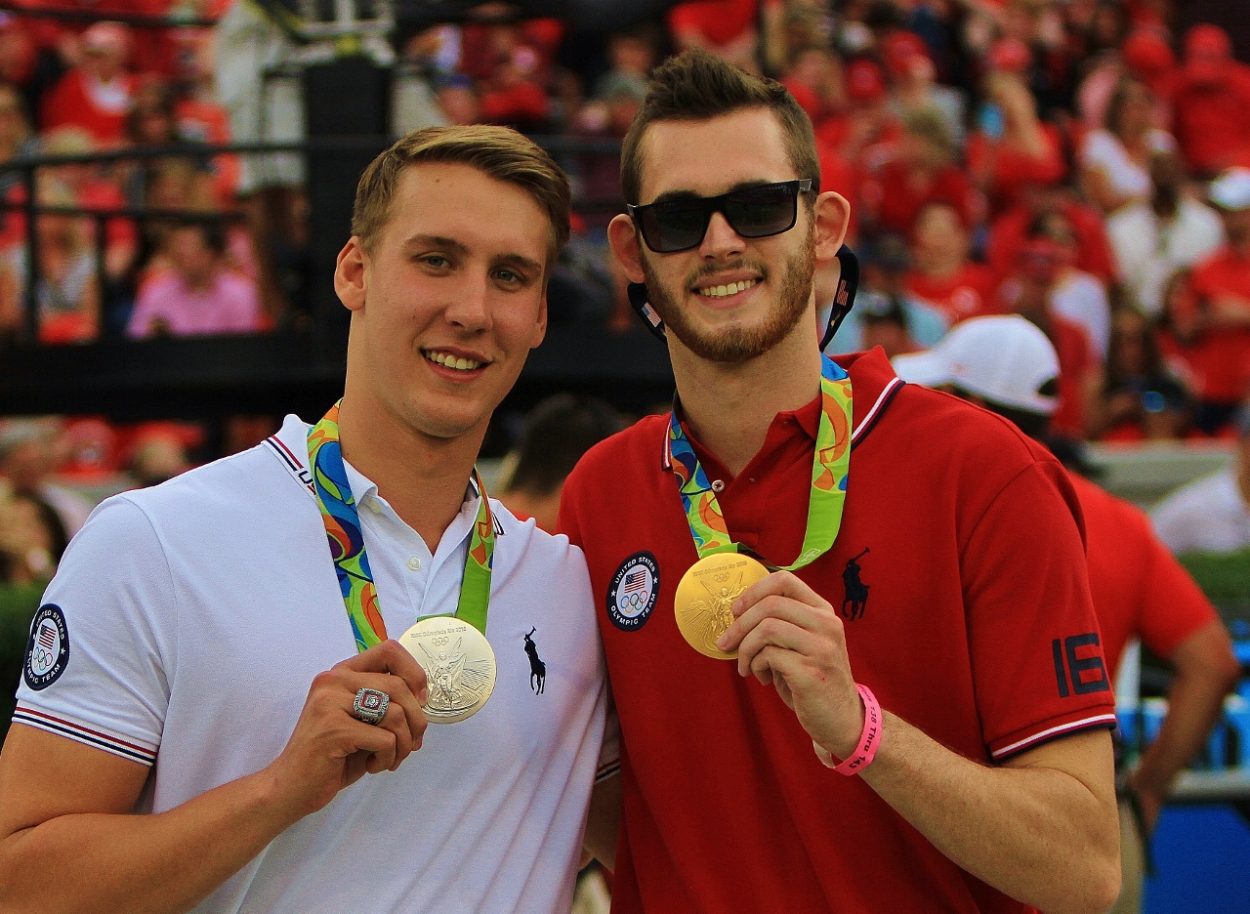 Chase Kalisz's thrilling victory in the 400-meter individual medley final ignited a tremendous opening night for the University of Georgia swimming team at the 2021 United States Olympic Swimming Team Trials at the CHI Health Center Arena.
With a blistering 34.30 breaststroke leg, Kalisz moved ahead of Texas freshman Carson Foster to eventually take the race with a winning time of 4:09.09 and earn the first spot on the U.S. Olympic swimming team. Kalisz, the 2016 Olympic silver medalist in the event, will likely be joined for the second-consecutive games by teammate Jay Litherland, who bested Foster for second with a time of 4:10.33. Litherland sat in third place entering the final 50 meters but used a 28.54 split in the final stretch to put himself in strong position for Tokyo.
Kalisz's victory ensures that Georgia will be represented on the United States squad for the ninth-consecutive Games, dating back to Seoul in 1988.
"It was an indescribable night," said Tom Cousins Head Coach Jack Bauerle. "For two guys to come back five years later and finish 1-2 in the same event is absolutely remarkable. We're off to a great start."
The drama continued for the Bulldogs in the women's 400-meter IM as Hali Flickinger placed second with a time of 4:33.96, beating out Melanie Margalis, who finished third at 4:34.08, for the likely second Olympic berth in the event. Like Kalisz, Margalis posted an incredible comeback in the breaststroke leg, dropping a 38.08 to nearly take the lead after sitting in fourth through two legs. Virginia freshman Emma Weyant grabbed the automatic bid for Tokyo with a surge in the final 50, with the top four finishers notching the top four times in the world this year.
In the third final of the evening, rising senior Andrew Abruzzo placed eighth in the 400-meter freestyle with a time of 3:51.45, while rising sophomore Jake Magahey just missed out on the final with a ninth-place time of 3:49.89 in prelims. Meanwhile, in the 100-meter breaststroke, Nic Fink will enter Monday's final with the second seed after turning in a time of 58.50 in the primetime semifinals.
In morning action, rising junior Ian Grum placed 17th in the 400-meter IM with a personal-best time of 4:22.86, while rising senior Dakota Luther also placed 17th in the 100-meter butterfly with a time of 59.17. Additionally, fellow senior Callie Dickinson finished 27th with a mark of 59.66.
Trials continue Monday with finals in the women's 100-meter butterfly, men's 100-meter breaststroke, and women's 400-meter freestyle, along with prelims and semifinals in four additional events. Prelims begin at 11 a.m. with live coverage on NBCOlympics.com, followed by finals at 8 p.m. on NBC.