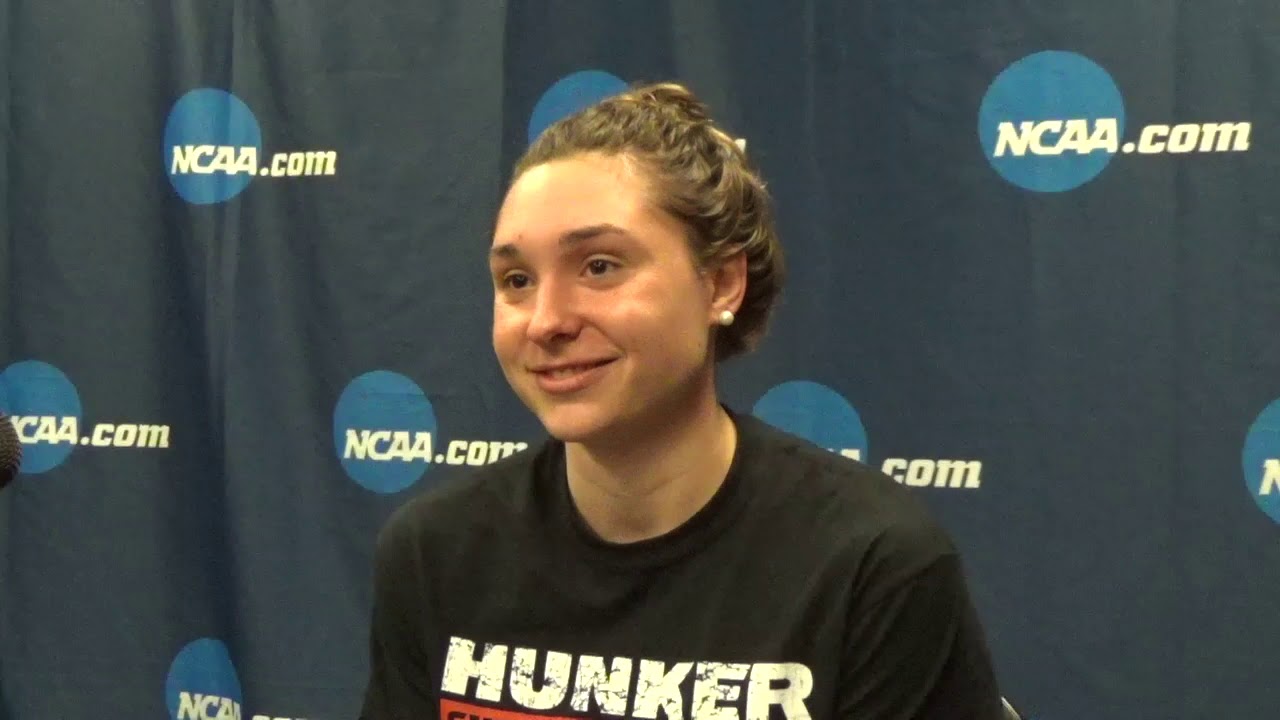 Highlighted by two trips to the podium, University of Georgia swimming and diving moved up the standings Wednesday at the 2020 SEC Swimming & Diving Championships at the James E. Martin Aquatics Center. At the end of the second day of competition, both squads sit in fifth place with the men at 339.5 points and the women at 310.
Junior Courtney Harnish repeated as SEC champion in the 500 freestyle with a winning time of 4:36.48, replacing her previous season-best mark as the fourth-fastest time in the nation. Harnish has now won three individual conference titles, while Georgia has prevailed in the women's 500 in 11 of the previous 15 seasons. In victory, Harnish dropped over three seconds from her fifth-place time in prelims.
In the women's 200 IM, freshman Zoie Hartman took second with an A-cut time of 1:53.05, giving her the second-fastest mark in school history, besting her previous high from November. Similar to Harnish, Hartman's time currently sits at fourth in the national standings. In prelims, junior Danielle Della Torre set a new personal record with a time of 1:56.24, ranking her 10th in program history.
The women's 200 freestyle relay team also earned an A-cut with a seventh-place time of 1:28.28. Later in the 50 freestyle, relay members Veronica Burchill and Gabi Fa'amausili set new personal bests with Burchill taking the B final at 22.00 (eighth all-time) and Fa'amausili tallying a time of 22.10 (ninth all-time) in the A race.
In the men's 50 free prelims, freshman Dillon Downing posted the second-fastest time in school history with a mark of 19.32, followed by splits of 19.38 and 19.50 in the 200 free relay and 50 free final respectively.
Following his personal-best 200 free time on Tuesday evening, senior Walker Higgins placed first in the 500 free prelims with a time of 4:13.66 before finishing fourth in the final. Also in prelims, sophomore Andrew Abruzzo posted the No. 9 time in school history at 4:15.03. In addition to senior Kevin Miller's victory in the B final, six Bulldogs scored in the 500, including PRs from Abruzzo and juniors Greg Reed, Grant Norgan and Aaron Apel.
The Georgia men also racked up multiple scores in the 200 IM, led by senior Clayton Forde's personal-best time of 1:44.87. Freshman Harry Homans also reached the B final with Forde, while freshman Zach Hils (1:45.56) and junior Jack Dalmolin (1:45.89) were top-three finishers in the C final.
At the diving well, junior Zach Allen placed 12th on the men's 1-meter springboard, earning a mark of 298.50. Junior Josh Getty also scored for Georgia with a score of 221.00.
The Bulldogs will return Thursday for another full day of competition, beginning with prelims at 10:30 a.m. EST, followed by the finals at 6:30 p.m. Thursday's meet features the 400 IM, 100 butterfly, 200 freestyle and women's 3-meter diving. Georgia holds the top seed in two events: Forde in the 400 IM and junior Camden Murphy in the 100 fly. Live coverage can be seen on SEC Network + with live results available on AuburnTigers.com and the MeetMobile app.
For all news and updates about Georgia swimming and diving, follow the Bulldogs on Twitter (@UGASwimDive), Instagram (@ugaswimdive), and Facebook (UGA Swimming and Diving).


STANDINGS
Men's
1. Texas A&M, 438
2. Florida, 395
3. Alabama, 361
4. Kentucky, 340
5. Georgia, 339.5
6. Tennessee, 328.5
7. Auburn, 301
8. Missouri, 276
9. South Carolina, 238
10. LSU, 223
Women's
1. Tennessee, 385
2. Florida, 356.5
3. Auburn, 352
4. Kentucky, 321
5. Georgia, 310
6. Texas A&M, 300
7. Alabama, 243.5
8. Missouri, 212
9. Arkansas, 200
10. South Carolina, 168
11. LSU, 160
12. Vanderbilt, 90
RESULTS
Women's 200 Freestyle Relay
Gold: Auburn
Silver: Tennessee
Bronze: Missouri
Men's 200 Freestyle Relay
Gold: Alabama
Silver: Florida
Bronze: Texas A&M
Women's 500 Freestyle
Gold: Courtney Harnish, Georgia
Silver: Ali Galyer, Kentucky
Bronze: Kensey McMahon, Alabama
Men's 500 Freestyle
Gold: Kieran Smith, Florida
Silver: Mark Theall, Texas A&M
Bronze: Bobby Finke, Florida
Women's 200 IM
Gold: Meghan Small, Tennessee
Silver: Zoie Hartman, Georgia
Bronze: Asia Seidt, Kentucky
Men's 200 IM
Gold: Shaine Casas, Texas A&M
Silver: Nick Alexander, Missouri
Bronze: Danny Kovac, Missouri
Women's 50 Freestyle
Gold: Erika Brown, Tennessee
Silver: Anna Hopkin, Arkansas
Bronze: Julie Meynen, Auburn
Men's 50 Freestyle
Gold: Zane Waddell, Alabama
Silver: Adam Koster, Texas A&M
Bronze: Lewis Burras, South Carolina
Men's 1-meter Diving
Gold: Kurtis Mathews, Texas A&M
Silver: Conner Pruitt, Auburn
Bronze: William Hallam, Tennessee