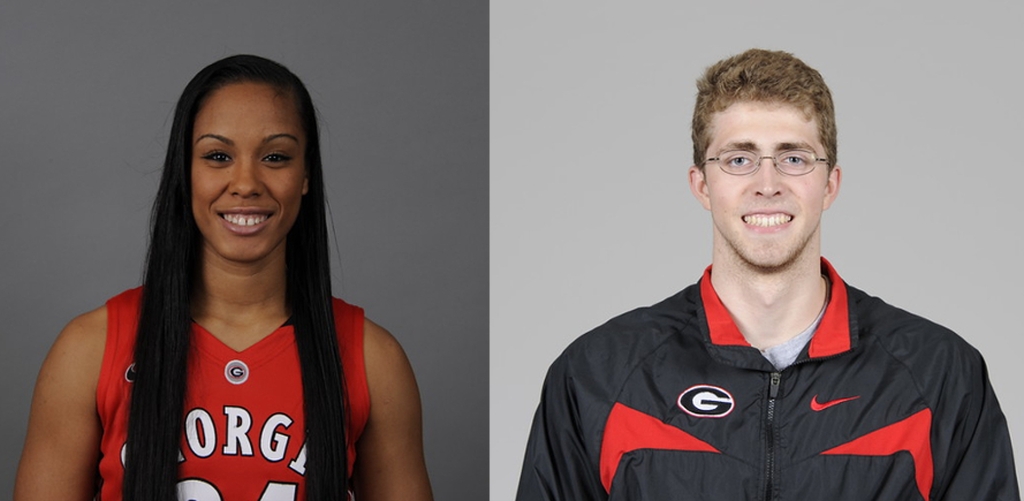 Marjorie Butler and Ty Stewart have both been nominated for the H. Boyd McWhorter Scholar-Athlete Post-Graduate Scholarship by the University of Georgia. Stewart is a senior member of the 2015-2016 Georgia men's swim team and Butler is a senior member of the 2015-2016 Georgia Lady Bulldog basketball team.


The H. Boyd McWhorter Scholar-Athlete Post-Graduate Scholarship has been presented by the Southeastern Conference since 1986 to the league's top male and female scholar-athletes.


The Southeastern Conference will name the 2016 recipients of the H. Boyd McWhorter Scholar-Athlete Post-Graduate Scholarship on April 28.


Highlights of Georgia's nominees include:


Ty Stewart, Men's Swimming, Georgia

– Named male recipient of Joel Eaves Award, presented to student-athletes with the highest GPA entering their senior year
– Co-Male Scholar Athlete of the Year in the SEC for Swimming and Diving
– Recipient of Carl and Barbara Parks Scholarship
– Participant in the UGA Honors Program
– Nominated by UGA for the Walter Byers Postgraduate Scholarship
– Two-time Elite 89 Award winner as competitor at NCAAs with highest grade point average (2014, 2015)
– Named Scholar All-American by College Swimming Coaches Association of America (2013, 2014, 2015)
– Named a 2015 recipient of the Ramsey Scholarship for Academic and Athletic Excellence
– Inducted into Georgia's Leadership Academy for academic, athletic and community service standouts
– Named to SEC and UGA academic honor rolls multiple times
– Two-time recipient of UGA's Alex Patterson Award as swimmer with top GPA
– Participated in UGA's undergraduate research project with an English faculty member and their – paper is currently being revised for possible publication in an academic journal
– Competed in 100 and 200 butterfly and 200 individual medley at NCAA Championships
– Holds school record in 200 backstroke and ranks third in 100 backstroke in Georgia history
– Seven-time All-American in the 100 and 200 butterfly and the 200 and 400 individual medley and on the 400 medley relay.
– 2015 SEC champion in the 200 individual medley
– Represented the United States in the 2015 Pan Am Games
– English and Cognitive Science major scheduled to graduate in December of 2016


Marjorie Butler, Women's Basketball, Georgia

– Named SEC Women's Basketball Scholar-Athlete of the Year — first-ever Lady Bulldog to earn the SEC Scholar-Athlete of the Year award
– Two-time CoSIDA District 4 Academic All-America Team selection (2015, 2016)
– Three-time SEC Academic Honor Roll selection
– Has been accepted to some of the top medical schools in the country, including the University of Virginia, University of Tennessee, University of Florida, Vanderbilt, UAB and Emory University, among others.
– Entered college with 47 AP college credit hours and aspires to become an orthopedic surgeon upon graduation.
– Georgia's starting point guard
– Started each of Georgia's 31 games in 2015-16, averaging 33 minutes per game
– Finished the 2015-16 season ranked third in the SEC in assist-to-turnover ratio with 141 assists and 74 turnovers
– Her 141 assists and 4.5 assists per game average was the fourth-best total for an SEC player
– Totaled five or more assists in 14 of 31 games during the 2015-16 campaign
– Helped lead the Lady Bulldogs to the 2016 NCAA Tournament and a sixth-place finish in the SEC
– She will have two degrees by the time she leaves the University of Georgia. She already has an exercise degree and currently boasts a 3.81 GPA in biology


Each year, the SEC, in conjunction with AT&T, an SEC official sponsor, provides the league's male and female McWhorter Scholar-Athlete Post-Graduate Scholarship recipients with a $15,000 post-graduate scholarship. The 26 remaining male and female finalists for the award will also receive a $7,500 post-graduate scholarship.


The award recipients are chosen by a committee of Faculty Athletics Representatives from the 14 SEC institutions and are honored at the SEC Spring Meetings in Sandestin, Fla., in early June.


Last year's McWhorter Award recipients were Nathanael Franks of the Arkansas track & field team and Maddie Locus of the Georgia swim team.


---