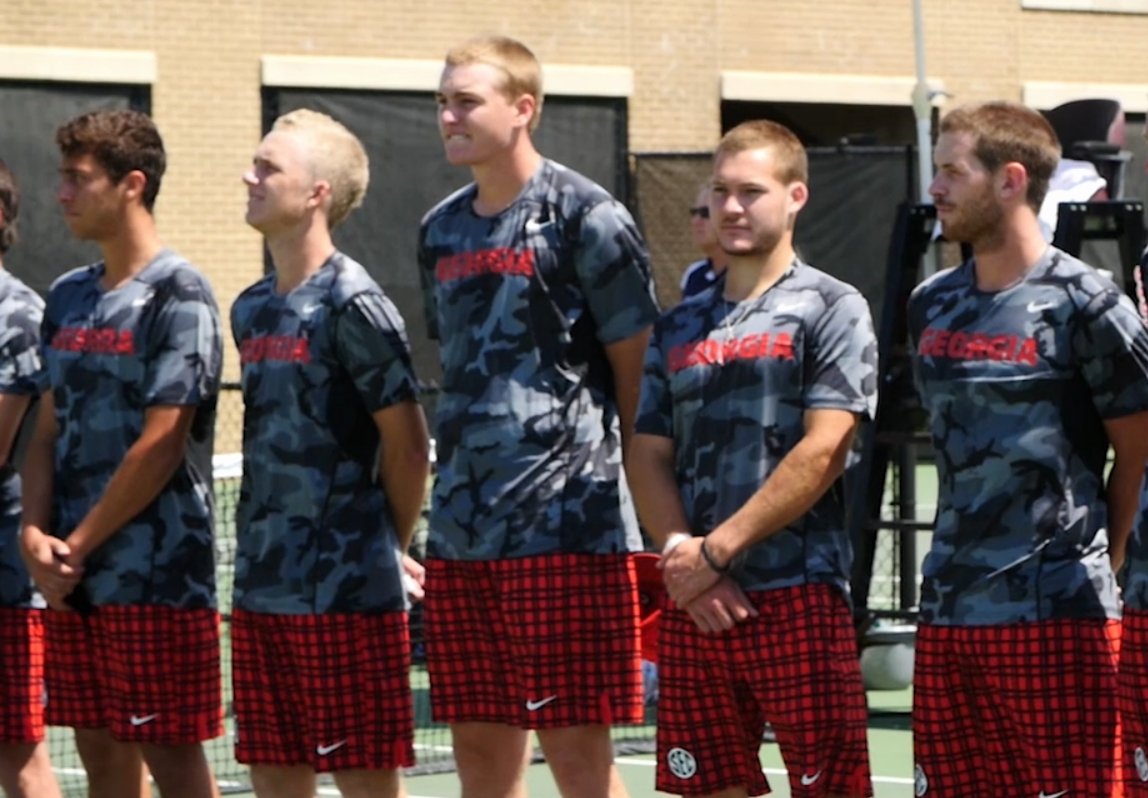 After falling behind 2-0, the sixth-ranked Georgia men's tennis team clawed its way back, but it was not enough, as the Bulldogs fell to the No. 2 seed and 11th-ranked Florida Gators, 4-2, on Sunday in the 2016 SEC Tournament Championship.


The loss breaks a 16-match win streak for the Bulldogs and gives the team its first loss against an SEC opponent this season. Georgia, which is now 20-4 overall and 14-1 against SEC competition, will await its seeding in the NCAA Tournament. The NCAA Selection Show will take place on Tuesday, May 3 at 5:30 p.m. ET.


"It's a tough loss in the fact that we made it all the way to the finals and our guys really wanted to win this championship," head coach Manuel Diaz said. "Florida played very well today. Our guys competed great. I was so proud of Austin Smith with a tremendous win at the No. 1 position once again. Our team is going to be ok. Our guys will bounce back. We have a couple of weeks to prepare for the NCAA Tournament and the warmer weather."


Like they did during the match between these two teams earlier in the year, the Gators took the doubles point thanks to wins at the second and third courts.


Down 1-0 after doubles, SEC All-Tournament Team selection Wayne Montgomery battled hard at the No. 2 singles position, but could not overcome a strong performance from Florida's 83rd-ranked Alfredo Perez, who took a 6-3, 6-3 victory against Montgomery.


Fellow SEC All-Tournament team member Austin Smith came to the rescue once again with an impressive 6-4, 6-4 triumph against 11th-ranked Diego Hidalgo to put the score at 2-1. Following a loss by Duncan at the No. 4 court, it was Paul Oosterbaan who hoped to start a Bulldog rally.


Oosterbaan fought back a 3-1 deficit in the first-set tie breaker to win his match, 7-6 (7), 6-4 over Florida's 36th-ranked Elliott Orkin.


All eyes then turned to courts five and six, where both matches were in the third set. Georgia senior Nick Wood could not overcome Florida's Gordon Watson at the No. 5 position, as the Gators clinched the win with a 3-6, 7-5, 6-3 triumph.


For more information on the Georgia men's tennis team, follow the Bulldogs on Twitter (@UGATennis).




2016 SEC MEN'S TENNIS TOURNAMENT
FINALS
Columbia, S.C.
(Carolina Tennis Center)
 #11 (2) Florida defeated #6 (1) Georgia (4-2)
Order of finish: Doubles (2,3); Singles (2,1,4,3,5)


Singles Results
1. #17 Austin Smith (UGA) def. #11 Diego Hidalgo (UF) 6-4, 6-4
2. #83 Alfredo Perez (UF) def. #35 Wayne Montgomery (UGA) 6-3, 6-3
3. #96 Paul Oosterbaan (UGA) def. #36 Elliott Orkin (UF) 7-6 (9-7), 6-4
4. #123 Chase Perez-Blanco (UF) def. Walker Duncan (UGA) 6-2, 7-6 (7-4)
5. Gordon Watson (UF) def. Nick Wood (UGA) 3-6, 7-5, 6-3
6. Emil Reinberg (UGA) vs. McClain Kessler (UF) 6-1, 6-7 (3-7), 3-3, unfinished


Doubles Results
1. #7 Austin Smith/Ben Wagland (UGA) vs. #1 Gordon Watson/Diego Hidalgo (UF) 4-5, unfinished
2. #68 Maxx Lipman/Elliott Orkin (UF) def. Paul Oosterbaan/Jan Zielinski (UGA) 6-3
3. Chase Perez-Blanco/Alfredo Perez (UF) def. Wayne Montgomery/Emil Reinberg (UGA) 6-4


---