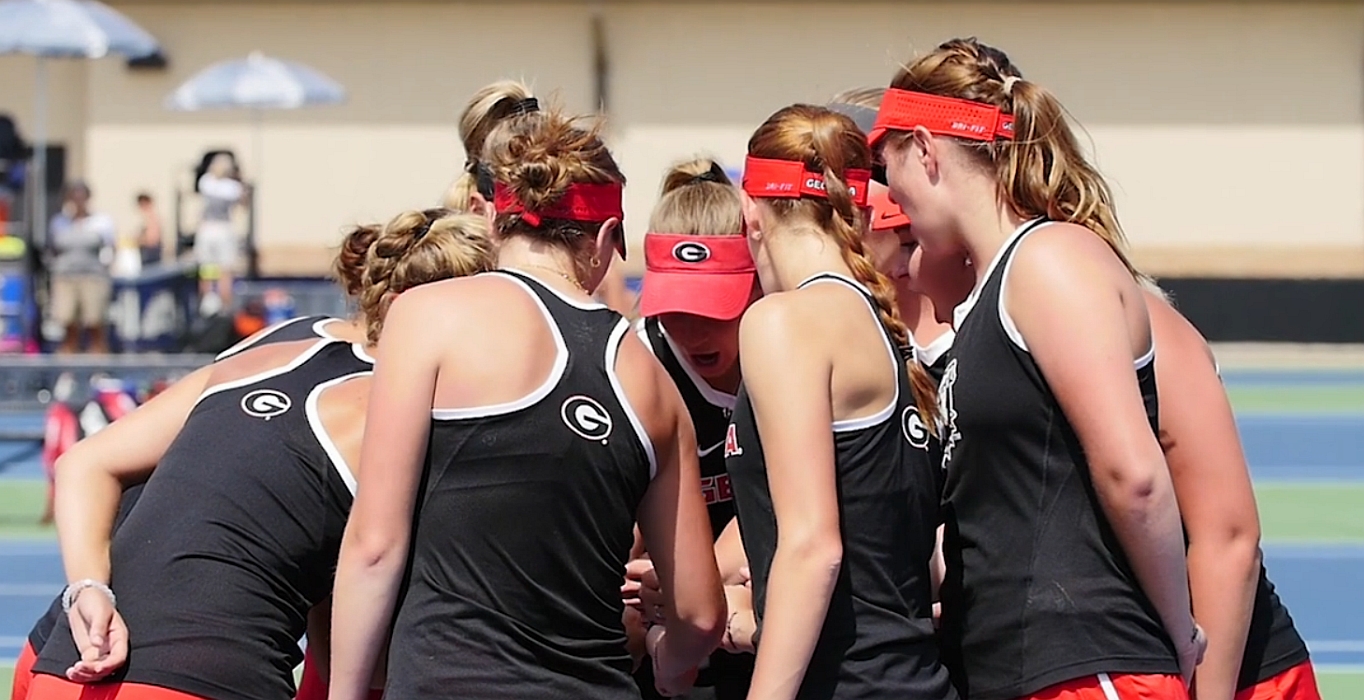 The fourth-ranked Georgia women's tennis team (20-4, 13-3) finished second at the SEC Tournament, falling in the championship match to the third-ranked Florida Gators after a furious comeback attempt fell short by a 4-2 score in the SEC Tournament Finals on Sunday afternoon at the LSU Tennis Complex.


The match was Georgia's fifth consecutive appearance in the conference's tournament championship, and it was the second-straight year in which the Bulldogs dropped a tight contest after fighting back from an early deficit.


Sophomores Kennedy Shaffer and Mariana Gould were each named to the All-Tournament team after each turning in two singles wins over the weekend. Gould added two doubles victories to her tournament resume while Shaffer's trip to Baton Rouge was highlighted by her first-ever win over a top-10 opponent when she defeated No. 9 Belinda Woolcock of Florida in straight sets.


"We lost the doubles point and we lost five first sets – I think a lesser team would've gone away," said Georgia head coach Jeff Wallace. "But this is the postseason and this is a championship, and I really felt like our players put us in a position where we were just points away. That was a heck of an effort right there."


The Gators took the doubles point with wins on the first and third courts, 6-3 and 6-2, respectively. The second court match was a tight contest that was favoring the Bulldogs, with Silvia Garcia and Shaffer leading 5-4 at clinch.


Florida quickly built on its lead with a straight-sets win on six to go ahead 2-0 as 65th-ranked Anna Danilina claimed a 6-3, 6-2 victory.


Shaffer came right back to cut Georgia's deficit in half, winning her first-ever match against a top-10 opponent with a commanding 6-3, 6-0 tally over ninth-ranked Belinda Woolcock on the second singles court.


The Gators quickly regained the momentum as Ellen Perez was issued her first loss since February, dropping her top-court contest 6-3, 7-5 to seventh-ranked Brooke Austin to put Florida on the edge of a title at 3-1.


Gould punched back for Georgia, claiming the team's first three-set win of the match 3-6, 6-1, 6-3 over Josie Kuhlman to once against reduce Georgia's deficit to one point at 3-2.


The match clincher came on the third court, as Brianna Morgan seized the match with a dramatic, three-set victory in which Garcia fought off two match points before ultimately falling.


For all the latest on Georgia women's tennis, follow the team on Twitter (@UGAWomensTennis), Instagram (@ugawomenstennis) and on Facebook (Georgia Women's Tennis), and keep checking in to georgiadogs.com.


2016 SEC WOMEN'S TENNIS TOURNAMENT
FINALS
No. 3 Florida defeated No. 4 Georgia (4-2)
Order of Finish: Doubles (3,1); Singles (6,2,1,5,3)


Doubles
1. #3 Keegan/Austin (UF) def. #12 Perez/Gould (UGA), 6-4
2. #66 Garcia/Shaffer (UGA) vs. #36 Woocock/Kuhlman (UF), 5-4, unfinished
3. #68 Danilina/Morgan (UF) def. Brinson/Patterson (UGA), 6-2


Singles
1. #7 Brooke Austin (UF) def. #3 Ellen Perez (UGA), 6-3, 7-5
2. #47 Kennedy Shaffer (UGA) def. #9 Belinda Woolcock (UF), 6-3, 6-0
3. Brianna Morgan (UF) def. #97 Silvia Garcia (UGA), 6-4, 4-6, 6-4
4. #30 Caroline Brinson (UGA) vs. #36 Kourney Keegan (UF), 5-7, 6-3, 4-5, unfinished
5. Mariana Gould (UGA) def. Josie Kuhlman (UF), 3-6, 6-1, 6-3
6. #65 Anna Danilina (UF) def. Laura Patterson (UGA), 6-3, 6-2


---