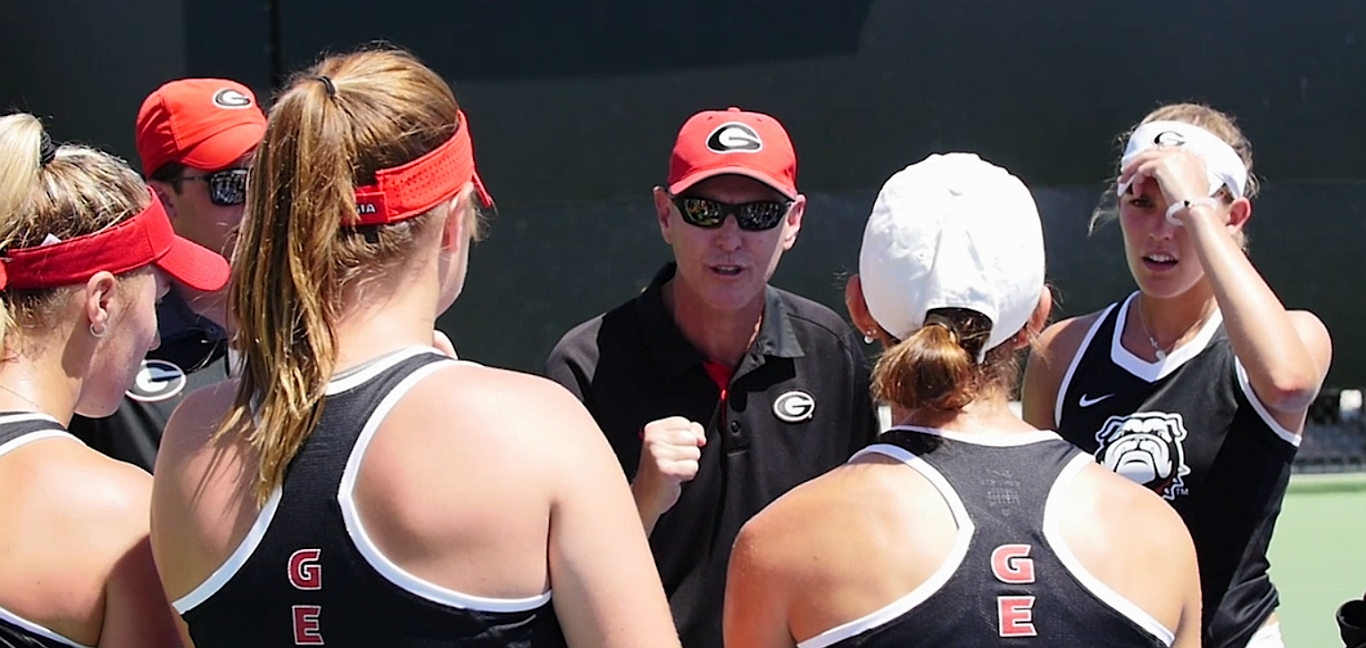 The fourth-ranked Georgia women's tennis team (20-3, 13-2) secured a place in the SEC Tournament Final with a decisive 4-0 victory over No. 5 Vanderbilt on Saturday afternoon at the LSU Tennis Complex.


The Bulldogs will appear in the SEC's championship match for the fifth consecutive season, last taking the tournament crown in 2014. Georgia will face third-ranked Florida for the title on Sunday at noon ET.


UGA's victory over Vanderbilt came after falling to the Commodores 4-3 in Nashville during the regular season. Georgia will now look to avenge its only other SEC loss tomorrow when it faces the Gators.


"I thought we played super aggressive," said Georgia head coach Jeff Wallace. "We've been working on some things in practice, and that's starting to show. Everybody competed hard in singles and everybody played well. Tomorrow's a huge opportunity for us, and we just need to bring what we brought today."


The top court got the doubles point started as Ellen Perez and Mariana Gould scored an impressive win over the 13th-ranked pair of Courtney Colton and Sydney Campbell, 6-3. Just seconds later, the doubles point was finished off by the third-court pairing of Caroline Brinson and Laura Patterson who took a 6-3 decision of their own for a 1-0 lead in the match.


Perez then added on to the Georgia lead with a swift victory on the first court, a straight-sets win over 19th-ranked Sydney Campbell, 6-4, 6-0. Perez fell behind 3-0 in the first set before winning 12 of the final 13 games to take the match.


Brinson gave Georgia a significant 3-0 edge with a win on the fourth court over Colton, 6-2, 6-3. It was the New Orleans native's fourth win in two days (two singles, two doubles) at the SEC Tournament.


Kennedy Shaffer then clinched the match with her first win of the tournament, beating 13th-ranked Frances Altick in straight sets, 6-3, 6-4.


For all the latest on Georgia women's tennis, follow the team on Twitter (@UGAWomensTennis), Instagram (@ugawomenstennis) and on Facebook (Georgia Women's Tennis), and keep checking in to georgiadogs.com.


2016 SEC WOMEN'S TENNIS TOURNAMENT
SEMI-FINALS
No. 4 Georgia defeated No. 5 Vanderbilt (4-0)
Order of Finish: Doubles (1,3); Singles (1,4,2)


Doubles
1. #12 Perez/Gould (UGA) def. #13 Colton/Campbell (VU), 6-3
2. #66 Garcia/Shaffer (UGA) vs. Sharma/Altick (VU), 4-4, unfinished
3. Brinson/Patterson (UGA) def. Yates/Contreras (VU), 6-3


Singles
1. #3 Ellen Perez (UGA) def. #19 Sydney Campbell (VU), 6-4, 6-0
2. #47 Kennedy Shaffer (UGA) def. #13 Frances Altick (VU), 6-3, 6-4
3. #97 Silvia Garcia (UGA) vs. #26 Astra Sharma (VU), 6-4, 2-6, 1-1, unfinished
4. #30 Caroline Brinson (UGA) def. Courtney Colton (VU), 6-2, 6-3
5. Mariana Gould (UGA) vs. Fernanda Contreras (VU), 6-7(7-5), 1-2, unfinished
6. Laura Patterson (UGA) vs. Georgina Sellyn (VU), 6-4, 1-6, 1-1, unfinished


---