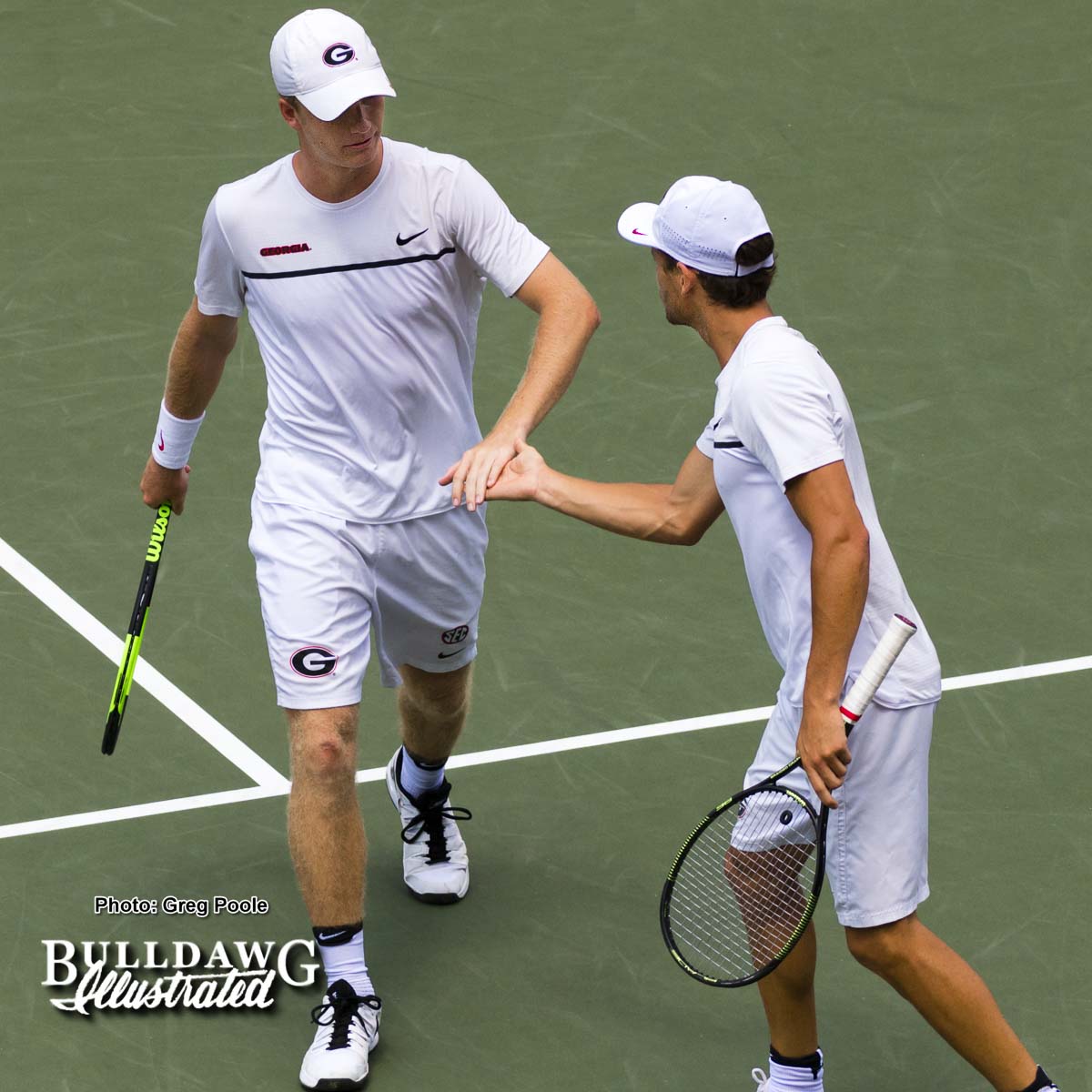 Four Georgia men's tennis players — Walker Duncan, Wayne Montgomery, Emil Reinberg and Jan Zielinski — each won two matches on Sunday to advance to the quarterfinals of the 2017 Intercollegiate Tennis Association Southeast Regional.


With the impressive showing, Georgia now takes up four of the remaining eight spots in the main singles draw. The quarterfinals and semifinals rounds will take place on Monday.


"I am really pleased with how our guys performed today," head coach Manuel Diaz said. "It started yesterday with five of our six players getting singles wins. That strong play carried over to today, and I thought we played well across the board. We faced some tough challenges and will once again have a great opportunity out here tomorrow."


The day began with four singles wins for the Bulldogs. Montgomery, Zielinski, Duncan, and Reinberg all won in straight-sets to move from the Round of 32 into the Round of 16.


The challenges got stronger for Georgia in the third round as three of the four Bulldogs faced ranked opponents. Montgomery, the No. 1 seed, ousted Florida's 105th-ranked Chase Perez-Blanco, 6-1, 6-2, while Zielinski took down USF' Peter Bertran, 6-2, 7-6 (4). Duncan also battled past a USF opponent, downing 70th-ranked Alberto Barroso-Campos, 6-4, 7-6 (3). Reinberg rounded out Georgia's day with a 3-6, 7-6 (4), 6-4 victory against Florida's Duarte Vale.


Not to be outdone, Georgia's doubles duos also played well on Sunday. Loeb/Zielinski, as well as Duncan/Montgomery, will play in Monday's quarterfinals.


For more information throughout the weekend, follow the tournament page here: 2017 ITA Regionals.

2017 ITA Regional Championships
Byers Tennis Complex – Atlanta
Sunday, October 15, 2017

Singles Main Draw – Round of 32

#21 Wayne Montgomery (Georgia) def. Carlos Divar (Georgia Tech), 6-4, 6-0
#102 Jan Zielinski (Georgia) def. Chase Wood (FSU), 6-3, 6-4
#101 Walker Duncan (Georgia) def. Ignacio Garcia (FSU), 7-6 (4), 6-3
#30 Emil Reinberg (Georgia) def. Christian Langmo (Miami), 6-2, 6-4
Duarte Vale (Florida) def. Robert Loeb (Georgia), 7-6 (6), 6-3


Singles Main Draw – Round of 16

#21 Montgomery (Georgia) def. #105 Chase Perez-Blanco (Florida), 6-1, 6-2
#102 Zielinski (Georgia) def. #55 Peter Bertran (USF), 6-2, 7-6 (4)
#101 Duncan (Georgia) def. #70 Alberto Barroso-Campos (USF), 6-4, 7-6 (3)
#30 Reinberg (Georgia) def. Duarte Vale (Florida), 3-6, 7-6 (4), 6-4


Singles Consolation Draw

Alex Phillips (Georgia) def. Thomas Guy (FAU), w/o


Doubles Draw – Round of 16

#2 Loeb/Zielinski (Georgia) def. Adria Soriano/Bojan Jankulovski (Miami), 8-6
#53 Duncan/Montgomery (Georgia) def. Grayson Goldin/Jakub Wojcik (USF), 8-5
Remi Chancerel/Thoams Guy(FAU) def. Reinberg/Phillips (Georgia), 8-5