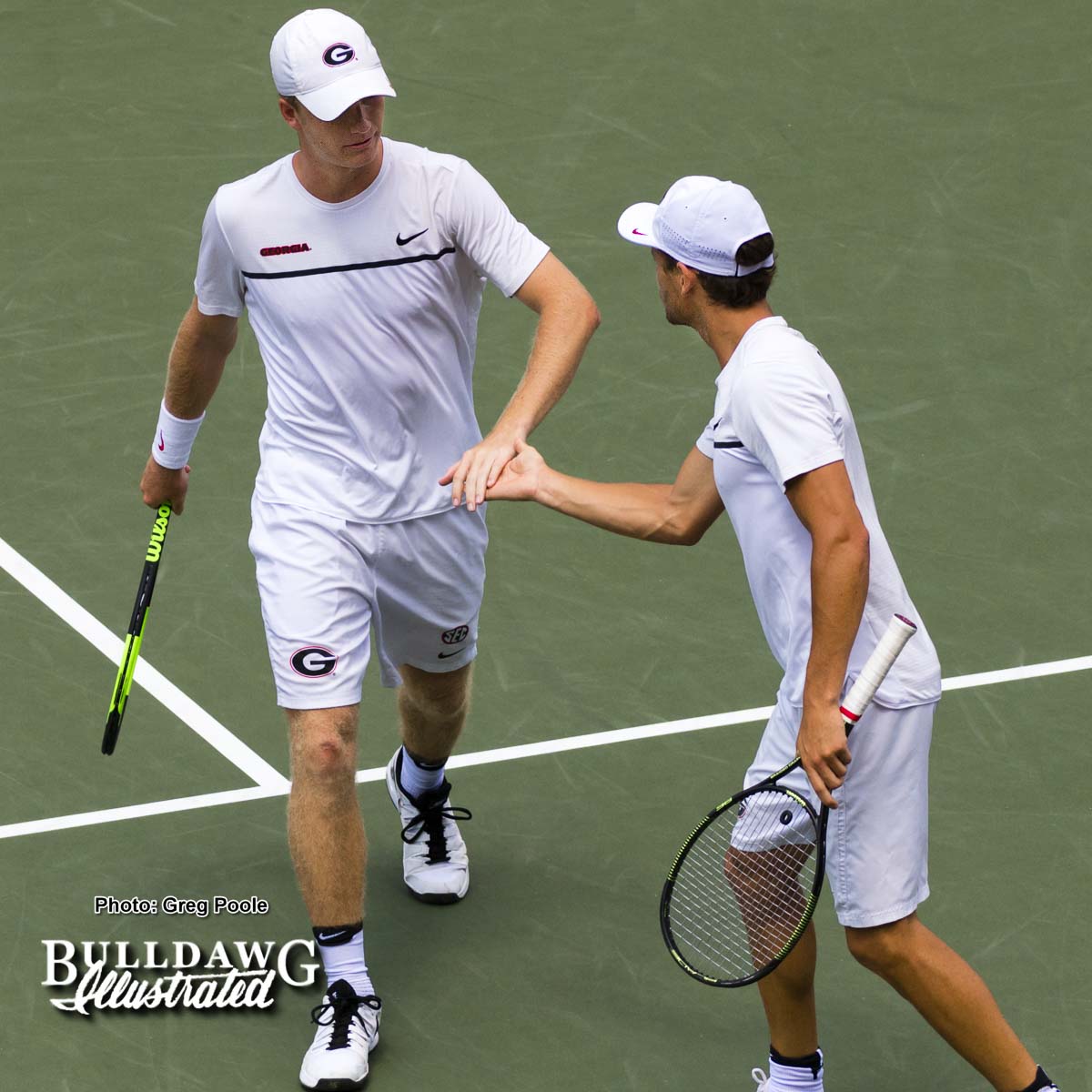 The No. 12 UGA men's tennis team shutout Florida A&M 4-0 in round one of the NCAA Championships on Friday afternoon at the Dan Magill Tennis Complex, and with the win, Georgia advances to round two.


Georgia swiftly secured the doubles point, led by a comfortable 6-1 victory from the tandem of Emil Reinberg and Nathan Ponwith on court two. Wayne Montgomery and Walker Duncan followed with a 6-3 win on court three to seal the doubles point for Georgia, while the No. 1-ranked pair of Jan Zielinski and Robert Loeb led on court one 5-4 before the doubles point was clinched.


After falling to Florida A&M's Courage Okungbowa in the first game in singles, 33rd-ranked Wayne Montgomery surged to a 6-1, 6-0 victory while winning 12 consecutive games on the first court. Robert Loeb followed with a 6-2, 6-0 win on court five over Luis Federico Nani. To clinch the match for the third time this season, Walker Duncan overtook Walner Espinoza 6-1, 6-4 on court four.


With the win, Georgia faces South Florida on Saturday afternoon at 3:00 p.m. in the second round of the NCAA Championships at the Dan Magill Tennis Complex.


The Bulldogs and Bulls will vie for a spot in the NCAA Round of 16, which begins on Thursday, May 18 in Athens.

NCAA MEN'S TENNIS CHAMPIONSHIPS
Results from Round One
Dan Magill Tennis Complex
Athens, GA

Doubles:

#1 Robert Loeb/Jan Zielinski (GEORGIA) vs. Carlos Agustin Waitman/Walner Espinoza (FLORIDA A&M), 5-4, unfinished
Emil Reinberg/Nathan Ponwith (GEORGIA) def. Courage Okungbowa/Karlyn Small (FLORIDA A&M), 6-1
Wayne Montgomery/Walker Duncan (GEORGIA) def. Luis Federico Nani/Jalen Evans (FLORIDA A&M), 6-3


Singles:

#33 Wayne Montgomery (GEORGIA) def. Courage Okungbowa (FLORIDA A&M), 6-1, 6-0
#59 Emil Reinberg (GEORGIA) vs. Carlos Agustin Waitman (FLORIDA A&M), 7-6 (3), unfinished
Jan Zielinski (GEORGIA) vs. Karlyn Small (FLORIDA A&M), 6-2, 2-5, unfinished
Walker Duncan (GEORGIA) def. Walner Espinoza (FLORIDA A&M), 6-1, 6-4
Robert Loeb (GEORGIA) def. Luis Federico Nani (FLORIDA A&M), 6-2, 6-0
Alex Phillips (GEORGIA) vs. Illya Skoromnyy (FLORIDA A&M), 6-2, 5-0, unfinished

Order of finish

Doubles (2,3) Singles (1,5,4


[foogallery id="104857″]