ATHENS, Ga. — The Georgia men's tennis team fell to the No. 5 Texas A&M Aggies 4-1 on Sunday at the Lindsey Hopkins Indoor Courts.
The No. 21 Bulldogs, who drop to 7-5, faced their second top-5 opponent this week. The loss to the Aggies follows a 4-0 defeat of No. 2 Ohio State on Wednesday.
"It was a great college match, and it is really tough to lose a match like this so close," Georgia head coach Manuel Diaz said. "But to be honest with you, for the first hour and a half in the singles I was ready to tip my cap to Texas A&M. They were absolutely playing great tennis and they were up on just about every court. [Junior] Emil [Reinberg] won a first set but really on all the other courts they seemed to be controlling play. I was so proud of our guys."
The Bulldogs dropped the doubles point to begin play. The pair of senior Wayne Montgomery and sophomore Nathan Ponwith lost 6-0 to No. 14 Juan Carlos Aguilar and Jordi Arconada, leaving the doubles point up to the highly-contested matches on the first and third courts.
With the score knotted at four, the second-year tandem of redshirt freshman Alex Diaz and sophomore Robert Loeb dropped a 6-4 decision on court three to Valentin Vacherot and AJ Catanzariti. On court one, the score was 6-5 between Georgia's junior duo of Walker Duncan and Jan Zielinski against the 37th-ranked pair of Patrick Kypson and Arthur Rinderknech when the match was halted.
Facing a 2-0 deficit after Ponwith lost 6-4, 6-1 to the 37th-ranked Jordi Arconada on court three, Georgia rallied with inspired singles play. Reinberg ranked No. 47, downed the 27th-ranked Kypson 6-4, 6-4 on court one to score the Bulldogs' first point.
Though both Duncan and Montgomery lost their first sets, the two battled back for critical second-set wins. Duncan ranked 14th nationally, lost the first set 4-6 and came back from down 5-1 in the set to win 7-5 in the second set over No. 31 Vacherot on court four. No. 24 Montgomery lost the first set 6-3, but forced a second-set tiebreaker and won 7-1 on court two over No. 10 Rinderknech.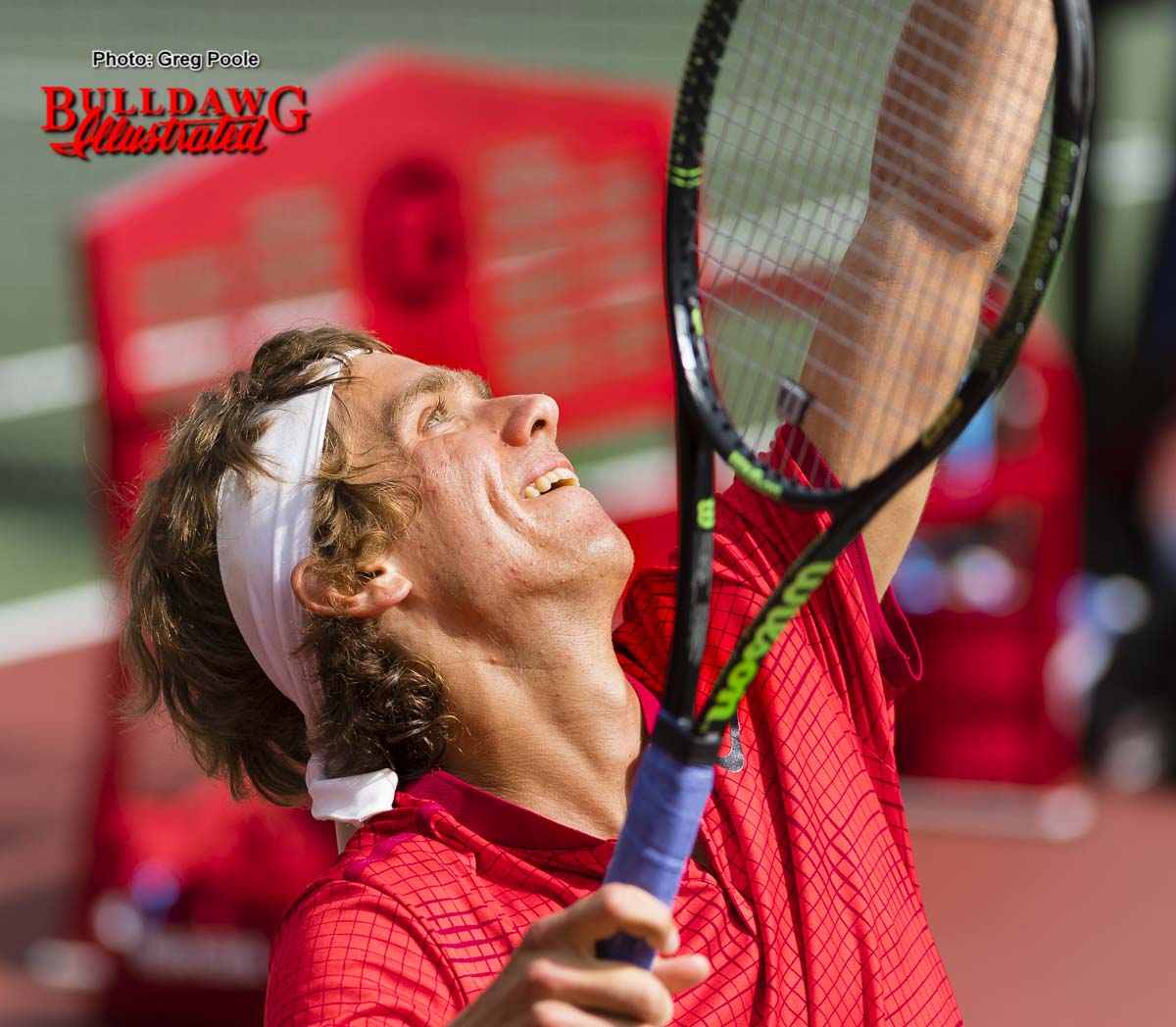 Duncan and Montgomery both extended their matches to 5-5 ties in the third set, but neither could secure a victory. Duncan lost by a final of 6-4, 5-7, 7-5, while Montgomery forced a third-set tiebreaker, but fell 7-2 and lost 6-3, 6-7 (1), 7-6 (2).
"We played at a really high level and we lost those last two matches 7-5, 7-6 on the third. Those are matches we need to learn to win, but today Texas A&M was the better team," Diaz said.
Loeb was leading 6-1, 3-1 when his match was halted on court six, while Zielinski was down 6-3, 4-3 in his match on court five.
Next up, the Bulldogs travel to Oxford, Mississippi, to face Ole Miss on Friday, March 16, at 6 p.m.
Tennis Match Results
Texas A&M vs Georgia
March 11, 2018, at Athens, Ga.
(Lindsey Hopkins Indoor Courts)
#5 Texas A&M 4, #21 Georgia 1
Singles Results
1. #47 Emil Reinberg (UGA) def. #27 Patrick Kypson (TAMU) 6-4, 6-4
2. #10 Arthur Rinderknech (TAMU) def. #24 Wayne Montgomery (UGA) 6-3, 6-7 (1), 7-6 (2)
3. #37 Jordi Arconada (TAMU) def. #81 Nathan Ponwith (UGA) 6-4, 6-1
4. #31 Valentin Vacherot (TAMU) def. #14 Walker Duncan (UGA) def. 6-4, 5-7, 7-5
5. Juan Carlos Aguilar (TAMU) vs. #21 Jan Zielinski (UGA) 6-3, 4-3 (uf)
6. Robert Loeb (UGA) vs. AJ Catanzariti (TAMU) 6-1, 3-1 (uf)
Doubles Results
1. #37 Patrick Kypson/Arthur Rinderknech (TAMU) vs. Walker Duncan/Jan Zielinski (UGA) 6-5 (uf)
2. #14 Juan Carlos Aguilar/Jordi Arconada (TAMU) def. Wayne Montgomery/Nathan Ponwith (UGA) 6-0
3. Valentin Vacherot/AJ Catanzariti (TAMU) def. Alex Diaz/Robert Loeb (UGA) 6-4
Match Notes:
Texas A&M 10-3, 3-0; National ranking #5
Georgia 7-5, 0-3; National ranking #21
Order of finish: Doubles (2,3); Singles (3,1,4,2)
Match moved indoors to Lindsey Hopkins Indoor Courts due to rain.
Official: Richard Rogers T-3:15 A-624