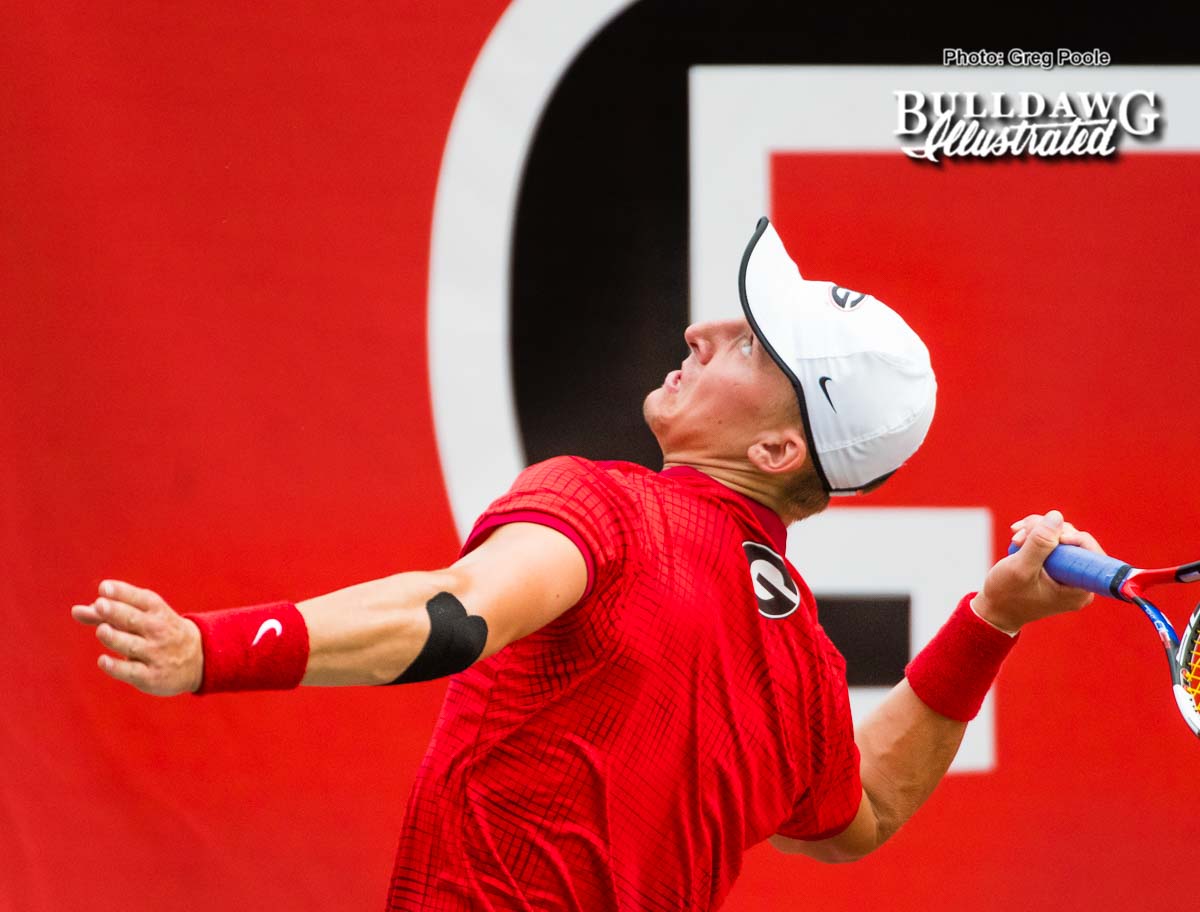 Wins at the top two doubles courts and strong performances at the bottom of the singles lineup lifted the No. 4-ranked Georgia men's tennis team to a 4-1 victory against 14th-ranked Columbia Friday evening.
The Bulldogs, now 5-0 this season, advance to the quarterfinals to play fifth-seeded Stanford at 3 p.m. ET/Noon PT Saturday. The Cardinal defeated No. 12 seed Baylor, 4-2, on Friday. Columbia, which lost for the first time this year, will play in tomorrow's consolation round. 
"Once again, we came out and played really well in doubles to set the tone early in the match,"head coach Manuel Diaz said. "Jan, Walker and Paul then stepped up for us there at the four, five and six singles courts to give us a win against a really good Columbia team. This was a good start for us, and we just have to come out here tomorrow with that same mentality against another really good team." 
Georgia went up a break, 2-0, at the second doubles court before bumping it out to a 4-1 lead to gain the early momentum. Walker Duncan and Wayne Montgomery hung on to defeat the 28th-ranked Columbia duo of Jack Lin and William Matheson, 6-2, to improve to 4-0 during the dual-match season.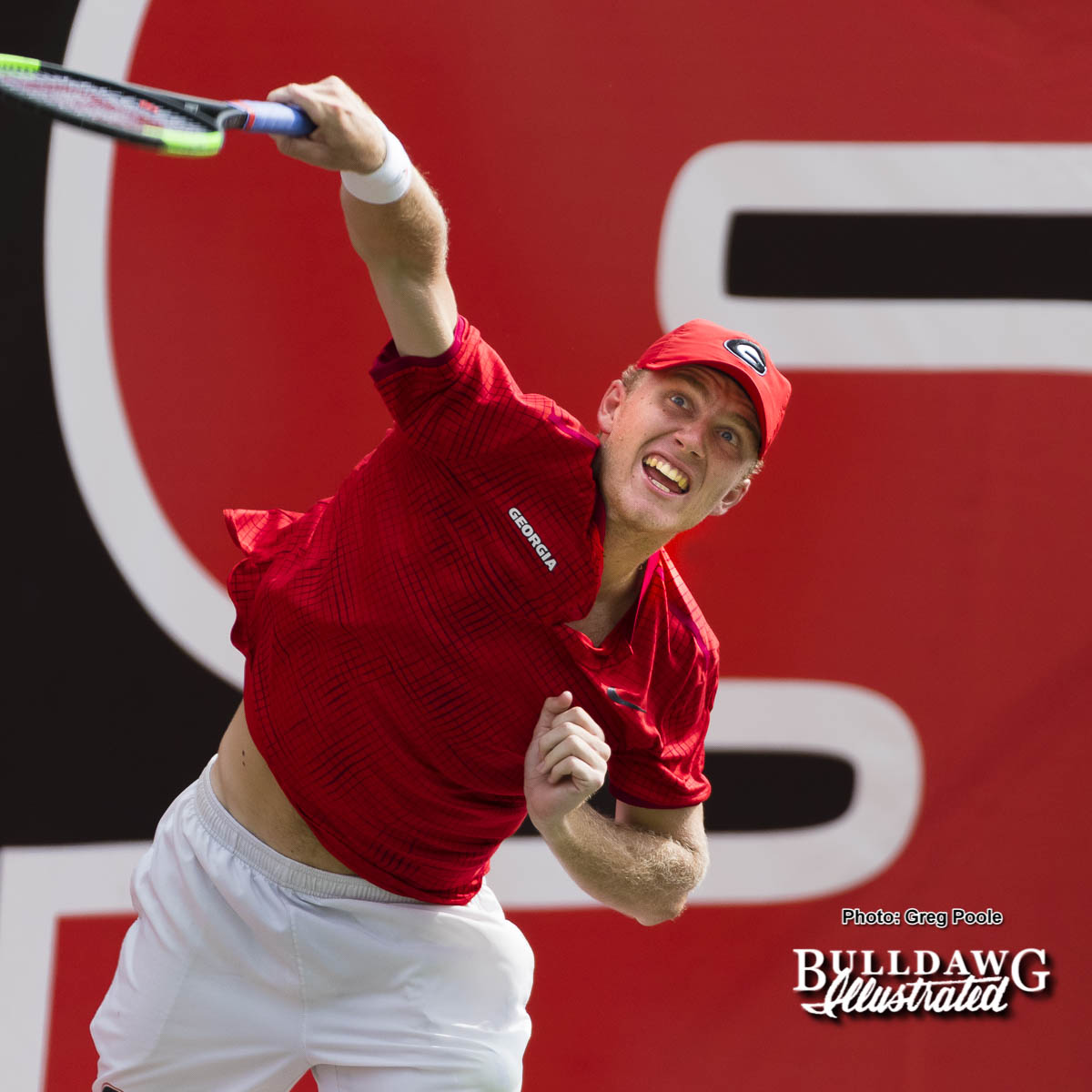 With one doubles court in hand, the Bulldogs faced tight battles at courts one and three.
The tandem of Alex Diaz and Paul Oosterbaan could not overcome Adam Ambrozy and Michael Rolski in a 6-4 loss at the third position. That meant doubles point came down to the No. 1 spot, where the nation's No. 7 and No. 8 ranked duos were locked in a 6-6 battle.
Robert Loeb and Jan Zielinski secured the doubles point in a thrilling, 7-6 (6), victory over Columbia's No. 7-ranked team of Victor Pham and Jackie Tang.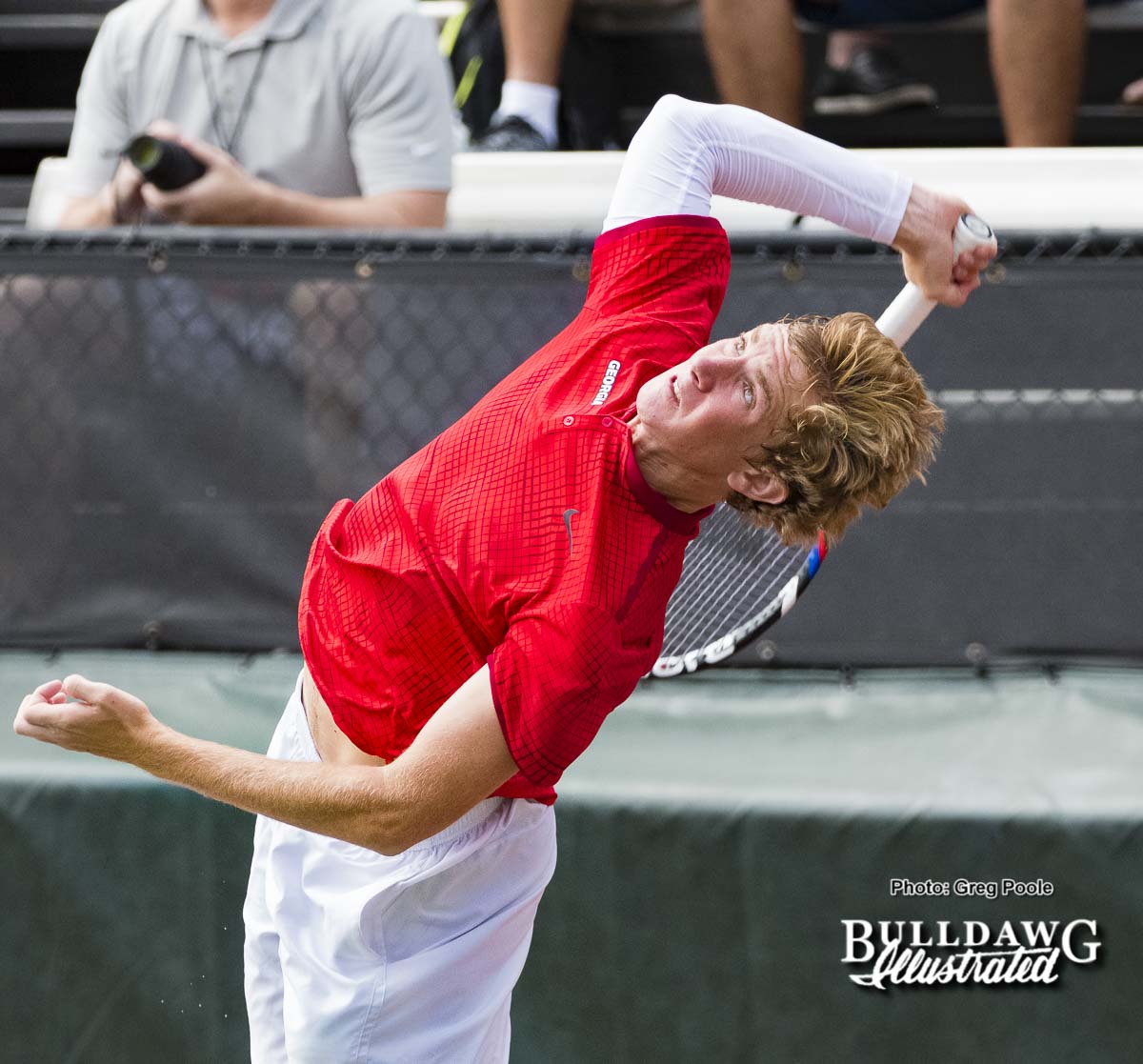 Up 1-0, the bottom of the singles lineup put up an impressive performance against the Lions to clinch the win. Duncan and Oosterbaan stormed out to straight-set triumphs to give their team a 3-0 advantage. Then, after winning the first set, Zielinski was up a break, 5-3, in the second, before Ambrozy broke back. The Warsaw, Poland native bounced back for his fifth victory in five matches to defeat his Columbia counterpart, 7-5, 6-4.
Georgia will play Stanford at noon local time Saturday. For live scoring and live streaming, follow this link: Click Here. 
DAY ONE – 2018 ITA Indoor National Championships
Seattle, Washington // Feb. 16, 2018
Final: #4 Georgia 4, #14 Columbia 1
Doubles Results
1. #8 Robert Loeb/Jan Zielinski (Georgia) def. #7 Victor Pham/Jackie Tang (COL), 7-6 (6)
2. Walker Duncan/Wayne Montgomery (Georgia) def. #28 Jack Lin/William Matheson (COL), 6-2
3. Adam Ambrozy/Michael Rolski (COL) def. Alex Diaz/Paul Oosterbaan (Georgia), 6-4
Order of finish: (2, 3, 1)
Singles Results
1. #17 Wayne Montgomery (Georgia) vs. #15 Victor Pham (COL), 4-6, 5-5, uf
2. #49 Jackie Tang (COL) def. #31 Emil Reinberg (Georgia), 6-2, 7-5
3. #45 Nathan Ponwith (Georgia) vs. Jack Lin (COL), 5-7, 3-4, uf
4. #26 Jan Zielinski (Georgia) def. Adam Ambrozy (COL), 7-5, 6-4
5. #14 Walker Duncan (Georgia) def. Alex Keyser (COL), 6-4, 6-3
6. Paul Oosterbaan (Georgia) def. Tim Wang (COL), 6-2, 6-3
Order of finish: (6, 5, 2, 4)