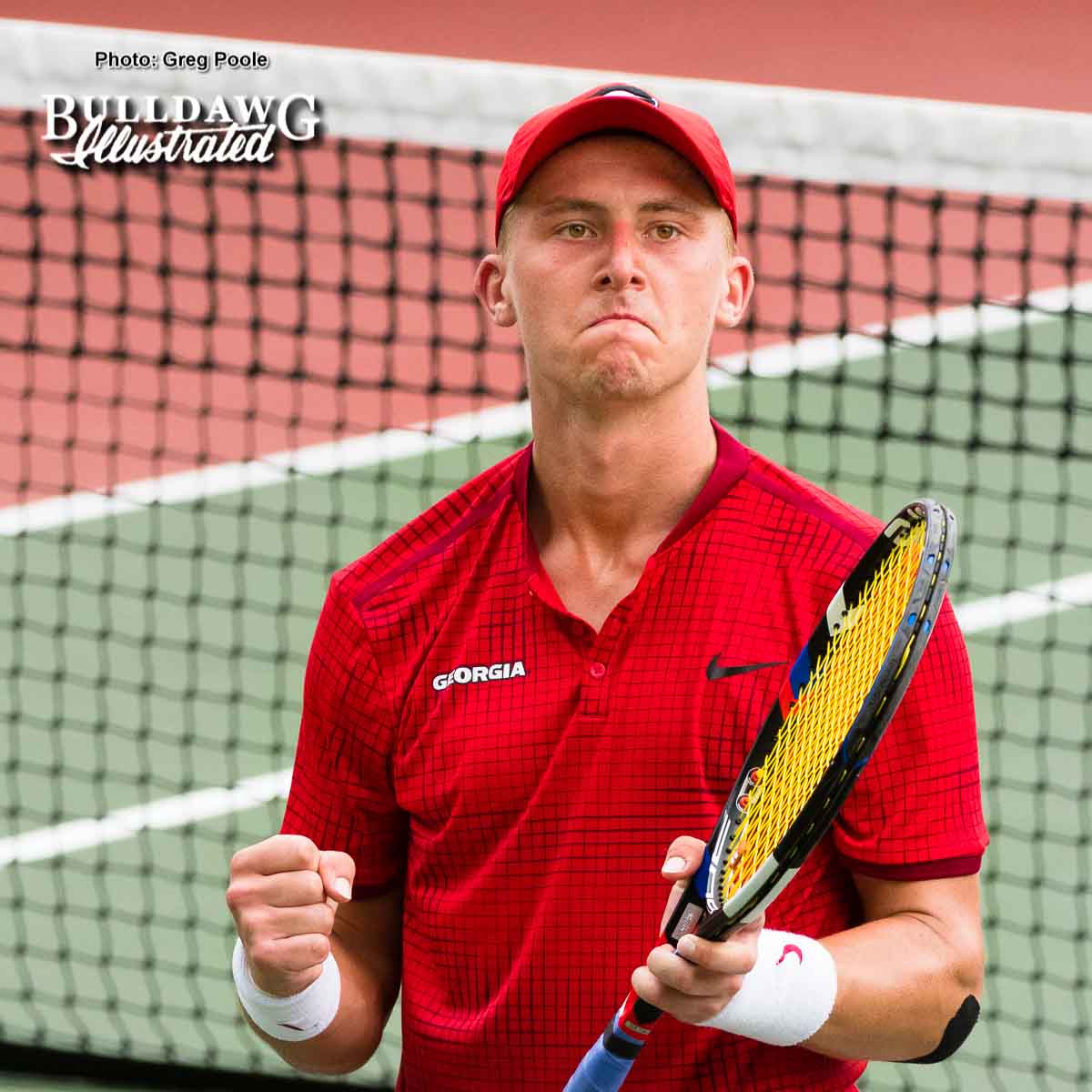 ATHENS, Ga.  — The Georgia Bulldog men's tennis team downed conference foe Auburn, 6-1, Sunday afternoon at the Dan Magill Tennis Complex.
The No. 20 Bulldogs (10-8, 3-6) won the doubles point and three straight singles lines to secure the official victory. Georgia and Auburn (10-14, 0-8) then played through the other matches, winning two out of the last three to cap the win. Source
"We needed a win. There's no two ways about it," Georgia head coach Manuel Diaz said. "We need to show some resiliency and show some character. I'm proud of the guys for doing that today. We have to start bouncing back from these injuries and these losses, and today was a huge step in the right direction."
Georgia cruised to a doubles point win to open the match. The pair of junior Jan Zielinski and redshirt sophomore Alex Phillips earned the first victory on the afternoon, notching their first win as a pair, 6-2, on court two over Matteo De Vincentis and Carles Sarrio.
Redshirt freshman Alex Diaz and junior Emil Reinberg followed up with a 6-3 decision over Diego Chavarria and Olle Thestrup on court three, with Diaz smashing home a backhand volley to seal the point. Senior Wayne Montgomery and sophomore Nathan Ponwith were up 6-5 on court one before play concluded.
In singles, Zielinski raced to a 6-2, 6-2 win over Auburn's Carles Sarrio on court four. From there, Reinberg earned his fourth ranked win of the season with a 6-4, 6-4 decision over No. 109 Matteo De Vincentis on court two.
On the first court, down 4-1 in the second set after a 6-3 first set win, Montgomery battled back for a 7-5 win in the second set to secure the Bulldog victory. The South African native earned his 10th singles win in dual play this year, marking the fourth straight season he has accomplished that feat.
On court three, Ponwith secured a 6-4, 6-4 win against Olle Thestrup, which extended the Georgia lead to 5-0. The last two matches on courts five and six both came down to tiebreakers. Phillips, who surged to a 6-3 second set win following a 6-4 loss in the first set, dropped a third-set tiebreak 10-7 to Auburn's Brandon Laubser. Diaz solidified a 6-1 final over the Tigers with a 7-4 win in a second set tiebreak, concluding a 6-3, 7-6 win.
Next up, the Bulldogs travel to Tuscaloosa, Alabama, Friday to take on the Alabama Crimson Tide at 7 p.m.
Tennis Match Results
Auburn vs Georgia
April 1, 2018 at Athens, Ga.
(Dan Magill Tennis Complex)
#20 Georgia 6, Auburn 1
Singles Results
1. #15 Wayne Montgomery (UGA) def. Edward Nguyen (AUB) 6-3, 7-5
2. #55 Emil Reinberg (UGA) def. #109 Matteo De Vincentis (AUB) 6-4, 6-4
3. #97 Nathan Ponwith (UGA) def. Olle Thestrup (AUB) 6-4, 6-4
4. #21 Jan Zielinski def. Carles Sarrio (AUB) 6-2, 6-2
5. Alex Diaz (UGA) def. Tad Maclean (AUB) 6-3, 7-6 (4)
6. Brandon Laubser (AUB) def. Alex Phillips (UGA) 4-6, 6-3, 10-7
Doubles Results
1. Wayne Montgomery/Nathan Ponwith (UGA) vs. Edward Nguyen/Tad Maclean (AUB) 6-5 (uf)
2. Alex Phillips/Jan Zielinski (UGA) def. Matteo De Vincentis/Carles Sarrio (AUB) 6-2
3. Alex Diaz/Emil Reinberg (UGA) def. Diego Chavarria/Olle Thestrup (AUB) 6-3
Match Notes:
Auburn 10-14, 0-8; National ranking #20
Order of finish: Doubles (2,3); Singles (4,2,1,3,6,5) she