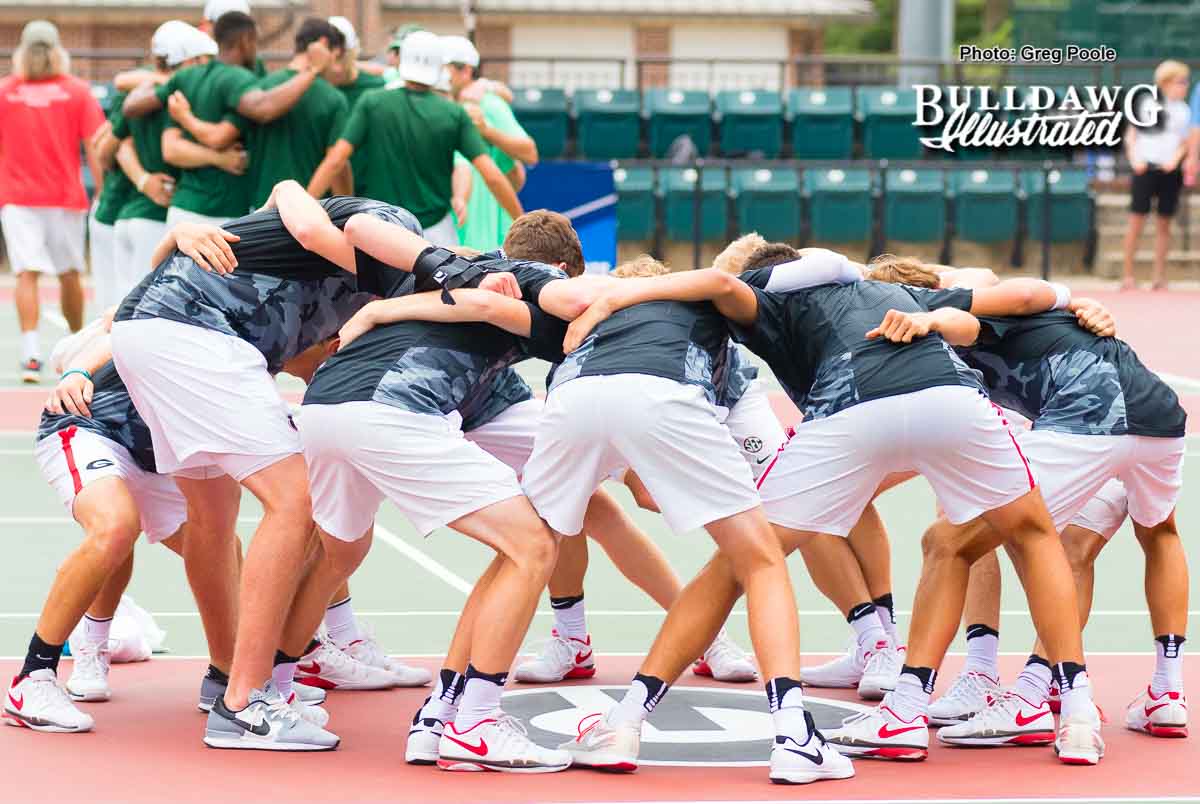 TUSCALOOSA, Ala. — With the final two matches coming down to third sets, the Georgia men's tennis team was unable to overcome an early deficit in a 4-2 loss to Alabama Friday evening at the Robert Alison Indoor Center.
Georgia falls to 10-9 overall and 3-7 in Southeastern Conference action, while Alabama improves to 16-8 this season and 2-7 in the SEC. The Bulldogs own a 55-7 advantage in the all-time series against the Crimson Tide and pick up their first loss against Alabama since 2003.
Alabama won the doubles point thanks to wins at the top two courts. The 68th-ranked duo of Mazen Osama and Edison Ortiz defeated Wayne Montgomery and Nathan Ponwith, 6-2, before Alexey Nesterov and Thibault Cancel ousted Jan Zielinski and Alex Phillips, 6-4.
The Crimson Tide took a 2-0 advantage as Phillips fell to Zhe Zhou, 6-1, 6-2, at the No. 6 singles court. Zielinski quickly answered back to win his second-straight match of the year with a 6-2, 6-4 triumph against Cancel.
Down 2-1, Montgomery fell short at the first court while Loeb was able to capture a 7-6, 6-3 victory at the No. 4 position.
The match came down to Ponwith and Diaz. Ponwith won his first set and Diaz split the first two as the match went down to the wire. Nesterov was too much for Diaz in the third set and hung on for a 6-3, 4-6, 6-2 victory.
Georgia now hosts Vanderbilt next Friday at 5 p.m. ET at the Dan Magill Tennis Complex.
Tennis Match Results
#21 Georgia vs. Alabama
Tuscaloosa, Ala. / April 6, 2018
Doubles
1. #68 Mazen Osama/Edison Ortiz (Ala) def. Wayne Montgomery/Nathan Ponwith (Georgia), 6-2
2. Alexey Nesterov/Thibault Cancel (Ala) def. Jan Zielinski/Alex Phillips (Georgia), 6-4
3. Robert Loeb/Alex Diaz (Georgia) vs. Patrick Kaukovalta/Zhe Zhou (Ala), 5-5, uf
Order of finish (1,2)
Singles
1. #50 Osama (Ala) def. #19 Montgomery (Georgia), 7-5, 6-3
2.#27 Zielinski (Georgia) def. Cancel (Ala), 6-2, 6-4
3. #88 Ponwith (Georgia) vs. Ortiz (Ala), 7-5, 2-6, 2-1
4. Loeb (Georgia) def. Kaukovalta (Ala), 7-6 (4), 6-3
5. Nesterov (Ala) def. Diaz (Georgia), 6-3, 4-6, 6-2
6. Zhou (Ala) def. Phillips (Georgia), 6-1, 6-2
Order of finish (6,2,4,1,5)