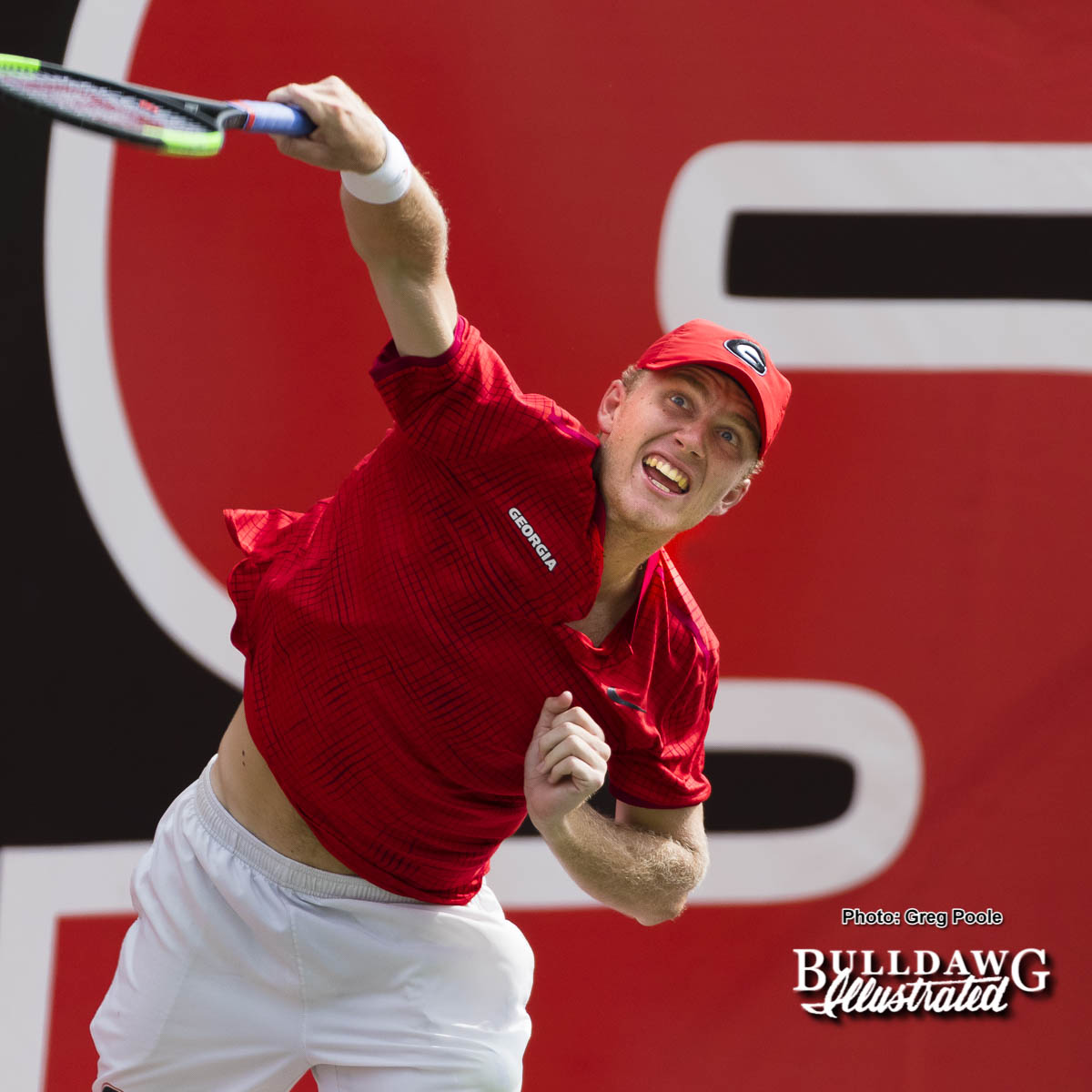 ATHENS, Ga. — Four Georgia men's tennis players — Walker Duncan, Wayne Montgomery, Emil Reinberg and Jan Zielinski — have been selected for the 2018 NCAA Singles Championship, it was announced Wednesday afternoon.
Montgomery and Zielinski , Georgia's No. 1 and 2 singles players, join the 64-player field as at-large selections, while Duncan and Reinberg have been chosen as alternates. The singles and doubles championships will take place on May 23-28 in Winston-Salem, North Carolina following the team portion of the tournament.
"These four individuals have worked really hard and are very deserving," head coach Manuel Diaz said. "I am happy for Wayne and know he wants to end his college career on a positive note. For Jan and Walker, it has been great to see them develop into elite players nationally this year. Jan is someone who has worked really hard to move into that second singles spot, and I am beyond excited for him. We will see what happens with Emil and Walker as alternates, but I am thrilled for each of them."
Zielinski paces the Bulldogs with a 29-8 singles record this year, including  a 16-2 mark in dual-match play. Montgomery is second on the team with a 27-17 record and boasts five wins against ranked opponents.
Duncan has battled injury late in the season and looks to return to form in the NCAA Championships. The Atlanta native boasts a 22-8 overall record with a team-high eight wins against ranked players. Reinberg has put together 20 wins in his junior year and enters the tournament having won three of his last four matches.
Matchups for the individual tournaments will be announced during the team portion. A total of 64 players will participate in singles in addition to 32 doubles teams. Georgia players have won the NCAA singles title four times: Mikael Pernfors in 1984 and 1985, and Matias Boeker in 2001 and 2002. Pernfors beat teammate George Bezecny for the crown in 1985. The Bulldogs have won three NCAA doubles titles, including Ola Malmqvist and Allen Miller in 1983, Boeker and Travis Parrott in 2001, and John Isner and Antonio Ruiz in 2005.