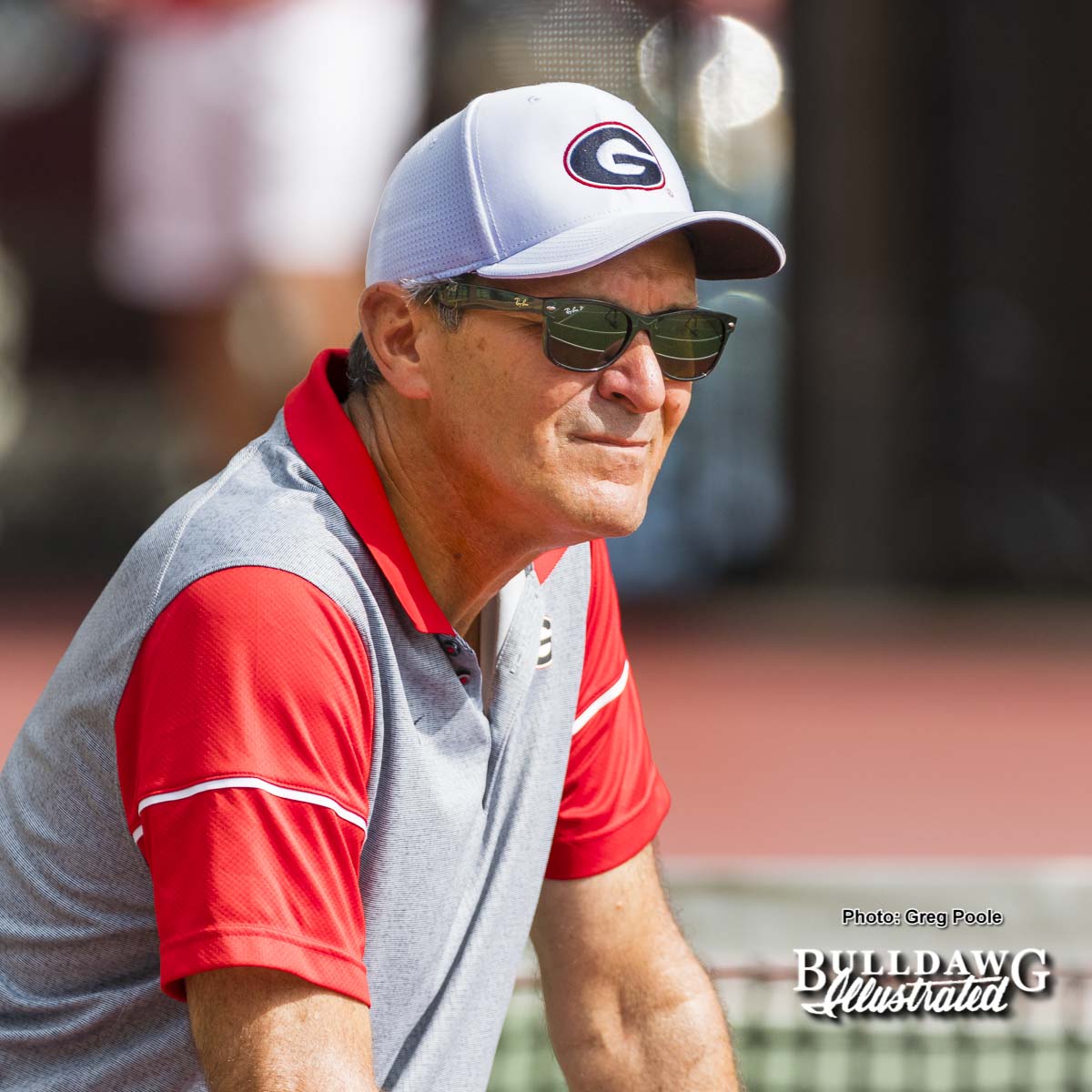 With this team up 3-0, Georgia men's tennis freshman Philip Henning delivered a 6-4, 6-1 match-clinching victory for the Bulldogs against FAU on Monday at the Dan Magill Tennis Complex.
It marks the second-straight win of the season for the Bulldogs, who host Mercer on Tuesday at 2:30 p.m.
"These were tough matches today," head coach Manuel Diaz said. "We lost a couple of close ones at three and six, but I am pleased with our overall performance. It was good to get out here and play outdoors, and we continue to grow every single day. We have another big match tomorrow against a good Mercer team that will be a big test."
Henning was not the only Bulldog rookie in the lineup on Monday. Fellow freshman Trent Bryde played in the first singles match of his career, falling at the No. 3 court in a tight 6-4, 3-6, 10-6 battle.
In doubles, the Bulldogs earned a swift decision by way of victories on courts one and three. The tandem of senior Emil Reinberg and redshirt-sophomore Alex Diaz won 6-0 over FAU's Alvaro Fernandez Horta and Luis Fernandez Labarta.
On court one, senior Jan Zielinski and junior Robert Loeb registered the clinching win when Zielinski slammed home a volley to secure the doubles point and a 1-0 lead.
The doubles duo of Zielinski and Loeb continued their momentum into singles play. Zielinski earned the first singles victory of the afternoon on court one against Jason Legall on account of a 6-1, 6-3 win. Loeb followed with a 7-5, 6-2 decision over FAU's Gabriel Sidney on court four.
Robert Loeb and Emil Reinberg then recorded straight-set wins to help the Bulldogs pull of the win.
Following Tuesday's match against Mercer, Georgia heads to Tennessee to face the Vols on Friday.
Tennis Match Results
FAU vs Georgia
Feb. 25, 2019 at Athens, Ga. (Dan Magill Tennis Complex)
Georgia 5, #45 FAU 2
Singles
1. #5 Jan Zielinski (UGA) def. Jason Legall (FAU) 6-1, 6-3
2. #19 Emil Reinberg (UGA) def. Kirac Bekisoglu (FAU) 7-6 (7-4), 6-4
3. Mehdi Laalej (FAU) def. Trent Bryde (UGA) 6-4, 3-6, 10-6
4. #110 Robert Loeb (UGA) def. Gabriel Sidney (FAU) 7-5, 6-2
5. #85 Philip Henning (UGA) def. Ignacio Garcia (FAU) 6-4, 6-1
6. Alvaro Horta (FAU) def. Walker Duncan (UGA) 2-6, 6-2, 6-4
Doubles
1. Robert Loeb/Jan Zielinski (UGA) def. Jason Legall/Ignacio Garcia (FAU) 6-4
2. Trent Bryde/Philip Henning (UGA) vs. Mehdi Laalej/Gabriel Sidney (FAU) 5-2, unfinished
3. Emil Reinberg/Alex Diaz (UGA) def. Kirac Bekisoglu/Thomas Guy (FAU) 6-0
Match Notes:
FAU 8-6; National ranking #45
Georgia 3-3
Order of finish: Doubles (3,1); Singles (1,4,5,6,2,3) Official: Karen Mabry
Attendance: 281