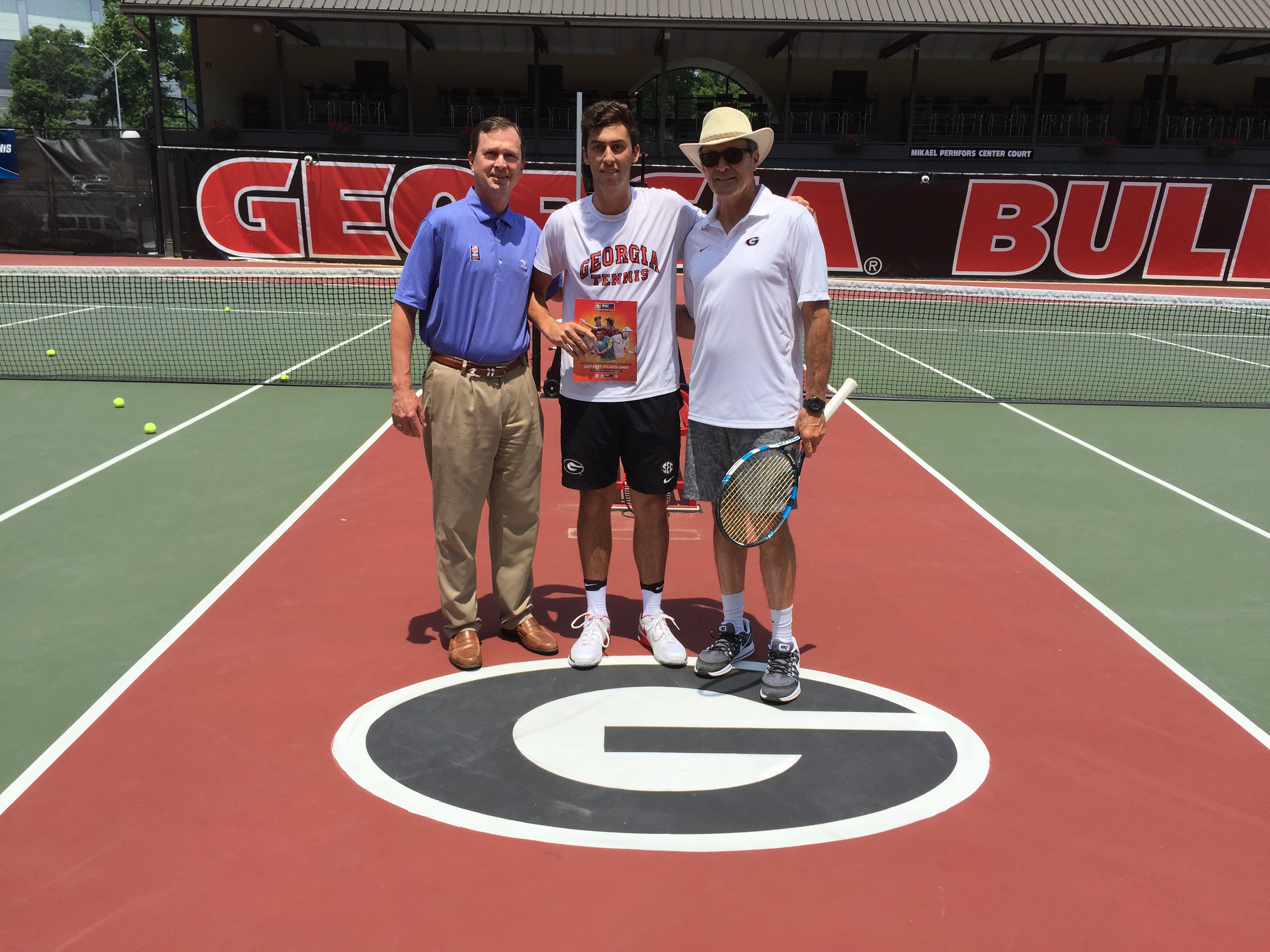 ATHENS, Ga. — Georgia men's tennis junior Emil Reinberg was awarded a singles wildcard bid to the 2018 BB&T Atlanta Open during a presentation at the Dan Magill Tennis Complex Monday afternoon.
Eddie Gonzalez, tournament director and chief development officer, was on hand to extend the invitation to Reinberg in front of head coach Manuel Diaz and associate head coach Jamie Hunt. Reinberg's bid allows him to participate in the College Night event, which will take place on Tuesday, July 24 at 7 p.m. ET in Atlantic Station.
"It is a tremendous honor for Emil to get an opportunity to play in an event like this," Diaz said. "I don't know that there are many events of this type that really make the effort to involve college tennis. Eddie has done a tremendous job trying to keep the colleges in the state involved. We are trying to keep that dream alive for kids coming up in the Atlanta area and all of Georgia for them to dream big and have aspirations of doing the same thing Emil is doing. It says a lot about this event, and it is a tremendous opportunity for Emil to really do something that will open some doors for him in the future."
A native of Atlanta, Reinberg is currently preparing for the individual's portion of the 2018 NCAA Championships, which will take place in Winston-Salem, North Carolina. Reinberg compiled 20 singles wins this past year after placing on the All-SEC team and earning SEC Tournament MVP honors during his sophomore campaign.
Last summer, Reinberg was awarded a doubles wild card bid to the BB&T Atlanta Open. Previous Bulldogs to compete in the Atlanta Open College Night include Nathan Pasha and Austin Smith, while Georgia legend John Isner is a four-time singles champ of the event.
The BB&T Atlanta Open is held each year in July in Atlantic Station and is one of eight summer tournaments in the U.S. Open Series. The tournament features men's top world tennis players in singles and doubles competition.
Approximately 40,000 fans attend the tournament and bring an estimated economic impact of $10.3 million to Atlanta. In addition to Isner, other notable champions include Andy Roddick, who won his last ATP World Tour title when he defeated Gilles Muller at the 2012 BB&T Atlanta Open, Mardy Fish who holds the singles title for 2011 and 2010, and Australian Nick Kyrgios, who won in 2016.